Sorry, Macy's, T.J. Maxx Isn't What's Killing You -- This Is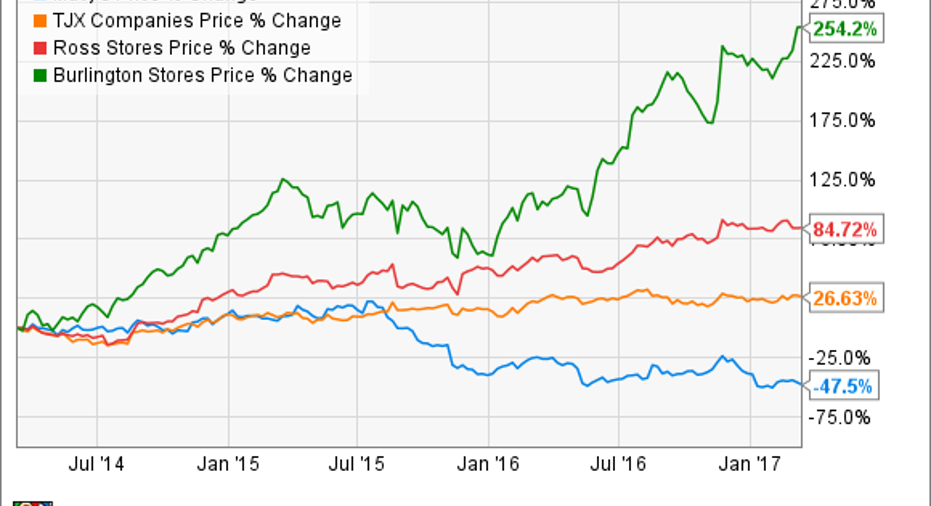 Macy's(NYSE: M) CFO made a surprising statement at a recent retail conference.
Speaking at the UBS Consumer & Retail Conference, Karen Hoguet said that, contrary to popular belief, the biggest threat to her company is not online retail, but off-price brands like T.J Maxx, which is owned byTJX Companies(NYSE: TJX).
Image source: Getty Images.
Hoguet added, "We've spent a lot of time trying to make our experience better vis a vis the off-price retailers because I think that's been the bigger competitive threat for us over time."
Although Hoguet did not mention T.J. Maxx by name, off-price retailers like TJX,Ross Stores (NASDAQ: ROST), andBurlington Stores, Inc. (NYSE: BURL) have been the rare sector of apparel retail to thrive amid the general malaise in the industry.
As you can see, Macy's shares have tumbled, while the stocks of the off-price retailers, especially Ross and Burlington, have soared. Those retailers appear to have found the sweet spot in brick-and-mortar retail by offering discounts through the "treasure hunt" model, giving customers something new and unique to find when they shop there. That experience has also proven difficult to replicate on the internet.
But Hoguet's thesis is too simplistic. As the chart above shows, Macy's shares were in line with TJX's through the summer of 2015, but then started tumbling as comparable sales fell. Same-store sales have continued to fall, further pressuring Macy's shares.
But what's changed since then isn't the threat from off-price brands, which were always competing with Macy's. Instead, there's a more structural problem that's ailing department stores like Macy's.
The death of the mall-based retailer
What really seems to be happening in the industry is that e-commerce has reached a critical mass where it has taken away enough retail traffic to cause a number of bankruptcies and put significant pressure on malls.
Amazon.com(NASDAQ: AMZN)doesn't break out apparel sales, but according to analysts, the company has added about $7 billion in apparel revenue over the last two years, reaching around $20 billion in apparel sales last year. Amazon is set to become the biggest apparel retailer in the country in the next year or two.
During the same two years, TJX Companies, which also owns Marshall's and Home Goods, has seen its domestic apparel sales grow by about $3 billion.
And during that same time, mainstream retailers like Macy's and other department store chains have seen sales shift to the online channel from brick-and-mortar stores.
The upshot is that mall traffic has plummeted. According to real-estate research firm Cushman & Wakefield, mall visits fell by half from 2010 to 2013, from 35 million to 17 million, and that decline has continued since then. As a result, a number of apparel retailers have sought bankruptcy protection or gone out of business in recent years, including American Apparel, Aeropostale, The Limited, and Wet Seal, and others like Macy's andJ.C. Penneyhave plans to close more than 10% of their stores, leaving vacant a significant amount of mall real estate.
T.J. Maxx's smartest move
Though TJX Companies' success tends to be explained by the company's discount business model, a better explanation may be its real estate strategy.
Unlike virtually every other major apparel retailer, TJX has largely eschewed shopping malls, choosing to open stores instead in strip malls and storefronts. AsRetail Dive explains, "T.J. Maxx also has aunique real estate situation. Stores are found mainly at out-of-the way strip malls, untethered to traditional malls or downtown areas with expensive leases."
In other words, T.J. Maxx's real estate strategy has not only saved it money versus more expensive mall and prime real estate leases, it's also protected it from declining mall traffic as its "treasure hunt" model has continued to draw crowds.
Why Macy's Backstage could backfire
Macy's answer to this problem is to expand its own off-price brand, Backstage, which it launched in 2015. Last year, it added 45 Backstage stores and plans to open another 30 this year.But the problem with those stores is that they are primarily located in existing Macy's, so Backstage is likely to be a victim to the same forces that are preying on traditional Macy's stores.
There's no easy solution for Macy's or for much of the department store industry's predicaments. The department store is simply an outdated model, one that worked well for previous generations, but is no longer as relevant when everything is available at the click of the smartphone. They must adapt or die.
It would be easy for Macy's management to feel envious of T.J. Maxx, with its consistently rising same-store sales and plans for new stores, but misdiagnosing the problem will not help its cause. Macy's is losing a much larger percentage of sales to the online channel than it is to off-price competitors. The company's best bet is to continue streamlining its retail footprint and invest in growing channels like e-commerce, and potentially Backstage. It won't be easy, but recognizing the main problem correctly -- declining mall traffic -- is a good first step.
10 stocks we like better than Macy'sWhen investing geniuses David and Tom Gardner have a stock tip, it can pay to listen. After all, the newsletter they have run for over a decade, Motley Fool Stock Advisor, has tripled the market.*
David and Tom just revealed what they believe are the 10 best stocks for investors to buy right now... and Macy's wasn't one of them! That's right -- they think these 10 stocks are even better buys.
Click here to learn about these picks!
*Stock Advisor returns as of February 6, 2017
Jeremy Bowman has no position in any stocks mentioned. The Motley Fool owns shares of and recommends Amazon. The Motley Fool has a disclosure policy.