Sonus Announces New Clients, but Revenue Falls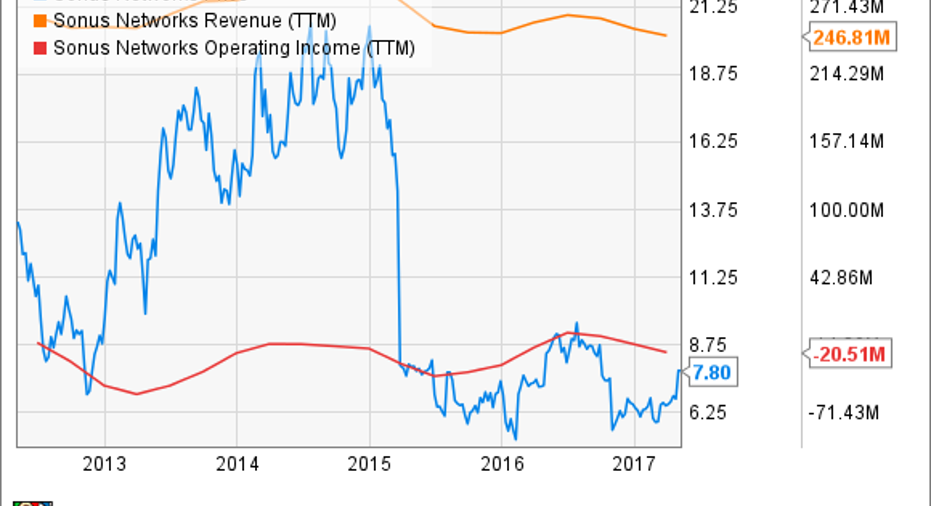 Sonus Networks (NASDAQ: SONS) has announced a number of new customers as it grows into new areas of business. The company's sales, however, have been falling and operations are running at a loss. Here is what's going on at the small tech company.
IP communications 2.0
Sonus entered the world in the late 1990s, offering companies a way to manage and secure communications over the internet. The company built, and still builds today, hardware called session border controllers (SBCs). In simple terms, Sonus is an internet security company.
Image source: Sonus.
In recent years, the advent of 3G and 4G wireless networks has blurred the lines between telecom and the internet and communications over these channels have come under attack. In response, Sonus has developed new virtual cloud-based SBCs and other hardware aimed at helping mobile network operators maintain security. The company has also developed services such as voice-over-Wi-Fi and voice-over-LTE to help networks transition away from old technology and save costs.
The company acquired a small mobile-service provider called Taqua last fall, and it more recently announced it was working with Palo Alto Networks on new security architecture for its services. Sonus hopes that its new mobile communications management services will help it grow into the telecom industry, especially with the Internet of Things growing the need for data security, with billions of devices now online and communicating with each other.
New clients, same old problems
In the last quarter, headway was made with the new strategy targeting mobile. KT Corporation, South Korea's largest phone company, selected Sonus' DSC 8000 as it migrates its business away from old network technology to 4G LTE. Telegate, another telecom provider in the Asia-Pacific region, selected the cloud-based session border controller from Sonus to manage its peering network. The company also said it's partnering with Substentio to create a virtual lawful-intercept solution, a law enforcement requirement for many telecom companies globally.
The Sonus DSC 8000. Image source: Sonus.
The raft of good news helped prop up share prices, and the company in its first-quarter report in late April reiterated its previously stated guidance for a flat to slight single-digit rise in revenue for the year. Revenue was down 9.8%, so there is ground to make up, but the expectation is that the second half of this year will be big. The company reported that it's working with a North American wireless carrier to provide voice-over-LTE service and to expect details during the next quarter.
The mobile strategy is starting to pay off for Sonus, but the same old problem of stagnant sales is persisting. Even if revenue were to rise this fiscal year in line with management's expectations, it would still be substantially off all-time highs from a few years ago. The company also still runs at an operating loss, a trend that's been intact for years and is not about to change this year.
Data by YCharts.
Change is hard
Sonus sounds as if it could be an exciting company to invest in as it helps telecom transition to newer technology and cloud-based networks, but that movement hasn't panned out for investors. Management's own guidance is that results will be choppy, and profitability isn't even on the radar. In spite of progress, the lack of real financial results is keeping me away from this one. n
10 stocks we like better than Sonus NetworksWhen investing geniuses David and Tom Gardner have a stock tip, it can pay to listen. After all, the newsletter they have run for over a decade, Motley Fool Stock Advisor, has tripled the market.*
David and Tom just revealed what they believe are the 10 best stocks for investors to buy right now... and Sonus Networks wasn't one of them! That's right -- they think these 10 stocks are even better buys.
Click here to learn about these picks!
*Stock Advisor returns as of May 1, 2017
Nicholas Rossolillo has no position in any stocks mentioned. The Motley Fool has no position in any of the stocks mentioned. The Motley Fool has a disclosure policy.