Something Is Very Wrong With Apple's iPad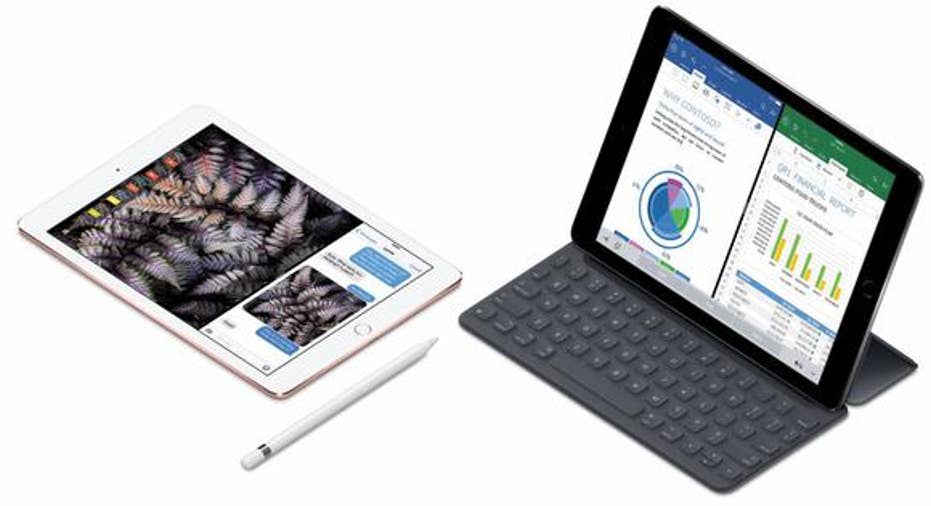 Last week, Apple (NASDAQ:AAPL) reported disappointing quarterly earnings and an even more disappointing outlook. Not surprisingly, the iPhone has gotten a lot of press attention, as it logged its first ever year-over-year sales decline last quarter and Apple expects another decline in the current third fiscal quarter.
iPad sales have fallen by more than a third since 2013. Image source: Apple.
However, the continuing struggles of Apple's iPad product lineup are more remarkable. Despite significant technological upgrades and the introduction of a new form factor, iPad sales are still declining.
Reaching new lowsOf course, iPad sales declines are nothing new for Apple investors. Two years ago, I noted the beginnings of a sharp slowdown in iPad sales. During the 2013 calendar year, Apple sold 74.2 million iPads. By contrast, after nine consecutive quarters of year-over-year declines, Apple has sold just 47.2 million iPads over the past four quarters.
For a while, it was relatively easy to explain away these iPad sales declines. Initially, iPad sales grew at an explosive rate as the iPhone's popularity ensured that there were a lot of early adopters.
However, for one reason or another, iPad buyers seem much less interested in upgrading their devices than iPhone users. With a significantly longer upgrade cycle, Apple wasn't able to keep sales growing after meeting the initial surge of demand for the iPad in the first few years after it launched.
Half-hearted upgrades to Apple's lineup of 7.9-inch iPads in 2013 and 2014 and the company's decision not to launch a new 9.7-inch iPad last fall also contributed to the sales declines.
Great new iPads hit the shelvesBy late 2015, there were tens of millions of iPads that were three to five years old and still getting frequent use. This suggested that all Apple needed to do to spark a big upgrade cycle was to introduce updated models with better performance and new features.
Apple has delivered. Last fall, it launched the iPad Pro, introducing a new 12.9-inch form factor to the iPad lineup. In addition to being bigger, it's the most powerful iPad ever and comes with optional accessories like a keyboard attachment and pressure-sensitive stylus, making the iPad more suitable for productivity tasks.
At the same time, Apple updated its smallest form factor with the iPad Mini 4, providing a huge boost in performance and screen quality in a thinner, lighter package.
Most recently, Apple began selling a 9.7-inch version of the iPad Pro a month ago, replacing the iPad Air 2. The 9.7-inch iPad Pro is nearly as powerful as its larger sibling, packs in some extra features, and has a starting price that is $200 lower.
Last month, Apple introduced a 9.7-inch version of its powerful iPad Pro. Image source: Apple.
With three high-quality new products spanning the full range of tablet form factors, Apple's iPad should be primed for strong growth. Unfortunately, the buyers haven't showed up.
Where's the demand?Last quarter, iPad sales slumped 19% year over year. And despite the introduction of the 12.9-inch iPad Pro -- which starts at $799 -- the average selling price (ASP) was flat at $430, indicating that the vast majority of iPad buyers opted for older, discounted iPads.
However, the new 9.7-inch iPad Pro didn't go on sale until after Q2 ended, raising the possibility that sales would return to growth in Q3. Apple CFO Luca Maestri dashed that hope on the earnings call, though. He stated that iPad sales would decline on a sequential basis, which also implies that this quarter's iPad sales total will be well below the year-ago level.
Cook noted that the rate of year-over-year decline would be the slowest in many quarters, but that's not much of a consolation considering the effort Apple has put into updating the iPad lineup.
It's also worth noting that Apple hasn't always seen seasonal sequential declines moving from Q2 to Q3. In 2012 -- the last time that Apple introduced a new iPad in March -- iPad unit sales rose 44% on a sequential basis in Q3. Apple sold more than 17 million iPads that quarter at an ASP of $538. By contrast, this quarter it apparently expects to sell about 10 million iPads at a lower average price.
Wait and see -- for nowIt's still possible that iPad sales will pick up over the course of this year. The holiday season could spur an uptick in sales, particularly if Apple upgrades one or more of its iPad models this fall. Apple's push to sell the iPad Pro to businesses (in partnership with (NYSE:IBM) could also gain momentum in the next few months, as corporate IT departments have to test new products before rolling them out widely.
But if there is still no sign of a sales recovery a year from now, Apple may have to consider more radical solutions. One possibility is marketing a subsidized trade-in program to longtime iPad users in order to stimulate more upgrades. Or Apple could just cut prices across the board while keeping a closer eye on costs for the iPad program.
Of course, the best solution would be to ignite sales growth through innovation. Unfortunately, that's something Apple has been unable to do for its iPad product line in the last few years.
The article Something Is Very Wrong With Apple's iPad originally appeared on Fool.com.
Adam Levine-Weinberg is long January 2017 $85 calls on Apple. The Motley Fool owns shares of and recommends Apple. Try any of our Foolish newsletter services free for 30 days. We Fools may not all hold the same opinions, but we all believe that considering a diverse range of insights makes us better investors. The Motley Fool has a disclosure policy.
Copyright 1995 - 2016 The Motley Fool, LLC. All rights reserved. The Motley Fool has a disclosure policy.