Softer Economic Data Clears the Way for New Equity Market Highs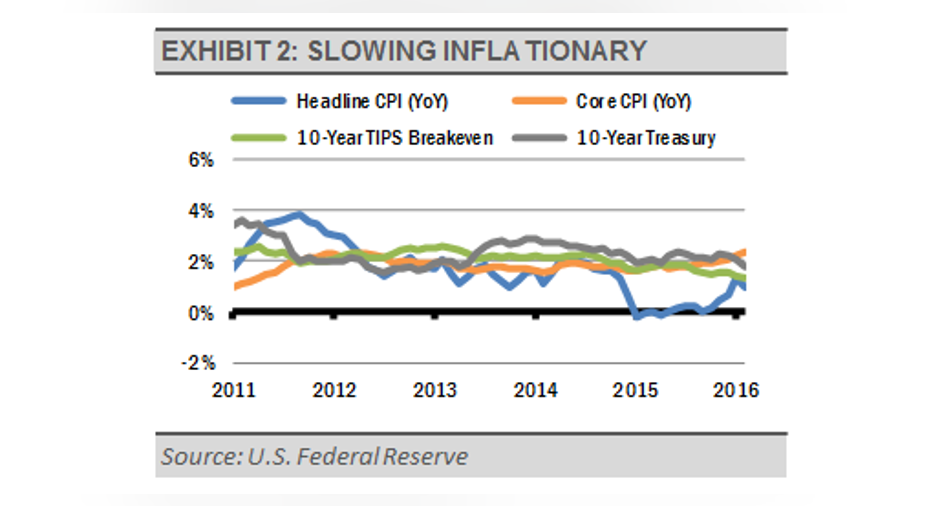 By Gary Stringer, Kim Escue and Chad Keller
The August U.S. monthly employment report, released on Sept. 2, missed expectations as jobs creation cooled significantly from prior months.
To reduce the month to month volatility in the jobs reports, we prefer to look at the rolling 6-month average. We think trends in the rolling average numbers are more important than the individual monthly reports.
As you can see in exhibit 1, the rolling 6-month average has settled at a rate significantly lower than in late 2014 and early 2015. Though the average current rate of jobs creation is near the low-end of the recovery range, these are not bad results in our view. We think these numbers are reflective of an economy that continues to grow slowly and generate well-paying jobs in health care and educational, as well as professional business services areas.
Still, this sluggish jobs growth should help keep a lid on inflationary pressure. We see diminishing inflationary pressure from the market-based inflation expectations, such as the 10-year TIPS breakeven spreads (see exhibit 2). The lack of inflationary pressure should also help keep long-term yields range-bound, though we do think they will drift higher from here.
Reflecting on the U.S. Federal Reserve's (Fed) dual mandate of full employment and stable prices, as represented by the Fed's 2% core inflation target, we see the slowdown in both jobs creation and inflationary pressure as giving the Fed further pause on raising interest rates. We weren't surprised the Fed didn't raise interest rates at its September 20-21 meeting.
With the Fed on hold, the economy can continue its sluggish growth and the global equity markets can continue to grind higher. As a global allocation manager who puts risk first, we think that with the Fed on hold as the backdrop, global equity volatility likely creates opportunity.
Gary Stringer is the CIO, Kim Escue is a Senior Portfolio Manager, and Chad Keller is the COO and CCO at Stringer Asset Management, a participant in the ETF Strategist Channel.
DISCLOSURES
Any forecasts, figures, opinions or investment techniques and strategies explained are Stringer Asset Management LLC's as of the date of publication. They are considered to be accurate at the time of writing, but no warranty of accuracy is given and no liability in respect to error or omission is accepted. They are subject to change without reference or notification. The views contained herein are not be taken as an advice or a recommendation to buy or sell any investment and the material should not be relied upon as containing sufficient information to support an investment decision. It should be noted that the value of investments and the income from them may fluctuate in accordance with market conditions and taxation agreements and investors may not get back the full amount invested. Past performance and yield may not be a reliable guide to future performance. Current performance may be higher or lower than the performance quoted. Data is provided by various sources and prepared by Stringer Asset Management LLC and has not been verified or audited by an independent accountant.
This article was provided by our partners at ETFTrends.