SodaStream's New Foe Is an Old Friend That Was an Older Foe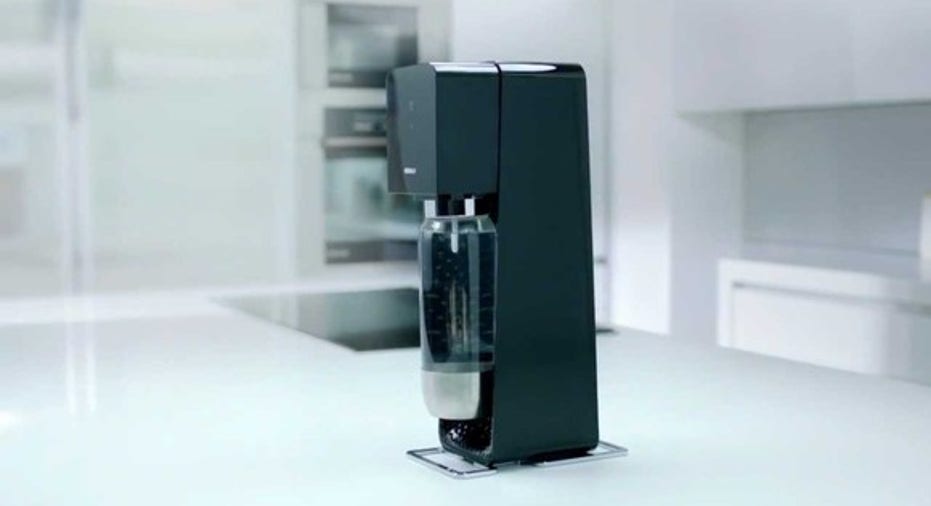 SodaStream (NASDAQ: SODA)watched the Super Bowl from the cheap seats again this year, but this doesn't mean that it wasn't able to find a way into the game. The company behind the namesake maker of carbonated beverages was willing to spring for controversial soda industry-skewering Super Bowl ads in 2013 and 2014, but now it's taking shots at the ads themselves.
SodaStream issued a press release on Monday, taking shots atPepsiCo (NYSE: PEP) for introducing LIFEWTR in a Super Bowl spot. LIFEWTR is an electrolytes-enhanced drinking water, taking on rival Coca-Cola's (NYSE: KO) smartwater. As the newest player in the bottled water market, it does involve the thorny eco challenge about what happens to discarded containers.
"Shame on PepsiCo," SodaStream CEO Daniel Birnbaum is quoted as saying in the press release. "This bottled water industry is one of the biggest threats to the safety of our planet, with more than 100 million plastic bottles trashed every day in the US alone."
"Enough is enough," he concludes. "It's time for industry leaders to take bold steps to reduce this hazard rather than increase it."
Image source: SodaStream.
Flipping the bottle
SodaStream has played the environmental card before, taking shots at Coca-Cola and PepsiCo for the Great Pacific Garbage Patchand rolling out touring cage exhibitsthe show the waste a typical family goes through every year.
PepsiCo and Coca-Cola were targets of SodaStream's Super Bowl ads, too. SodaStream then went on to play nice with PepsiCo, introducing the Pepsi Homemade product line of soft drink flavors. PepsiCo was even a rumored buyer of SodaStream, but that chatter eventually fell as flat as a SodaStream bottle's content before carbonation.
SodaStream has shifted away from marking its appliance as a maker of flavored soda. Most of its usage is geared toward turning still water into sparkling water. Pepsi HomeMade flavors for SodaStream appear to be no longer in production.
The tactical shift seemed risky at first, but after three straight quarters of double-digit revenue growth it's fair to say that SodaStream made the right call. The shares are on fire, soaring 142% last year and off to another strong start in 2017 with a 14% pop year to date. SodaStream stock hit another two-year high yesterday.
Armed with 10 million active users worldwide and selling hundreds of thousands of starter systems a month, SodaStream is getting the last laugh on Coca-Cola and PepsiCo.
10 stocks we like better than SodaStreamWhen investing geniuses David and Tom Gardner have a stock tip, it can pay to listen. After all, the newsletter they have run for over a decade, Motley Fool Stock Advisor, has tripled the market.*
David and Tom just revealed what they believe are the 10 best stocks for investors to buy right now... and SodaStream wasn't one of them! That's right -- they think these 10 stocks are even better buys.
Click here to learn about these picks!
*Stock Advisor returns as of February 6, 2017
Rick Munarriz has no position in any stocks mentioned. The Motley Fool owns shares of and recommends PepsiCo. The Motley Fool owns shares of SodaStream. The Motley Fool recommends Coca-Cola. The Motley Fool has a disclosure policy.