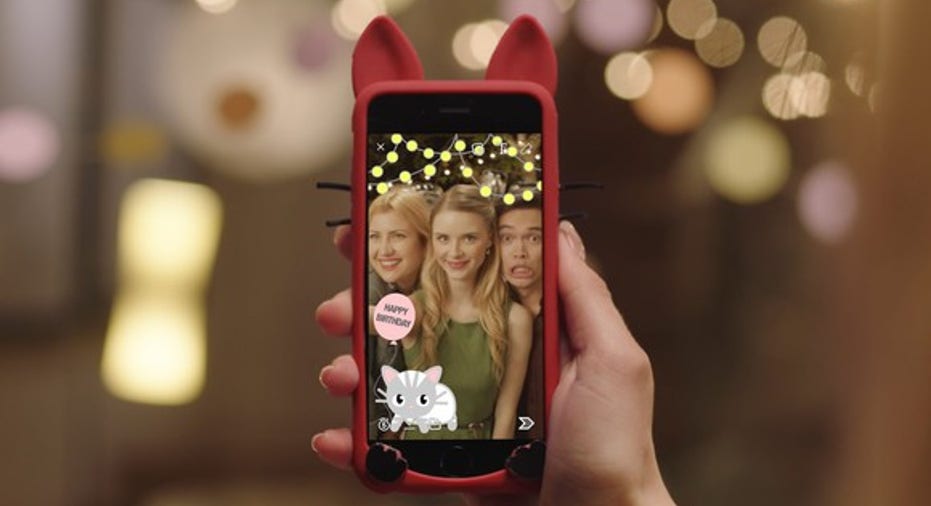 Investors trouncedSnap, Inc.'s(NYSE: SNAP)stock last week after posting disappointing financial results, but Snapchat's parent company is on the comeback trail. The shares may have taken a brutal 21% hit last Thursday after falling short in its first quarterly report as a public company, but Snap stock has gone on to soar 15% in the next three trading days.
The stock's rise coincides with 13F filings showing some of the firms that now own a chunk of Snap including Goldman Sachs and George Soros' Soros Fund Management. A few mutual fund giants including Fidelity and Vanguard also chimed in with significant stakes.
Image source: Snap, Inc.
Imitation is the sincerest form of flattery
Snap stock moved higher despite Facebook's (NASDAQ: FB) Instagram rolling out yet another Snapchat-like feature. Facebook introduced Face Filters, allowing folks to add colorful stickers to Instagram snapshots. Facebook's Instagram also unveiled camera tools including a feature to play a video in reverse, not a direct Snapchat copycat move, but just the next step in this never-ending game of oneupmanship.
Anthony Pompliano -- the former Snap employee that is suing the company after being fired three weeks into his tenure -- is also elevating his lawsuit, taking the complaint to federal court as he files for whistleblower protection. The development may or may not have consequences for Snap, but it's yet another development that could prove negative.
Between Facebook pulling out all of the stops in an attempt to crush Snap and the controversy of a short-lived hire not fading away, it's surprising to see Snap stock bounce back so quickly. It also doesn't help that last week's financial results were disappointing.
There's no denying that it was a rough quarter for Snap. Revenue may have soared 286% to $149.7 million, but Wall Street pros were expecting a 307% surge on the top line. It also posted a slightly larger loss than analysts were forecasting. We also saw revenue and average revenue per user take a sequential dip, something that's somewhat understandable given the seasonality of holiday advertising trends but still not what growth investors like to see in a Wall Street debutante.
Snap stock climbed higherin each of the three weeks ahead of earnings week,climbing nearly 15%in the process. Now it has risen that much in just three positive trading days following its report. The trend is a bull's friend, again, but Snap's volatile stock suggests that good times as well as bad times don't stick around for long.
10 stocks we like better than Snap Inc.When investing geniuses David and Tom Gardner have a stock tip, it can pay to listen. After all, the newsletter they have run for over a decade, Motley Fool Stock Advisor, has tripled the market.*
David and Tom just revealed what they believe are the 10 best stocks for investors to buy right now... and Snap Inc. wasn't one of them! That's right -- they think these 10 stocks are even better buys.
Click here to learn about these picks!
*Stock Advisor returns as of May 1, 2017
Rick Munarriz has no position in any stocks mentioned. The Motley Fool owns shares of and recommends Facebook. The Motley Fool has a disclosure policy.