Snap Stock Falls as Facebook, Inc. Launches More Copycat Snapchat Features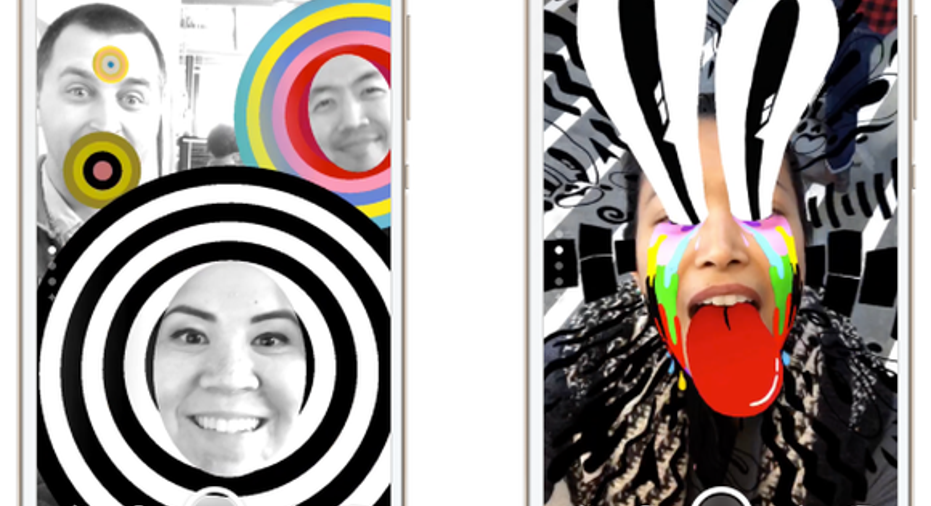 On Tuesday, Facebook's (NASDAQ: FB) ruthless assault on Snap (NYSE: SNAP) through a growing suite of Snapchat-like features continued. And Snap stock is being punished as a result, falling about 3.5% on Tuesday at the time of this writing.
In what is arguably Facebook's biggest attack on Snap yet, Facebook's latest update brings three new Snapchat-style feature to the main Facebook app.
Facebook camera effect. Image source: Facebook.
A major update
In updates rolling out this week for the mobile Facebook appon iOS and Android, the latest Facebook version will include three new features for photos and videos: camera effects, Facebook Stories, and an easier way to share photos and videos directly with friends. All three features take cues from Snapchat. Here's a look at each new feature.
Camera effects: Facebook's new update integrates mobile cameras, along with new camera effects, directly into the Facebook app. Users can access the camera either through the camera icon or by swiping right from the News Feed. There are "dozens" of new effects, such as masks, frames, and interactive filters that can be applied to photos or videos, Facebook said in its blog post about its new features on Tuesday.
Facebook camera effect. Image source: Facebook.
Stories: Initially popularized on Snapchat, this new update integrates Snapchat's signature "stories" format directly into Facebook. The stories format curates a users' photos and videos into a daily story.
Bringing stories to Facebook completes Facebook's rollout of the format to all of its major apps. Stories first launched on Facebook's Instagram last year and has since been introduced on Facebook's messaging apps: WhatsApp and Messenger.
"Your friends can view photos or videos [from] your story for 24 hours, and stories won't appear on your Timeline or in News Feed unless you post them there, too," Facebook explained in its blog post.
Direct sharing: As part of its update on Tuesday, Facebook also made it easy for users to share photos and videos directly with specific friends. Facebook calls the new feature Direct. Like Snapchat, the content sent disappears after it is viewed by the recipient.
A challenge for Snap, but a risk for Facebook
There's no question these new features are aimed directly at Snap's camera-centric social network. These new Facebook updates are focused on making better use of mobile cameras within its app, and Snap has recently gone as far to begin calling itself a "camera company." Facebook's increasing emphasis on mobile cameras puts the company squarely in Snap's territory. And Facebook says there's more to come for the camera in the Facebook app:
But such a dramatic update also poses the risk of weighing on the simplicity and familiarity of the Facebook app. With its 1.9 billion monthly active users, of which about 1.7 billion use Facebook on mobile devices every month, Snapchat-like features haven't yet proven to appeal to an audience as big as Facebook's.
10 stocks we like better than FacebookWhen investing geniuses David and Tom Gardner have a stock tip, it can pay to listen. After all, the newsletter they have run for over a decade, Motley Fool Stock Advisor, has tripled the market.*
David and Tom just revealed what they believe are the 10 best stocks for investors to buy right now... and Facebook wasn't one of them! That's right -- they think these 10 stocks are even better buys.
Click here to learn about these picks!
*Stock Advisor returns as of February 6, 2017
Daniel Sparks owns shares of Facebook. The Motley Fool owns shares of and recommends Facebook. The Motley Fool has a disclosure policy.