Smith & Wesson: Too Early to Predict AR-15 Surge, But Big Year Ahead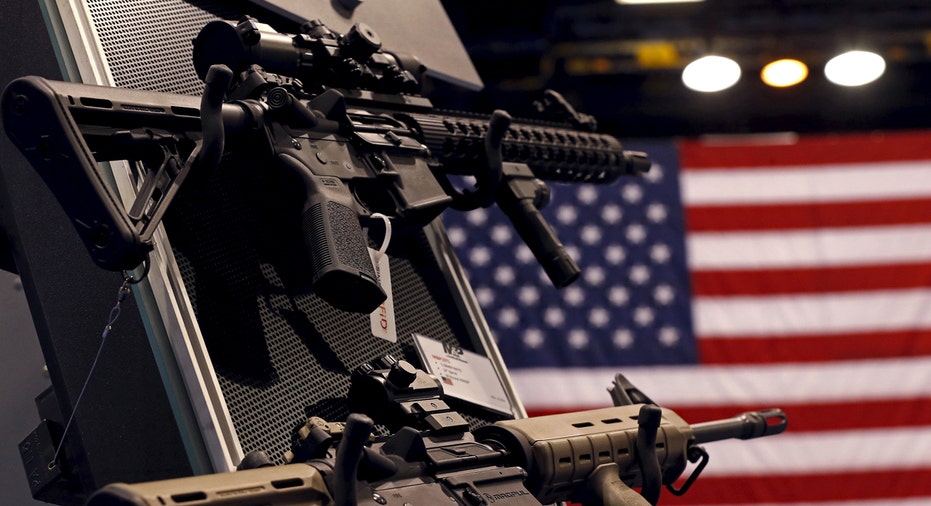 UPDATED
Smith & Wesson (NASDAQ:SWHC) is projecting another big year for gun sales, sparking another rally for gun stocks on Friday.
Smith & Wesson and its rival, Sturm, Ruger & Co. (NYSE:RGR), have posted big gains on Wall Street this week. Following the terrorist attack in Orlando, Democrats held a filibuster on the Senate floor to call for new regulations on gun purchases, specifically AR-15 semi-automatic rifles. Consumer demand has surged in response to other gun-control campaigns in recent years, and analysts believe another surge could be on the way.
Jay Wallace, owner of Adventure Outdoors, told the FOX Business Network on Wednesday that his Georgia gun store was selling 15 AR-15 rifles every hour. Hunters Warehouse owner Tom Engle said close to 30,000 orders have come in since Sunday.
"The firearms market could see another re-acceleration in demand trends in response to last week's incident in Orlando, similar to the sharp surge in demand, particularly in handguns, seen just after the Paris and San Bernardino incidents late last year," Wunderlich analyst Rommel Dionisio wrote in a research note to clients.
Smith & Wesson signaled that it's too early to predict another surge in demand for AR-15s and other firearms. Still, Smith & Wesson expects current momentum to carry sales higher.
The Springfield, Mass.-based gun maker reported fourth-quarter earnings and revenue that beat Wall Street estimates, closing the books on a year in which the gun maker earned its highest-ever annual profit. Smith & Wesson also issued a strong outlook for fiscal 2017 amid expectations that sales of handguns and hunting rifles will continue to grow.
Gun Sales Momentum
Net sales are projected to reach $740 million to $760 million in the current fiscal year. The high end of the range would reflect year-over-year growth of 5%. Smith & Wesson also called for adjusted per-share earnings of $1.83 to $1.93. For the first quarter, the company sees sales of $190 million to $200 million, and adjusted earnings of 49 cents to 53 cents a share.
During a conference call with analysts, Chief Financial Officer Jeff Buchanan said the guidance doesn't take into account any sudden spike in sales.
"So with regard to what happened, any impact on demand is unknown, and therefore is not included in our guidance," Buchanan said. "It has only been a couple of days. So it's a little hard to tell what any long-term impact on demand is by two or three days of activity."
As it stands, Smith & Wesson's outlook for the quarter and the full year easily surpassed Wall Street's forecasts.
Smith & Wesson rallied 8.7% on the day to $23.56, putting the stock up 10.5% for the week. Ruger edged 2.1% higher to $60.64, good for a 5.6% weekly gain. Meanwhile, the S&P 500 slipped 1.2% since Monday.
Handguns vs Rifles
Smith & Wesson is primarily focused on boosting sales of its handgun models. CEO James Debney noted that Smith & Wesson's M&P Shield is the industry's top seller. He said Smith & Wesson also sees future growth in hunting rifles. Thompson/Center Arms, a Smith & Wesson brand, recently introduced a budget bolt-action rifle, the Compass.
Handguns comprised a far majority of Smith & Wesson's full-year sales. Smith & Wesson shipped an all-time high of 1.87 million guns, and 84% of those firearms were handguns, according to the company's annual report.
However, Debney emphasized that Smith & Wesson is a "market leader" in modern sporting rifles, a category that includes AR-15 models. Smith & Wesson shipped 41.9% more long guns in the fourth quarter, outpacing a 2.2% increase in adjusted FBI background checks for those firearms.
Smith & Wesson recorded fourth-quarter earnings of $35.6 million, a 63% increase year-over-year. Excluding one-time items, earnings climbed to 66 cents a share from 45 cents. Analysts expected an adjusted profit of 54 cents a share. Net sales jumped 22% to $221.1 million, topping Wall Street's consensus estimate of $214.6 million.