Smith & Wesson Holding Corp Should Be Very Worried About These Numbers (Hint: It's Not FBI Backgroun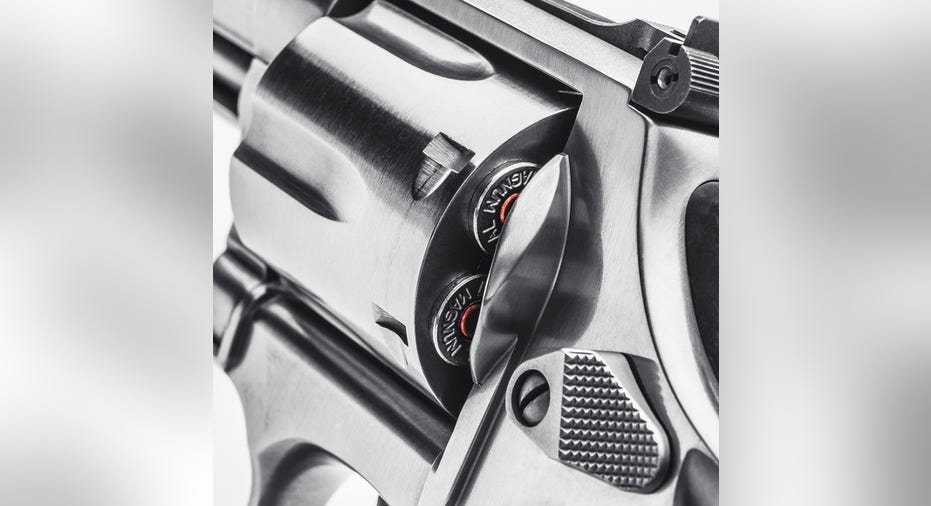 These are boom times for the gun industry, but they won't last if gunmakers like Smith & Wesson don't change with the market. Image source: Getty Images
It's not surprising the media got it wrong about the number of criminal background checks the FBI conducted in May. They pointed to the sequential decline in investigations as evidence gun sales were slowing, but ignored the fact that background checks were still at all-time record levels, and the summer months were typically slow due to seasonality.
That's why when Smith & Wesson reported a 22% increase in fiscal 2016 fourth quarter firearms sales last week, handily beating analyst expectations, most industry followers were surprised by the performance. With fellow publicly-traded gun makerSturm, Ruger scheduled to report its own earnings next month, we likely won't see Wall Street make the same mistake again.
Yet there are even more worrisome numbers Smith & Wesson and Sturm, Ruger need to address, because if they ignore them just as the media ignored the continued strength in FBI criminal investigations, the gun industry could suffer a dramatic and possibly severe reversal of fortunes over the long-term: the demographics of gun owners in the U.S.
Ghost riders
For a parallel example, one need look no further than Harley-Davidson , the premier motorcycle maker, which has controlled more than half of the big bike market for years. In recent periods, though, it has seen its share slip. If the trend continues, its market share may soon fall below 50%.
Up until the Great Recession, Harley couldn't produce enough bikes to keep up with demand, but the collapse of the financial markets changed everything. Where it had shipped almost 350,000 motorcycles worldwide in 2006, it had a hard time shipping just 270,000 bikes last year. The primary reason was a drop in sales to its core customer: the middle-aged white male, who accounts for 55% of all Harley salesin the market segment of engines 601cc and above.
Instead, first-time riders, women, blacks, and Hispanics -- what Harley-Davidson calls its outreach customers -- are the new growth market, and it is now building bikes geared primarily for these riders, such as its successful Street 500 and Street 750 models. But it took a dramaticdecline in sales for Harley to understand the change.
So it's this development the gun industry needs to watch if it wants to keep growing in the future, not month-to-month changes in the number of FBI background checks.
No longer on target
The demographics of the United States are changing. According to the U.S. Census Bureau, there were 20 million children under the age of five in 2014, 50.2% of whom were minorities -- some 22% were Hispanic and 15% were black. By 2020, the Census Bureau estimates more than half of the population under 18 will be of a minority race or ethnicity.
The reason that's important to the gun industry is that, like Harley-Davidson customers, the primary buyers of firearms are white males living in a rural part of the country. The Pew Research Center says 38% of all men in the country own a gun while 31% of women do (the General Social Survey puts it at 35% and almost 12%, respectively).
While Hispanics and blacks own guns in equal proportions, around 20%, some 41% of white adults are gun owners. They also tend to be older, with 40% of adults 50 to 64 and 40% of those 65 or older reporting gun ownership. Only 26% of 18 to 29 year olds report having a gun in their homes.
What that means is that as the country becomes younger and more urban, and as those people represent more minority groups, Smith & Wesson, Ruger, and other gunmakers need to develop their own outreach programs if they want to keep selling more guns.
Getting part of it right
To a certain extent they have. For example, since 2012, Smith & Wesson has produced over one million M&P Shield handguns, a smaller, more lightweight model geared to the concealed carry market. Intuitively, it would also be a weapon more popular with women, who the National Shooting Sports Foundation says constitute the fastest growing segment in the industry.
While catering to women will be important, there are already large and growing numbers who own a gun. It's going to be key for theindustry to also target other segments of the population, pushing for increased gun ownership among minorities, too.
And while events like the mass shooting in Orlando that left 49 people dead are always tragic, it's reported the incident has caused a surge in gun-buying among the LGBT community. Although I doubt there is any hard data on gun ownership based on sexual orientation, the national Pink Pistols gun club for gays and lesbians said its membership more than doubled following the tragedy.
The debate over gun control will always be an industry given, and the ebb and flow of legislation will still drive surges in gun purchases. But Smith & Wesson and Sturm, Ruger shouldn't wait to confront what is arguably their biggest challenge in the years ahead: the changing face of the country, which will see its core customer today marginalized in the future.
The article Smith & Wesson Holding Corp Should Be Very Worried About These Numbers (Hint: It's Not FBI Background Checks) originally appeared on Fool.com.
Rich Duprey has no position in any stocks mentioned. The Motley Fool has no position in any of the stocks mentioned. Try any of our Foolish newsletter services free for 30 days. We Fools may not all hold the same opinions, but we all believe that considering a diverse range of insights makes us better investors. The Motley Fool has a disclosure policy.
Copyright 1995 - 2016 The Motley Fool, LLC. All rights reserved. The Motley Fool has a disclosure policy.