Slowing Sales Growth at TJMaxx, Marshalls Parent Stokes Retail-Industry Concern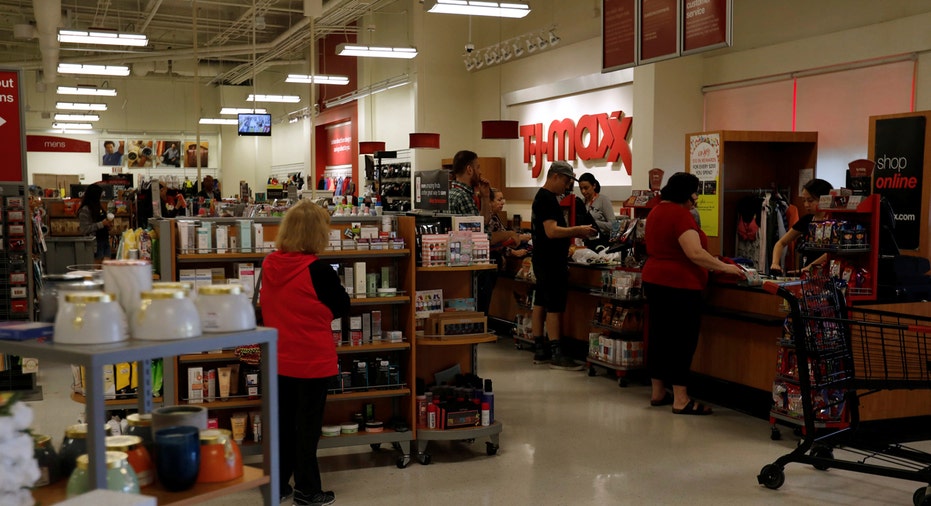 Shares of off-price retailer TJX (NYSE:TJX), which has been a standout performer for the retail industry in recent quarters, dropped as much as 5% on Tuesday after revealing the slowest comparable-store sales growth in 12 quarters and a downward revision to its second-quarter outlook.
The parent company of TJMaxx, Marshalls and HomeGoods revealed earnings of 82 cents a share, three cents above Wall Street's expectations, while revenues in the first three months of the year rose 3% from the year-ago period to $7.84 billion, light of forecasts for $7.87 billion.
Same-store sales, a key metric for retailers that measures transactions at stores open at least a year, rose 1% in the first quarter after rising 7% during the same time a year ago. The company's HomeGoods and TJX Canada divisions saw positive increases of 3% each in same-store sales, while those at TJMaxx, Marshalls, and TJX International were flat. For comparison, during the first three months of the prior year, TJX Canada saw a 14% jump in comp sales, while Home Goods rose 9%, TJMaxx and Marshalls gained 6% and TJX International rose 4%.
Despite the growth slowdown during the quarter, CEO Ernie Herman said he is "confident" the company is gaining market share at each of its major divisions as the second quarter gets off to a "solid start." Despite liquidation sales ahead of store closures at various retailers – including JCPenney (NYSE:JCP) and Macy's (NYSE:M), Herman blamed the weak same-store sales growth on weather-related issues and missed opportunities in certain categories, though he declined to elaborate on the company's earnings call Tuesday afternoon.
"There was no impact from liquidation sales," he said. "Weather was by far the biggest issue, but there were also just a handful of departments where we could have done a better job flowing certain types of goods."
The results followed a string of disappointing earnings results from America's department stores last week, which punished the share prices of once great department-store chains including Macy's, JCPenney, Dillards (NYSE:DDS), Nordstrom (NYSE:JWN), and Kohl's (NYSE:KSS) as they shed a combined $4.2 billion in market value. Earnings revealed the brands face continued sales pressure as they struggle to transition away from a bricks-and-mortar focus to digital and e-commerce platforms that appeal to younger generations.
TJX said the strong dollar shaved about two percentage points off its consolidated net sales growth during the first quarter, and expects currency headwinds to have an even bigger impact in the second quarter. The company lowered its expected earnings per share to a range of 81 cents to 83 cents, below prior guidance for 84 cents, citing the combination of foreign currency and transactional foreign exchange impact alongside pressures from rising wages.
For the full year, the company expects adjusted earnings per share in the range of $3.71 to $3.78, a between 5% and 7% increase from the prior year.
Despite the weaker-then-expected performance in the first quarter, which sent shares to a session low of $73.07 Tuesday, executives at TJX hope continued growth in apparel along with more emphasis on home-goods products, summer weather, and more visibility of competitor prices thanks to the shift to e-commerce will help drive growth across its brands and categories. On the company's year-end call in February, TJX executives teased a new U.S. home-goods store concept and on Tuesday Herman revealed details including the name – HomeSense – and a plan to open the first store in late summer with others slated for the fall.
While some analysts on the call worried the new concept would cannibalize existing sales at the company's HomeGoods stores, executives said the new product mix and check-out process would provide enough differentiation to help the overall company continue gaining market share.
"We will be leveraging many aspects of our existing organization including distribution centers, supply chain, and global buying. We are significantly underpenetrated in the home-goods market and we think tremendous opportunity exists," Herman said, though he and CFO Scott Goldenberg declined to provide more details into product selection and store design until August.