SkinnyPop Stock Is Finally Starting to Pop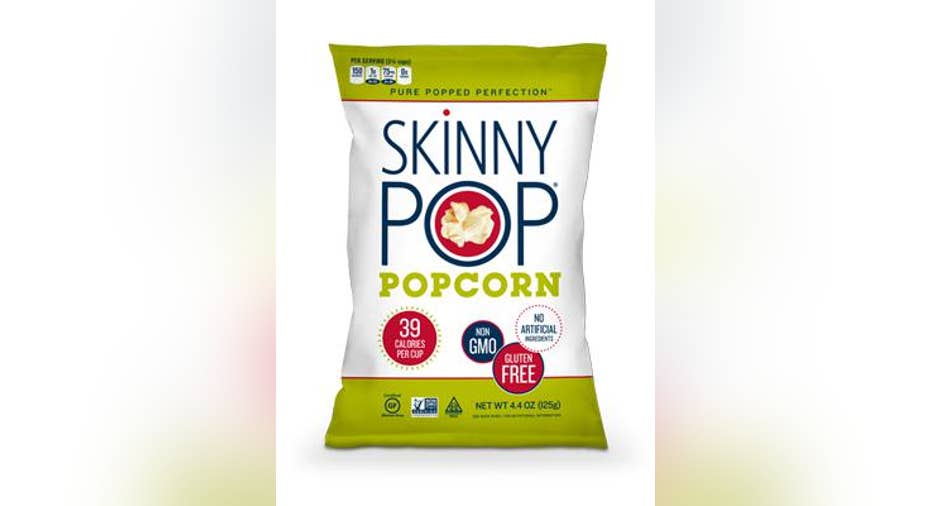 Image source: Amplify Snack Brands.
The company behind one of the hottest "better for you" snacks may be ready to break out of its broken IPO mold. Shares ofAmplify Snack Brands opened sharply higher on Wednesday after posting blowout financial results.
The distributor of SkinnyPop -- an all-natural popcorn that packs a mere 39 calories per cup -- clocked in with $46.4 million in net sales for its fourth quarter. That may not seem like a lot, but it represents 40.3% growth since the prior year's holiday quarter. Amplify Snack Brands has been able to grow its distribution reach, but the actual outlets selling SkinnyPop -- from Whole Foods Market to your favorite cheap-chic discount department store chain -- are seeing a spike in turnover at the individual unit level. New flavors and product platforms have helped, but folks generally can't seem to get enough of the product that consists solely of popcorn, sunflower oil, and salt.
Despite the additional costs of broadening its reach and the unflattering margin impact of its expanded product formats and flavors, adjusted earnings still soared 48% to $9.5 million -- or $0.13 a share. Analysts were holding out for just $0.09 a share on the bottom line.
This is Amplify Snack Brands' second quarter as a public company, and both times it has landed ahead of Wall Street's profit forecasts. It hasn't saved the stock from becoming yet another busted IPO. Amplify Snack Brands went public at $18 back in August, and it fizzled right out of the gate. It opened at $16.06, and it's been largely downhill ever since.
You can blame Amplify's lack of market interest on its lousy timing. It went public just as Whole Foods Market was cratering. SkinnyPop -- an all-natural product free of GMOs, gluten, and unnatural ingredients -- was hopping on the wrong coattails. Amplify's acquired Paqui tortilla chips brand rolls with similar principles. Millennials were swearing off Whole Foods, a move that finds the former market darling launching the discount 365 concept later this year. Whole Foods Market stock shed a third of its value last year.
The comparison isn't fair, especially since most of Amplify's sales take place in traditional grocery stores and mainstream retailers. It's also clear that Amplify's sales are growing at a time when comps have turned negative at Whole Foods.
Amplify Snack Brands is offering a rosy outlook. It sees net sales climbing to between $231 million and $237 million in 2016, 26% to 29% ahead of last year. Adjusted earnings per share is expected to climb by 20% to 26% to between $0.61 and $0.64. That is higher than where the market's perched on both ends of the income statement. Analysts were modeling a profit of just $0.57 a share on $230.97 million in net sales.
That finds Amplify trading for less than 19 times the midpoint of this year's adjusted earnings outlook as of yesterday's close, even though the company itself is growing substantially faster. You don't often find food companies growing faster than their earnings multiples, but now it's up to Amplify to keep growing at a heady clip so it can claw its way back up the wall to finally get over its IPO price.
The article SkinnyPop Stock Is Finally Starting to Pop originally appeared on Fool.com.
John Mackey, co-CEO of Whole Foods Market, is a member of The Motley Fool's board of directors. Rick Munarriz owns shares of Amplify Snack Brands,. The Motley Fool owns shares of and recommends Whole Foods Market. Try any of our Foolish newsletter services free for 30 days. We Fools may not all hold the same opinions, but we all believe that considering a diverse range of insights makes us better investors. The Motley Fool has a disclosure policy.
Copyright 1995 - 2016 The Motley Fool, LLC. All rights reserved. The Motley Fool has a disclosure policy.