Skechers Stock Has a Long Road Back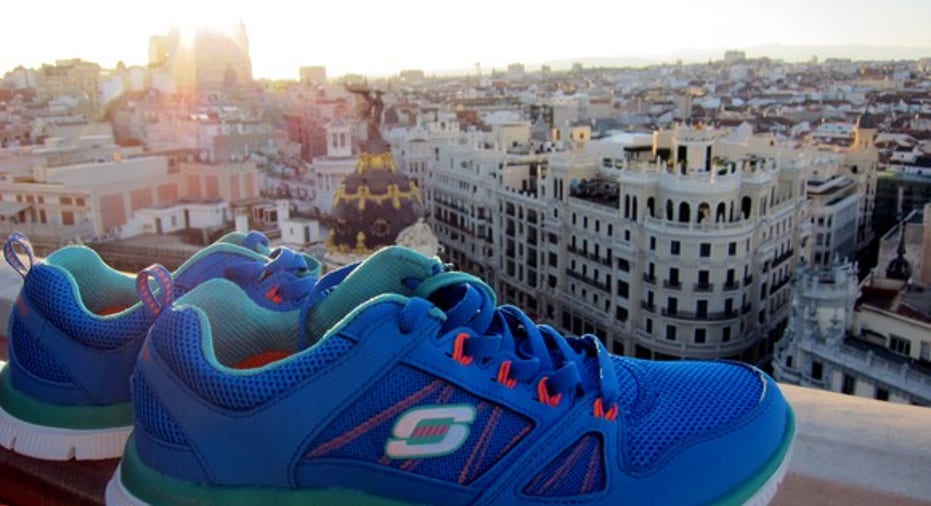 Skechers(NYSE: SKX)hit a big milestone on Thursday, but any marathon runner will tell you that a mile is just one stretch of a much longer journey. Skechers clocked in with $1.073 billion in net sales for the first quarter, the first time it's topped $1 billion in revenue.
Cracking 10 figures is a pretty big deal for any company, and it also means Skechers landed at the high end of its guidance. Back in February it was targeting $1.05 billion to $1.075 billion in net sales. Achieving 9.7% year-over-year growth makes this the third period of the past four that revenue has failed to reach double digits, but it's an impressive showing when one gauges the headwinds. The prior-year period had one more day -- with February's leap year in 2016 -- and there was also the seasonally potent Easter holiday that fell in March of last year but slipped into the second quarter this time around.
Skechers also overachieved on the bottom line, earning $0.60 a share for the quarter. The bottom-line showing fell short of the $0.63 it posted a year earlier, but Skechers' earlier guidance was targeting earnings per share between $0.50 and $0.55. After falling short of expectations for three consecutive quarters, Skechers managed to come out on top.
Image source: Skechers.
Laces get untied
Skechers is growing nicely on two out of three fronts. It was another period of double-digit growth for Skechers' retail business and international wholesale operations. Its international wholesale business rose 16.8%. Skechers' global network of company-owned retail stores saw its sales climb 12.8%, fueled by new store openings and a 2.9% uptick in comps.
The one laggard was once again Skechers' domestic wholesale business, but even there it was a mixed performance. It was able to sell 4.5% more shoes during the quarter, but at an average price point that was 4.8% less than a year earlier. In short, it was a flat showing for its domestic wholesale business.
Shares of Skechers still moved lower in after-hours trading on Thursday, and this is where it's important to turn our attention to its guidance for the second quarter. Skechers sees $950 million to $975 million in net sales for the current period, 8% to 11% ahead of the prior year's $881.1 million top-line results. However, it's also forecasting net income per share of $0.42 to $0.47. Skechers earned $0.48 a share a year earlier.
Skechers also mentioned that it will open 50 to 75 new company-owned retail stores this year. Back in February it was aiming for 70 to 90 new storefronts. Skechers is still taking steps in the right direction, and its domestic wholesale business is starting to stabilize. It was a mixed report out of Skechers, but that's been the norm in recent quarters.
10 stocks we like better than SkechersWhen investing geniuses David and Tom Gardner have a stock tip, it can pay to listen. After all, the newsletter they have run for over a decade, Motley Fool Stock Advisor, has tripled the market.*
David and Tom just revealed what they believe are the 10 best stocks for investors to buy right now... and Skechers wasn't one of them! That's right -- they think these 10 stocks are even better buys.
Click here to learn about these picks!
*Stock Advisor returns as of April 3, 2017
Rick Munarriz has no position in any stocks mentioned. The Motley Fool owns shares of and recommends Skechers. The Motley Fool has a disclosure policy.