Skechers Has a Lot to Prove on April 21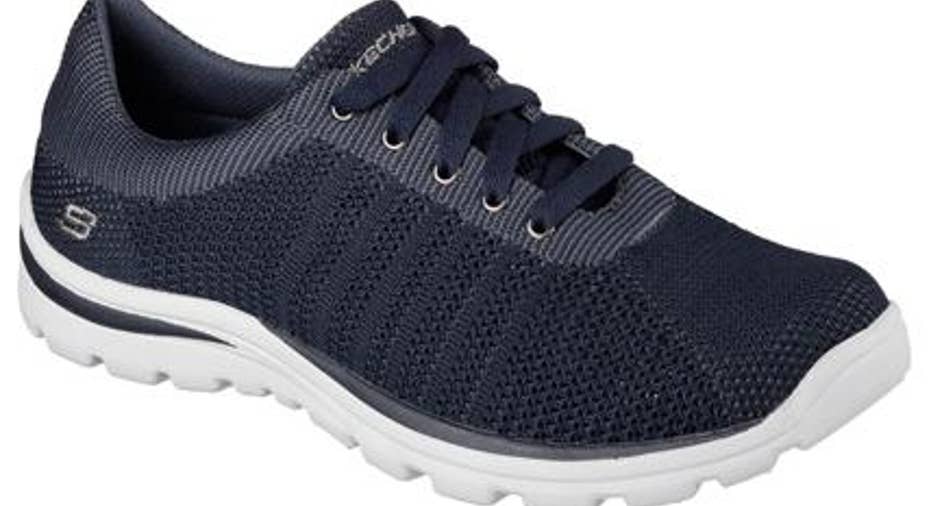 Image source: Skechers.
If there is ever a time forSkechers to lace up and get things done it will be next week. The footwear maker will report quarterly results on Thursday, and with the stock trading nearly half off of last year's all-time highs it's safe to say that shareholders can use some good news for a change.
Recent history isn't encouraging. It's fallen short of profit expectations in back-to-back quarters. The stock didn't take a hit on the news last time out, but two quarters ago Skechers stock shed nearly a third of its value -- 32% -- the day following the report.
If it provides any comfort, the circumstances were completely different six months ago. The top brand in walking footwear and distant No. 2 in athletic footwear was cocky heading into last year's fiscal third quarter.
"We believe that our accelerated growth trend will remain through 2015 and into 2016," Robert Greenberg said in July following a blowout second quarter.
"We remain comfortable with the analysts' current consensus estimates for the back half of 2015," CFO David Weinberg added, pointing to an increasing backlog of orders.
It didn't happen. Growth decelerated, and Skechers -- implying that its guidance was in line with where analysts were parking -- fell short of Wall Street's top- and bottom-line targets.
It's a humbler Skechers toiling away today, and that's a good thing. It fell short in the courtroom earlier this year, losing out against rival adidas in apreliminary injunction, but that incident stemmed from Skechers footwear that the company had already discontinued.
Revenue isn't growing at the blazing 39% clip that Skechers clocked in at during the first half of last year, but it's coming off of back-to-back quarters of healthy 27% growth. Skechers continues to grow its store base and brand reach. Gross margins also expanded during the holiday quarter, a welcome sign that it's not trying to counter decelerating top-line growth by marking down its product.
Skechers stock closed yesterday 48% below last summer's all-time high, but this doesn't seem like roughly half the company that it used to be at its August peak. If growth is decent after we adjust for fluctuations in effective tax rates and foreign currencies the market reaction will likely be more in line with the way it was last time out -- where the stock actually inched slightly higher on mixed financials -- than the way things played out two quarters ago when management's cockiness was exposed.
We're now just a handful of days away from knowing the score. It's up to the footwear maker to get 2016 off on the right foot.
The article Skechers Has a Lot to Prove on April 21 originally appeared on Fool.com.
Rick Munarriz has no position in any stocks mentioned. The Motley Fool owns shares of and recommends Skechers. Try any of our Foolish newsletter services free for 30 days. We Fools may not all hold the same opinions, but we all believe that considering a diverse range of insights makes us better investors. The Motley Fool has a disclosure policy.
Copyright 1995 - 2016 The Motley Fool, LLC. All rights reserved. The Motley Fool has a disclosure policy.