Skechers Doubles Down On Asia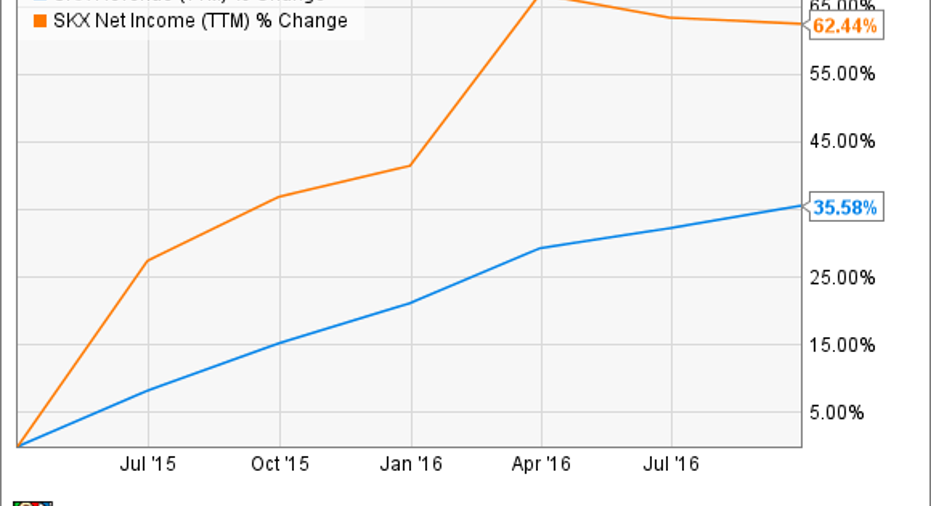 Quirky footwear maker Skechers (NYSE: SKX)recently announced that it is launching a joint venture in South Korea and doing away with its third-party distributor model there. The move strengthens a strategy of international expansion that is at the heart of the company's growth initiative, and bolsters efforts in the key Asian market for the Manhattan Beach, Calif.-based company.
Image source: Skechers.
Details of the deal
Skechers has been betting that international sales will propel it back to growth, and this latest announcement is in line with that strategy. The company is transferring its third-party distributor model in South Korea away from partner LS Networks and to a joint venture called Skechers Korea Co. with Luen Thai Enterprises, a Hong Kong-based apparel manufacturer.
Skechers' brand of casual and athletic shoes have been in South Korea since the early 2000s. In that time, the company's network of stores has grown to 57, 13 of which are directly owned by Skechers. The shoes have also found distribution through other major retailers based in the country. Following in the footsteps of its stateside strategy, Skechers has embraced product endorsements with Korean music superstars like Sistar and EXO.
LS Networks had been handling sales duties since 2009. Through Skechers Korea Co., it is hoped that business will get a shot in the arm and will expand more efficiently. "By forming a joint venture with Skechers that combines our global expertise with their unique insight in this market well be able to more efficiently build the brand and more effectively directly target merchandising to the unique tastes of consumers across South Korea," said Willie Tan, chief executive officer of Skechers Asia joint ventures.
Image source: Luen Thai Holdings.
Skechers' growth overseas
The shoe company has made it a goal to derive half of its sales internationally. During the last earnings call, management reiterated it still felt that strategy represented the biggest opportunity for Skechers.
In the last year, international distribution has gone through the roof. The numbers have started to slow, but the company has been flirting with its 50% of sales goal.
Data source: Skechers' quarterly earnings reports. Chart by author.
Tan said that the Luen Thai joint venture is expected to help not only Skechers' sales in South Korea, but across the whole Asian continent through synergies with other distribution partners.
The South Korean model isn't new or unique; a similar deal was inked in September for Israel, as well. Skechers has said it is evaluating more markets around the world to see if a joint venture or wholly owned subsidiary business makes sense.
The strategy has been working. Even against a backdrop of slowing or shrinking sales in its U.S. business, Skechers' international sales boost in the last couple of years has helped overall revenue stay on an upward trend.
Data source: Skechers quarterly earnings reports.YoY = year-over-year. Chart by author.
What investors should think about
Skechers has gotten a lot of flak over the last couple of years. Total sales, while still growing, have been slowing down. The company even missed its own sales forecast during the last quarter. Profits have also been hit in recent quarters, in large part due to the expansion efforts overseas. As a result, share prices have been cut in half from 2015 highs.
Overlooked, though, is the fact that the company is still growing. It remains to be seen if transitioning distribution duties to joint ventures will help push sales ever higher, but it's tough to argue against the success the business has seen over the last couple of years.
Also missing from the conversation is what will happen to profitability as those international investments wind down and start paying off. What was a drag on the bottom line should provide a big boost in the years to come.
Data by YCharts.
Riding success overseas and continuing to adjust its strategy to drive further growth, it should be interesting to keep an eye on this metric for Skechers.
10 stocks we like better than Skechers When investing geniuses David and Tom Gardner have a stock tip, it can pay to listen. After all, the newsletter they have run for over a decade, Motley Fool Stock Advisor, has tripled the market.*
David and Tom just revealed what they believe are the 10 best stocks for investors to buy right now... and Skechers wasn't one of them! That's right -- they think these 10 stocks are even better buys.
Click here to learn about these picks!
*Stock Advisor returns as of January 4, 2017
Nicholas Rossolillo owns shares of Skechers. The Motley Fool owns shares of and recommends Skechers. The Motley Fool has a disclosure policy.