Skechers Concept Stores Help Drive International Growth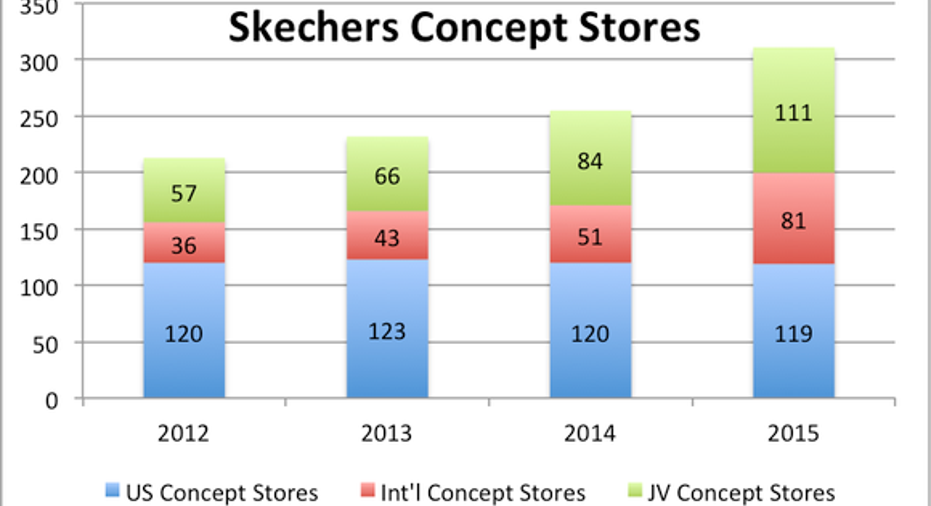 Image source: Skechers.com
Skechers (NYSE: SKX) posted 27% growth in its international wholesale segment in 2016, bringing its international business to 46.1% of revenue as reported in its fourth quarter earnings release. The company's strategic investments in its international concept stores over the last several years played a key role in its international growth by ensuring the right products are available for its wholesale customers, thereby increasing sales and reducing markdowns. With Skechers having twice the number of international concept stores as its U.S. domestic segment, there is clear potential for tremendous international growth in 2017 and beyond.
What is a Skechers concept store?
Skechers concept stores play a key role in the company's operating strategy. These stores are located in marquee locations -- major tourist areas or key shopping malls in metropolitan cities -- to get the most traffic and "maximum marketing value". These stores showcase the entire Skechers product line, and are a testing ground for new marketing campaigns and products. Skechers uses customer feedback and product sales data from these stores to adjust new product rollouts and marketing campaigns. The benefits to the company's supply chain is explained in the company's annual report:
Although Skechers concept store sales are reported in the retail segment, the product sales data these stores provide informs and facilitates its international wholesale segment growth.
Skechers international growth led by concept stores
As reported in Skechers most recent 10-K, Skechers believes "that we have established our [store] presence in most major domestic retail markets,"but clearly there is plenty of room for growth in the company's international business. As you can see from the graph below, domestically, the number of concept stores has been flat since 2012, but the combined number of company-owned international concept stores and international joint venture stores (JV) has more than doubled. In 2016, Skechers added 19 additional international company-owned concept stores.Note that the joint venture concept store count has not yet been released for 2016.
Image source: Author's graph from Skechers 10-K reports.
The growth in international concept stores has helped Skechers international wholesale segment sales triple from $432 million in 2012 to $1.3 billion in 2016. With stores in over 160 countries and territories internationally, it is critically important that Skechers understand product demand down to the regional level to have the right products in stock and reduce the chance for product markdowns. The concept stores do exactly that. Skechers states in its most recent 10-K that "sales in our concept stores can also help forecast sales in national retail stores, and we share this sales information with our wholesale customers." Additionally, this helps Skechers ensure it has the right "in-stock" inventory to fulfill customer orders quickly.
With all this growth from its international business in the last 5 years, will Skechers continue to grow internationally? The answer is definitely yes.
More international growth ahead
As reported in Skechers fourth quarter earnings release, Skechers international wholesale segment became the company's largest segment by revenue. David Weinberg, Skechers' Chief Financial Officer, stressed the importance of growth for the international business going forward in the company's most recent earnings call.
As of its 2015 annual report, Skechers details more than 15,000 total US retail "doors" where Skechers products can be purchased, with US concept stores representing less than 1% of that total. While Skechers believes the US market is well represented, with retail outlets carrying Skechers products, this is not the case internationally. With international concept stores almost double the number of domestic stores (and growing), it's feasible to think that Skechers international business could be twice that of the US, which gives the international business a lot of room to run.
10 stocks we like better than SkechersWhen investing geniuses David and Tom Gardner have a stock tip, it can pay to listen. After all, the newsletter they have run for over a decade, Motley Fool Stock Advisor, has tripled the market.*
David and Tom just revealed what they believe are the 10 best stocks for investors to buy right now and Skechers wasn't one of them! That's right -- they think these 10 stocks are even better buys.
Click here to learn about these picks!
*Stock Advisor returns as of February 6, 2017
Brian Withers has no position in any stocks mentioned. The Motley Fool owns shares of and recommends Skechers. The Motley Fool has a disclosure policy.