Sin City Cheerless Over Web Poker Saga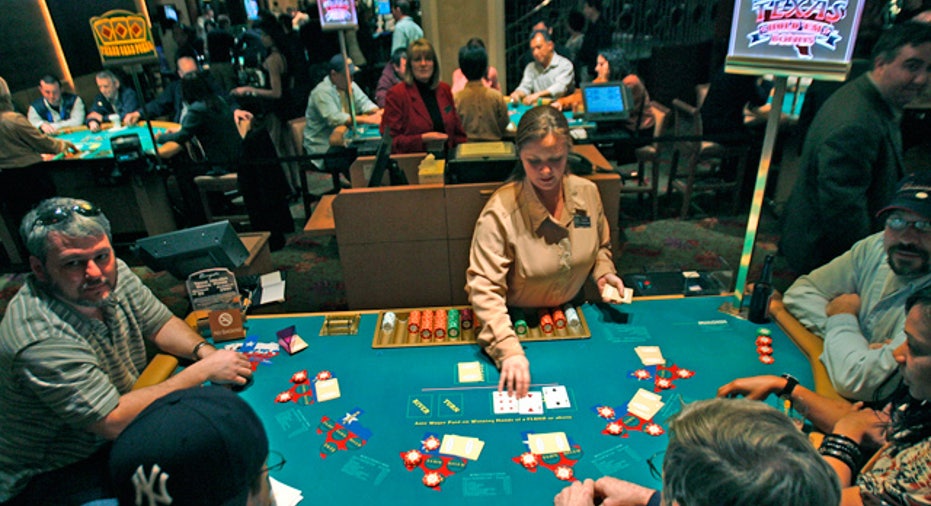 Las Vegas celebrations were surprisingly muted last month in the wake of the government's online poker shutdown, and for good reason: observers are still predicting challenges for casinos that could far outweigh any influx of gamblers as a result of the crackdown.
With more than 37.3 million visitors last year, Sin City casinos have more than doubled their profits over the last decade with the rise of online poker. Heightened interest in games over the web helped drive traffic and table revenues, as overnight poker stars with newfound confidence took their newly acquired skills out in public.
But U.S. officials have been trying to stifle the web gambling industry for years, most recently snatching domain names of the three largest U.S. poker sites - PokerStars, Full Tilt and Absolute Poker - after unsealing an indictment that charged the founders of those sites, as well as eight other defendants, with bank fraud, money laundering and illegal gambling offenses.
While the government's latest move prompted outcries from civil rights groups and high-stakes gamblers who shivered at the thought of being temporarily unable to withdraw their thousands from online poker accounts, any efforts to squash online gambling have so far proved inadequate.
"Unless this is going to be a way more effective way of 'defending Americans from the perils of online poker,' you're not going to see huge spillover," said David Schwartz, director of the Center for Gaming Research at the University of Las Vegas. "People are just going to find another way around it."
With the 2006 passing of the Unlawful Internet Gambling Enforcement Act that crippled online gambling and spooked Internet gambling companies out of the U.S., many thought the web industry would suffer, forcing gamblers back to casinos. Instead, numbers at casinos remained mostly unchanged during the passage of the federal law, which barred banks from transferring money from American bank accounts into web poker accounts.
Las Vegas revenue actually slumped to $12.47 million when the law passed in October 2006 from $12.59 million in September, according to the Center for Gaming Research. Experts say the numbers offer a sign that web players continued to hopscotch over federal hurdles.
"If that bill had been effective, you would have seen a big reverse, which you didn't," Schwartz said.
Sin City saw a whopping 25% hike from May 2007 to June 2007, but that was mostly due to Caesars' hosting of the World Series of Poker, which skyrocketed in popularity with the help of online gaming. Casino revenue more than doubled from 2002 through 2010 alongside the soaring demand for web poker, with the number of poker tables climbing to 920 from 386 and games revenues jumping 134% to $135.2 million from $57.8 million.
"Online poker had a pretty big impact on Nevada Poker - a pretty positive impact," Schwartz said.
Las Vegas growing pains
The big players in the casino industry, such as MGM Resorts (NYSE:MGM), Las Vegas Sands (NYSE:LVS) and Wynn Resorts (NASDAQ:WYNN), could feel the effects of an online shutdown. Randall Fine, managing director of The Fine Point Group, the gaming industry's largest full service management company and consulting firm, forecasts marginal impacts with little positive outcomes.
"This development will not have a material effect on any gaming company except for Caesars where it will have a negative effect," he said, noting that casino invested more in the red hot web industry than any of its peers. "No one is excited that there is going to be an influx of poker players to their casinos."
Online poker, Fine said, grew because of the convenience, and when you remove the convenience, people will buy less of the product.
"Hitting the table only twice a year makes it a much more intimidating game, one reason the casinos themselves could see a drop in table revenues," Schwartz said.
While casinos may see a tiny spike in traffic from the shutdown, the influx of online poker players won't move the earnings needle for casinos.
"When you factor in costs of labor to deal the games and costs of cards, chips, surveillance and free drinks, poker doesn't make a lot of money, if any money," Fine said. "Poker players only tend to play poker, so even if more come to Las Vegas, playing games that don't make money isn't necessarily a huge win."
There's a chance gamblers could altogether avoid the expensive hotels and dinners that often accompany a Las Vegas trip and try to find alternative means of gambling. Online operators managed to escape virtually unscathed from the recession because of their lack of operational costs, according to gambling expert Nelson Rose, who authors a blog called Gambling and the Law and consults governments and industries.
"Las Vegas became a man-made wonder of the world worth crossing the continent for," he said. "But these casinos are so over-built, they have a lot of supply to absorb, and now they have competition."
The future of gambling
New Jersey is expected to have a question regarding online gambling on the ballot this year and California continues to hold hearings on its legalization. Just before the indictments, Nevada neared a compromise regarding online gaming and Washington D.C. voted in favor of regulation.
"It's time to shift this from a law enforcement prohibition approach to the regulatory and taxation approach," Schwartz said.  "There's not a state in this country not looking for some kind of tax revenue."
The timing of the indictments, though, were probably not coincidental, and some say they could dash state efforts to legalize the game.
"They did this to send a message to the states, and I have a feeling it will work," Fine said.
A crop of new online poker sites will likely spring up, and while it will take some time for them to gain the credibility of their predecessors, gamblers' desire to play will trump the fears of the Department of Justice's latest indictments.
"It's not illegal to play online poker, so as long as players are doing nothing wrong, people outside the country will give them that opportunity," Fine said. "It's like whack a mole, you can knock a few down, but a few more will pop up."