Signs of Progress, and Higher Costs, at Urban Outfitters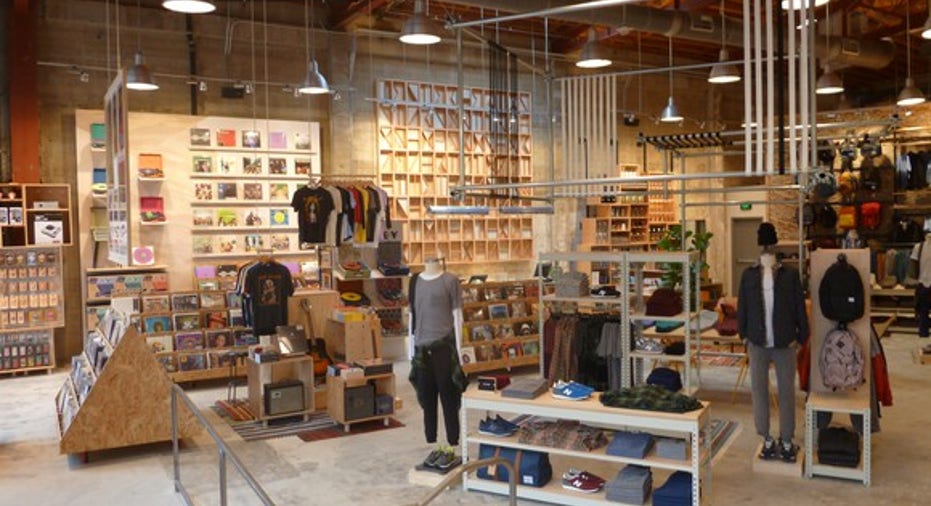 Apparel retailer Urban Outfitters reported its first-quarter results after the market close on May 18. The company grew revenue as comparable sales expanded at its namesake stores, but net income slumped on higher costs. Here's what investors need to know about Urban Outfitters' first quarter.
Image source: Urban Outfitters.
The raw numbers
| Metric | Q1 2016 | Q1 2015 | Growth (YOY) |
| --- | --- | --- | --- |
| Sales | $762.6 million | $739.0 million | 3.2% |
| Net income | $29.6 million | $32.8 million | (9.8%) |
| Diluted EPS | $0.25 | $0.25 | flat |
Data source: Urban Outfitters' Q1 earnings report.
What happened with Urban Outfitters this quarter
Urban Outfitters managed to grow comparable sales by 1% during the quarter, aided by an extra day because 2016 is a leap year.
Comparable sales at the company's namesake Urban Outfitters stores increased by 2%. Anthropology comparable sales were flat, and Free People comparable sales slumped 2%.
Wholesale revenue increased 16% year over year, accounting for 8.2% of total revenue.
Gross margin improved by 100 basis points year over year, rising to 34.3%. Urban Outfitters cited lower markdowns at its namesake stores as the main driver of the improvement, more than enough to offset higher markdowns at the company's Free People stores.
Higher marketing expenses and an increase in technology spending led operating expenses to grow by 9.3% year over year, far faster than revenue. Operating expenses as a percentage of revenue rose 155 basis points to 27.7%.
Urban Outfitters' share count decreased by 11.5% compared with the prior-year period because of share buybacks, allowing EPS to remain flat despite the sizable drop in net income.
The company opened three new Free People stores and one new Anthropologie store during the quarter, while closing one Urban Outfitters store and one Anthropologie store.
What management had to say
Urban Outfitters CEO Richard Hayne had little to say about Urban Outfitters' quarter in the company's press release: "We are pleased to announce record first quarter sales and improved gross profit margins. These results were driven by more compelling product assortments, improved inventory management and stronger marketing."
The company did manage to shrink inventory by 10% compared to the same period last year, a positive sign that the improved markdown situation Urban Outfitters achieved during both the fourth quarter of last year and the first quarter of this year is likely here to stay.
Looking forward
Heavy share buybacks saved Urban Outfitters from posting an EPS decline this quarter, the same story that played out during the fourth quarter of last year. There were plenty of signs of improvement, including higher comparable-store sales growth compared to the fourth quarter and a rising gross margin. But overall sales growth is still tepid.
Urban Outfitters' earnings peaked in 2013, and the company's gross and operating margins are far lower compared to peak levels reached in 2010. The company's revenue growth since then has produced barely any per-share earnings growth, and share buybacks have been the only contributor. Going forward, Urban Outfitters will need to prove to investors that it can return to sustainable earnings growth.
The article Signs of Progress, and Higher Costs, at Urban Outfitters originally appeared on Fool.com.
Timothy Green has no position in any stocks mentioned. The Motley Fool recommends Urban Outfitters. Try any of our Foolish newsletter services free for 30 days. We Fools may not all hold the same opinions, but we all believe that considering a diverse range of insights makes us better investors. The Motley Fool has a disclosure policy.
Copyright 1995 - 2016 The Motley Fool, LLC. All rights reserved. The Motley Fool has a disclosure policy.