Sierra Wireless, Inc. (USA) Revels in the Growth of the Internet of Things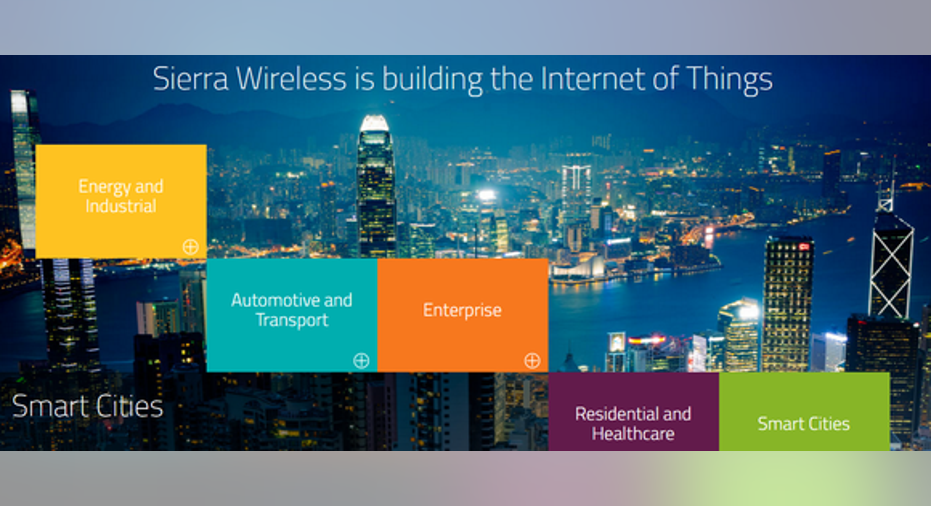 Image source: Sierra Wireless.
Sierra Wireless, (USA) lost $2.7 million in 2015 but this showing was a marked improvement over 2014's loss of $16.9 million. How did the wireless provider do this? Through healthy revenue growth and resolute cost control.
Healthy revenue growthFor starters, 2015 revenue was up 10.8% over last year to $607.8 and much of this lift came from the company's OEM solutions segment -- think tiny circuit boards about the size of a matchbook that connect devices to the Internet. This segment grew by 9.8% over last year and represented 86% of total company revenues for 2015. Enterprise Solutions on the other hand saw revenues dip by 12% for the year. This second segment did not greatly detract from the results of OEM solutions though as it represented only 10% of revenues.
On a more granular basis, President and CEO Jason Cohenour pointed to strong contributions from the company's Automotive, Energy, and Enterprise sub-segments in the company's fourth-quarter conference call as key drivers to the company's growth. Connected cars gained momentum, utilities captured operating and capital efficiences, and retail stores and ATMs increasingly migrated away from traditional wired broadband connections he indicated. Additionally, Cloud and Connectivity Services, a newly formed segment built around three wireless acquisitions made in 2015 added $21.4 million of new revenue in 2015.
Resolute cost control As a percentage of revenue, operating expenses for Sierra Wireless dropped by 4 percentage points to $183.7 million in 2015, though on an absolute basis they fell by only 1% compared to the year-ago period.This drop in expenses coupled with the lift in revenues is significant because it means that management is finding more efficient ways to drive revenue growth. Year-over-year comparisons reveal that almost all costs dropped as a percentage of sales.
On an important note, the company had an extraordinary item in the form of a $3.8 million impairment charge in 2014. Expenses such as this make it harder to compare one year to the next, as they occur infrequently and are not part of normal business operations. For Sierra Wireless, this expense resulted from the company's reduction in 2G chipset development in 2014. On the bright side, once this expense is removed from the mix, 2015 expenses still dropped by 3% as a percent of revenue.
In the final analysis, Sierra Wireless brought about a significantly diminished net loss through strong revenue growth and disciplined cost control. Management additionally indicated on the company earnings call that the Internet of Things would continue to grow in 2016 and provided revenue growth guidance of 4% to 10%. Thus, investors should expect losses to continue to shrink and eventually, for profits to grow.
The article Sierra Wireless, Inc. (USA) Revels in the Growth of the Internet of Things originally appeared on Fool.com.
Adam Brownlee has no position in any stocks mentioned. The Motley Fool owns shares of and recommends Sierra Wireless. Try any of our Foolish newsletter services free for 30 days. We Fools may not all hold the same opinions, but we all believe that considering a diverse range of insights makes us better investors. The Motley Fool has a disclosure policy.
Copyright 1995 - 2016 The Motley Fool, LLC. All rights reserved. The Motley Fool has a disclosure policy.