Should You Sell Philip Morris International Inc. After Its First Quarter Miss?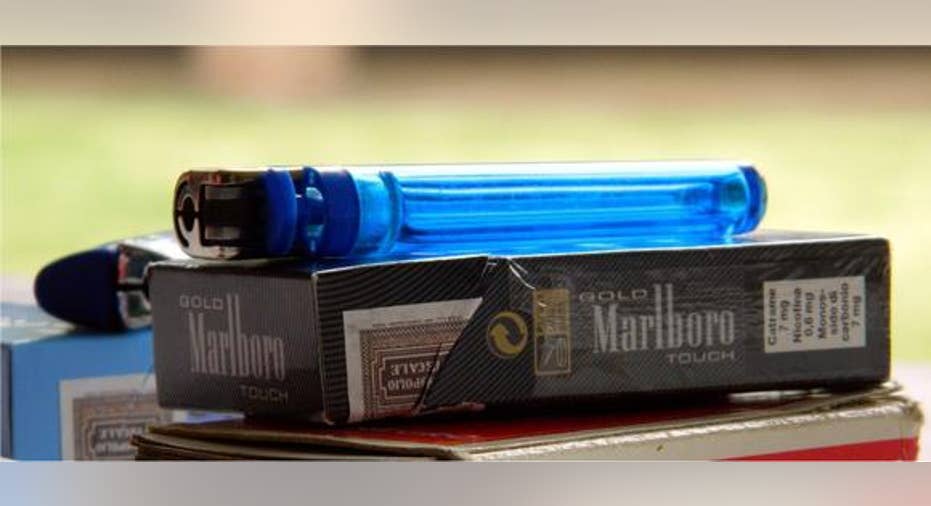 Tobacco giant Philip Morris International reported its first quarter earnings on April 19, and the numbers initially looked weak. Sales fell 8.2% annually to $6.08 billion, missing estimates by $280 million. Constant currency sales rose just 2.4%, compared to 5.8% growth in the previous quarter and 9.1% in the year-ago period. Earnings per share fell 15.5% to $0.98 per share, coming in $0.13 below expectations.
Image source: Pixabay
Yet Philip Morris stock, which was hovering at an all-time high near $100, only dipped about 1% following the report. Let's see why investors brushed off those weak numbers, and whether or not they should consider selling the stock.
Slowdown in AsiaOver the past few quarters, Philip Morris managed to post positive constant currency growth across all geographic regions. That growth convinced bulls that the company's sales growth would stabilize once the dollar weakened. But during the first quarter, Asia sales turned negative, breaking a four quarter streak:
| | | | | |
| --- | --- | --- | --- | --- |
| | 2Q2015 | 3Q2015 | 4Q2015 | 1Q2016 |
| Europe | 3.5% | 4.5% | 2.6% | 3.4% |
| EEMA | 4.4% | 9% | 0.4% | 1.2% |
| Asia | 2.7% | 0.9% | 8.3% | (1.7%) |
| Latin America & Canada | 13.5% | 13.9% | 6.5% | 14.7% |
Annual sales growth, constant currency basis. Data source: PMI quarterly reports
Asia accounts for nearly a third of the company's top line, so the slowdown shouldn't be taken lightly. Total shipments across the region fell 7%, with big declines in Indonesia, Pakistan, and the Philippines being partially offset by stronger sales in South Korea. However, the companynotes that the prior quarter's sales were boosted by Korean retailers building up inventories ahead of an excise tax increase last January, which made year-over-year comparisons difficult.
But on the bright side, European sales firmed up thanks to a decline in black market cigarettes, while strong demand in Mexico boosted Latin American sales. The company also believes sales of its iQOS Heatsticks will boost growth in the second half of the year.
Price hikes couldn't prop up earningsPhilip Morris' total cigarette shipments, excluding acquisitions, fell 1.4% annually during the quarter. To offset that decline, the company hiked prices across multiple markets, including Argentina, Germany, Indonesia, and Russia.
Unfortunately, that strategy failed to prevent OCI (operating companies income) from falling 0.9% annually on a constant currency basis and 13.9% as reported, which resulted in its 15.5% decline in earnings per share. Philip Morris also doesn't plan to repurchase any more stock until the dollar weakens substantially. As a result, it can't use buybacks to prop up earnings like its domestic counterpart Altria .
But despite these challenges, Philip Morris actually raised its full-year reported earnings guidance by $0.15 to a range between $4.40 to $4.50 per share, which would represent 10% to 12% annual growth and a notable improvement from a 7.1% decline in 2015. That revision wasn't driven by significant market changes but the belief that the dollar would weaken by the end of the year. By comparison, analysts expect Altria -- which will report its first quarter earnings on April 28 -- to post 9% earnings growth this year.
Dividends and valuationsPMI has hiked its dividend every year since being spun off of Altria in 2008. At the end of 2015, it raised its dividend 2% to an annualized rate of $4.08 per share, which gives it a forward annual dividend yield of 4.1%. That's higher than Altria's forward yield of 3.7%.
Both PMI and Altria have rallied considerably over the past year, but neither stock's P/E ratio has hit "expensive" levels yet. Philip Morris and Altria both trade at about 23 times trailing earnings, which matches the broad average for the tobacco industry.
I'm not planning to sell PMI anytime soonBack in January, I discussed why I sold my shares of Altria and invested in Philip Morris International instead. Although the company hit some speed bumps in Asia last quarter, the three reasons I discussed back then -- its dividend, valuation, and the weakening dollar -- remain firmly intact.
If Philip Morris abruptly cuts its dividend, its valuation rises significantly, or the dollar spikes, I'll reconsider my position. But for now, I prefer holding Philip Morris and letting the company realize the benefits of a weaker dollar while generating a steady stream of income for my portfolio.
The article Should You Sell Philip Morris International Inc. After Its First Quarter Miss? originally appeared on Fool.com.
Leo Sun owns shares of Philip Morris International. The Motley Fool has no position in any of the stocks mentioned. Try any of our Foolish newsletter services free for 30 days. We Fools may not all hold the same opinions, but we all believe that considering a diverse range of insights makes us better investors. The Motley Fool has a disclosure policy.
Copyright 1995 - 2016 The Motley Fool, LLC. All rights reserved. The Motley Fool has a disclosure policy.