Should You Buy Advanced Micro Devices Inc. After Its Earnings Beat?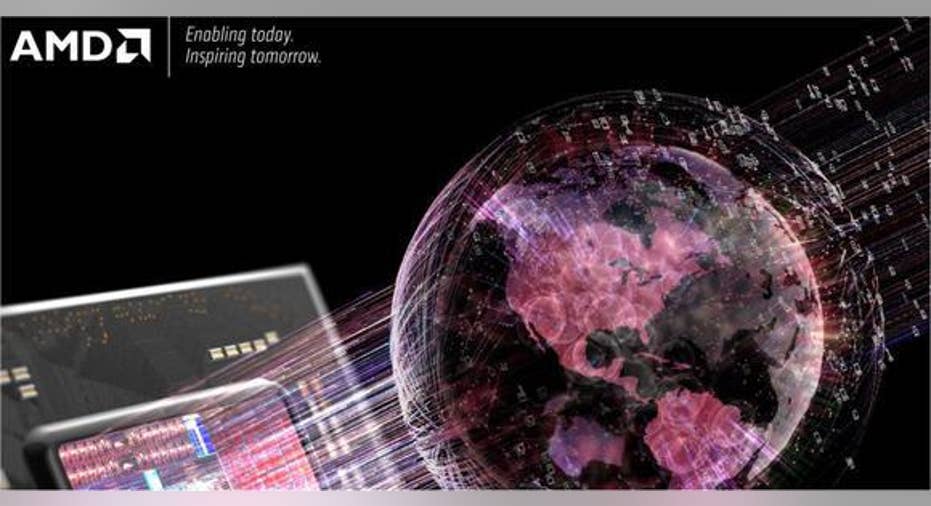 Shares of AMD soared more than 50% on April 22 after the chipmaker's first quarter earnings beat expectations. The stock has since given up some of those gains, but investors might be wondering if it's finally time to buy some shares of the beaten-down chipmaker. Let's take a look at its key numbers, guidance, and new announcements to decide.
Image source: AMD.
The key numbersAMD's revenue fell 19% annually to $832 million, which beat expectations by $13.8 million. Computing and Graphics revenue, which accounted for 55% of that total, fell 14% due to lower sales of PC processors and lower average selling prices for both CPUs and GPUs. However, the unit's operating loss narrowed slightly from $75 million a year ago to $70 million. EESC (Enterprise, Embedded, and Semi-Custom) revenue, which accounted for the remaining 45% of its sales, fell 25% due to lower sales of semi-custom SoCs. The unit's operating income plunged 64% to $16 million due to higher R&D expenses.
On the bottom line, AMD posted a non-GAAP net loss of $96 million, or $0.12 per share, which was wider than its loss of $0.09 a year earlier but a penny higher than expectations. On a GAAP basis, AMD's net loss narrowed from $180 million in the prior year quarter to $109 million.
Positive developmentsAMD expects its revenue to rise 15% sequentially during the current quarter, which exceeds expectations for 7% growth. That would also equal 2% year-over-year growth -- which would represent its first quarter of annual sales growth since the second quarter of 2014.
CEO Lisa Su attributes that rebound to "new product introductions and design wins," whichmight include new consoles like Sony's 4K-capable "PlayStation NEO" and Nintendo'snext-gen "NX" console. Those design wins are expected to boost its EESC revenue with higher orders of semi-custom SoCs. Su alsobelieves that launching new 14nm FinNET-based Polaris GPUs in mid-2016 will provide AMD "with significant opportunities to gain share" against Nvidia . Su claims that Polaris will deliver "double the performance per watt" of its current GPUs.
AMD also disclosed a new joint venture with Chinese firm THATIC to "develop SoCs tailored to the Chinese server market that will complement AMD's own offerings." This deal includes a $293 million licensing agreement, in which payments will depend on the SoCs "achieving certain milestones," as well as royalty payments on SoC sales. That partnership is a vote of confidence for AMD's ARM-licensed server CPU, which it introduced in January, and could also boost its EESC revenue.
But competition remains fierceAMD's forecast looks rosy, but investors should remember that Intel and Nvidia still respectively dominate the CPU and high-end GPU markets.
AMD's best shot at catching up to Intel is Zen, its next-gen CPU, which will arrive at the end of the year. AMD claims that Zen chips will offera 40% improvement in IPC (instructions per cycle) over its maligned Bulldozer chips. However, it's still unclear how the 14nm Zen chips will fare against Intel's comparable 14nm Skylake chips. Intel will also update Skylake with the Kaby Lake revision in the second half of 2016, followed by 10nm Cannonlake chips in 2017. Those two updates could render Zen obsolete by the time it arrives. Intel also still controls about 99% of the worldwide data center market with its Xeon chips, so the impact of ARM-based AMD server CPUscould be minimal.
In the add-in graphics board market, Nvidia will launch new Pascal GPUs this summer to counter AMD's Polaris. Nvidia has also been integrating its GPUs with its mobile Tegra CPUs in its Drive PX2 platform for autonomous cars -- which givesit additional growth opportunities beyond professional graphics and gaming. We won't know how Polaris fares against Pascal until both GPUs arrive, but AMD must make a huge splash to gain market share against Nvidia, which controlled over 80% of the add-in graphics board market at the end of 2015.
Look but don't touchEven after its recent rally, AMD's EV/Sales ratio of 1.2 is much lower than Intel's ratio of 2.7 and Nvidia's ratio of 3.2. While that makes AMD look "cheaper", it also faces a less certain future than both rivals. AMD has carved out a nice niche market in consoles, but demand remains seasonal, and its dependence on console makers likely gives it less clout in price negotiations. Higher R&D expenses could also prevent AMD from becoming profitable again, even as revenue growth improves.
Therefore, I'm adding AMD to my watchlist for now, but I'm not planning to pick up shares anytime soon. The company's first quarter report was good and its guidance was solid, but I don't think a 50% rally was justified or sustainable.
The article Should You Buy Advanced Micro Devices Inc. After Its Earnings Beat? originally appeared on Fool.com.
Leo Sun has no position in any stocks mentioned. The Motley Fool owns shares of and recommends Nvidia. The Motley Fool recommends Intel. Try any of our Foolish newsletter services free for 30 days. We Fools may not all hold the same opinions, but we all believe that considering a diverse range of insights makes us better investors. The Motley Fool has a disclosure policy.
Copyright 1995 - 2016 The Motley Fool, LLC. All rights reserved. The Motley Fool has a disclosure policy.