Should Xiaomi Be Worth More Than 40 GoPros?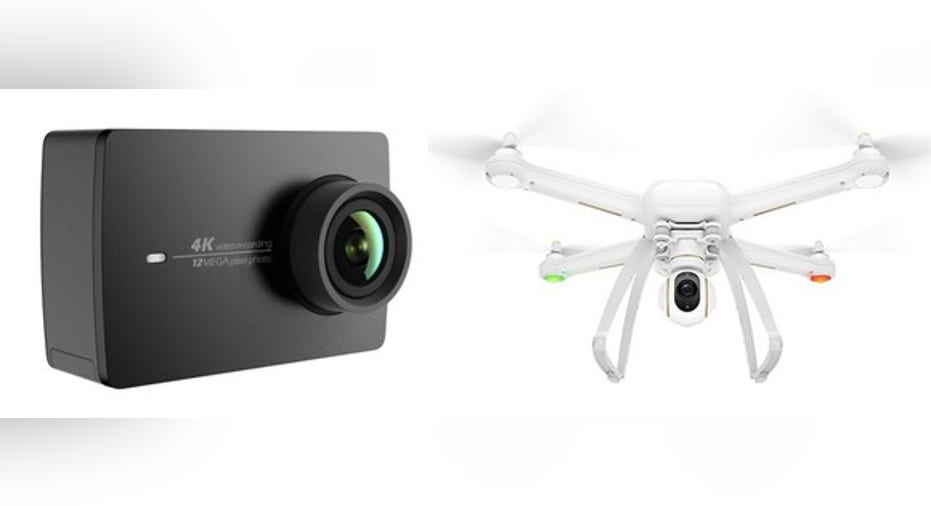 Xiaomi , one of China's biggest smartphone makers, was valued at $46 billion after its last funding round in late 2014. That makes it more than 40 times more valuable than GoPro , the struggling action camera that shed more than 80% of its value over the past 12 months.
Comparing Xiaomi and GoPro might seem like an apples to oranges comparison, but the two companies have a lot in common. Both started as hot start-ups, and both companies have overlapping interests in action cameras and drones. Yi Technology, which creates the action cameras sold by Xiaomi, recently launched a 4K action camera with the same Ambarella chipset as GoPro's top-tier Hero 4 Black for half the price. Xiaomi also unveiled a 4K drone that costs $40 less than the Hero 4 Black, which could be bad news for GoPro's upcoming Karma drone.
Yi's Action Cam (L) and Xiaomi's Mi Drone (R). Image source: Company websites.
But does Xiaomi really deserve to be worth that much more than GoPro? Let's compare their growth rates and future prospects to decide.
How fast are Xiaomi and GoPro growing?
Xiaomi and GoPro are both experiencing slowing sales growth after feverish gains in previous years. Xiaomi's revenue rose 135% in 2014, but inched upjust 5% to 78 billion yuan ($11.7 billion) in 2015. That missed the company's own sales target of 100 billion yuan, which would have represented 35% growth. Xiaomi's sales fell due to competitors mimicking its strategy of online-only sales and selling devices at paper-thin margins, as well as a slowdown in the Chinese smartphone market.
GoPro's sales rose 41% in 2014 but just 16% to $1.6 billion in2015. The company faces similar challenges as Xiaomi -- demand for its action cameras has waned, and competitors have flooded the market with similar devices at lower prices. Due to those pressures, analysts expect GoPro's sales to fall 17% this year.
By comparing Xiaomi's 2015 sales to its valuation, we can see that it trades at just under 4 times sales, which is lofty for a "mature" tech company with single-digit sales growth. Apple , which posted 28% sales growth in 2015, has an Enterprise Value/Sales ratio of 2.4. Sony , which posted a 1% sales decline last year, has an EV/Sales ratio of just 0.4.
GoPro has an EV/Sales ratio of 0.8. If GoPro were valued like Xiaomi, it would be trading in the low $50s, as it was just a year ago. Conversely, if Xiaomi were publicly traded and valued like GoPro, its valuation would plummet to $9.4 billion.
Comparing Xiaomi and GoPro's margins
A 2013 filing revealed that Xiaomi's operating margin wasjust 1.8%. That figure hasn't been updated since then, but it's likely declined due to increased competition, investments in new consumer electronics, and the expansion of the company's digital ecosystem. Therefore, Xiaomi probably isn't profitable today.
Xiaomi's Mi TV. Image source: Xiaomi.
GoPro posted a non-GAAP operating loss of $96.8 million last quarter, compared to an operating profit of $49.1 million a year earlier. This means that GoPro's operating margin fell from 13.5% to negative levels within a single year. That rapid decline was caused by the company's lack of new flagship products and the failure of its Hero 4 Session camera.
Struggling to diversify
Xiaomi and GoPro face similar problems, but the former is arguably in better shape than the latter. Xiaomi's product portfolio already includes fitness trackers, smart TVs, air purifiers, drones, and other gadgets. Its software ecosystem includes its own Android app store and investments in mobile game makers and O2O (online to offline) services.
GoPro is trying to diversify its business, but its efforts have been somewhat clumsier. The company has been selling VR rigs for 360-degree filmmaking, but these devices are bulky, pricey, and require at least six GoPro cameras. Rivals have already launched stand-alone spherical cameras that can produce 360-degree content at a fraction of the price. It promised to launch a drone, but delayed its launch earlier this year and hasn't revealed any specs to the public. It's also struggling to improve its editing software and media ecosystems.
The verdict: Should Xiaomi be worth more than GoPro?
Since Xiaomi generated over seven times as much revenue as GoPro last year, it certainly deserves a higher valuation. But Xiaomi probably shouldn't be worth over 40 GoPros, since its sales growth has slowed to a trickle and it's likely unprofitable. The "fair value" for Xiaomi as a public company would likely be under $10 billion, which raises doubts that an IPO will happen unless the company can justify its valuation.
Nonetheless, the similarities between Xiaomi and GoPro are interesting to observe, because the former's diversification strategies with action cams and drones could cause big headaches for the latter in the near future.
The article Should Xiaomi Be Worth More Than 40 GoPros? originally appeared on Fool.com.
Leo Sun has no position in any stocks mentioned. The Motley Fool owns shares of and recommends Ambarella, Apple, and GoPro. The Motley Fool has the following options: long January 2018 $90 calls on Apple and short January 2018 $95 calls on Apple. Try any of our Foolish newsletter services free for 30 days. We Fools may not all hold the same opinions, but we all believe that considering a diverse range of insights makes us better investors. The Motley Fool has a disclosure policy.
Copyright 1995 - 2016 The Motley Fool, LLC. All rights reserved. The Motley Fool has a disclosure policy.