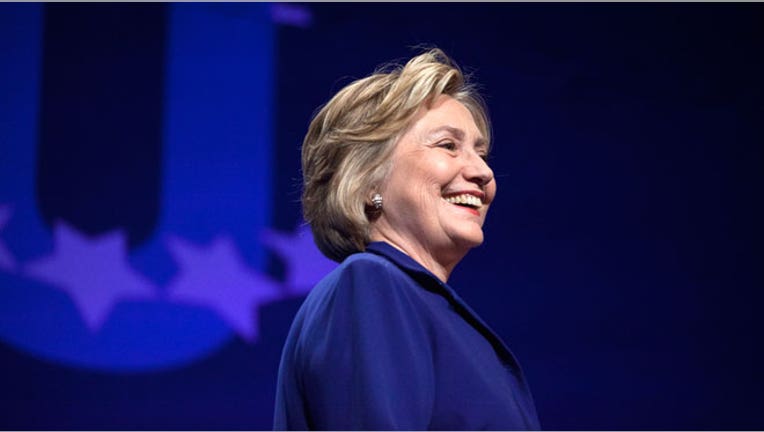 After feeling burned by backing Barack Obama in 2008, the conventional wisdom suggests Wall Street should be rooting for a Republican to take the White House in 2016.
But some believe the stock market could actually perform very well should Hillary Clinton become the first female commander-in-chief, especially if she inherits a GOP-controlled Congress.
That's because the last time investors faced a pragmatic, pro-Wall Street Democratic president -- Clinton's husband -- who was stymied by a Republican legislature, the stock market averaged a 20% rally and the economy grew at a brisk 4.2%.
"As the 2016 election comes into focus, some in the markets will express alarm over a Hillary Clinton presidency. But we'd argue that she's far more centrist than Obama -- and if stocks perform even half as well in a Hillary Clinton presidency as they did under Bill Clinton, she would be most welcome on Wall Street," Greg Valliere, chief political strategist at PRG Research Group, told clients in a recent note.
It's a little early to be making White House predictions, but it's clear Clinton is the early favorite to succeed Obama should she decide to make another run.
Stocks Lean Left?
Wall Street tends to favor the Republican party given its more pro-business tilt, but equities actually perform better under Democratic presidents.
According to McGraw Hill Financial's (NASDAQ:MHFI) S&P Capital IQ, since 1900 the S&P 500 has averaged an 8.6% gain when the White House is controlled by a Democrat, compared with 5.5% under Republicans. However, the S&P 500 was up a greater frequency of the time under a GOP executive branch: 69% versus 63%.
If Clinton won the White House in 2016, she would presumably inherit a Congress that is controlled by the GOP in at least one chamber.
S&P research shows the S&P 500 has averaged a strong 15.1% gain when there is a unified Congress and a Democratic president between 1945 and 2011.
That's tied for the best political scenario historically, matched only by the 15.1% average rally when the GOP has controlled both houses of Congress and the executive branch. When Democrats control all three, the S&P 500 has averaged a 9.8% gain, S&P said.
In recent years, the stock market has shown it can continue to rally when a Democrat controls the executive branch and Congress is split, averaging a 10.3% annual gain since the GOP took over the House at the end of 2010.
'Grand Compromise'
A unified Congress under a president from a different party may raise the chances for cooperation and fiscal stimulus.
"You don't have something passed in the House that is always shot down in the Senate. Compromise tends to be reached better when Congress is unified," said Sam Stovall, chief investment strategist at S&P Capital IQ.
"Let's face it, Congress likes to spend money and Democrats are regarded as the party of open pockets. When you have more spending it increases economic activity and corporate earnings and therefore share prices," he said.
Valliere said he believes Hillary Clinton would have a chance to hammer out a "grand compromise" on fiscal issues that could accelerate recent efforts to generate deficit reduction.
"Hillary Clinton would have to work with a GOP house, as her husband did, focusing on issues like free trade, entitlement reform, deficit reduction and perhaps the beginnings of tax reform (with some higher revenues). This would not be a very threatening agenda for Wall Street," Valliere said.
'Crony Capitalist'
Wall Street may be more apt to support Hillary Clinton because she tends to be more moderate than the liberal wing of her party.
"Hillary is looked upon on Wall Street as being a very credible option. I think Hillary has a better chance of getting more widespread support on Wall Street because she comes from a unique background steeped in a great deal of experience," said Peter Kenny, a 25-year veteran of the Street who is currently co-chairman and CEO of financial technology firm The Clearpool Group.
Valliere notes there are many on the left from the "Elizabeth Warren crowd" who view Hillary Clinton's ties to Wall Street and business with "great suspicion," seeing her as a "crony capitalist."
Clinton's free-market tendencies have been on display in recent months as the former First Lady has raked in millions of dollars in speaking fees. Her speeches, some of them to Wall Street firms like Goldman Sachs (NYSE:GS) and the Carlyle Group (NYSE:CG), are said to generate around $250,000 a piece
According to Politico Magazine, Clinton told the Wall Street crowd at one speaking event that the banker-bashing popular in both parties is unproductive and foolish. That stands in stark contrast with Obama, who has yet to be forgiven by many in finance for calling bankers "fat cats" who don't get it back in 2009.
"So what if she listens to Bob Rubin? Hillary Clinton would get more input on what's good or bad for the economy than Barack Obama is getting," said Valliere.