Should Investors Worry About Bristol-Myers Squibb's Recent Setbacks?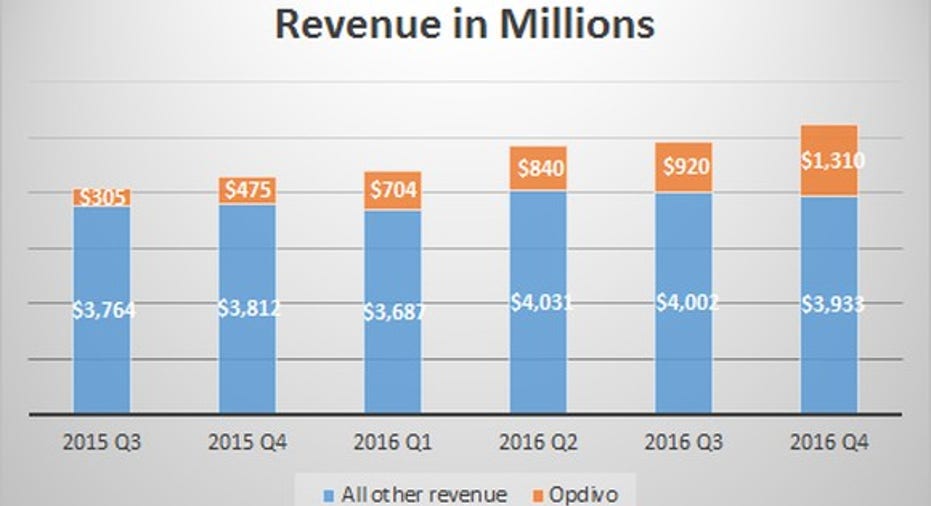 A year ago, large-cap drugmaker Bristol-Myers Squibb (NYSE: BMY) was in the extraordinary position of having what many considered the best immuno-oncology franchise in the industry. But in the last few months, some major setbacks for the company's flagship drug, Opdivo, have left investors wondering if the company is becoming an also-ran in the space. The concerns are legitimate, and the questions are far from settled.
A promising beginning
When Opdivo emerged on the market a few years ago, it was considered a breakthrough in the fight against cancer. The drug works by inhibiting a process that cancer cells use to hide from the body's natural immune system. By blocking the PD-1 receptors on T cells, Opdivo prevents cancer cells from turning off the immune response and therefore energizes the body to attack the tumor. When the drug first won approval for melanoma in late 2014, the market recognized that this mechanism could be used for a wide variety of cancer indications, and the stock climbed.
Image source: Getty Images.
Indeed, the company launched trials pitting the drug against non-Hodgkin lymphoma, renal cell carcinoma, advanced liver cancer, and the biggest potential prize of them all, non-small cell lung cancer (NSCLC). Other drug companies jumped at the chance to try Opdivo in combination with their own drugs in development. FDA and European approval for Opdivo as a second-line treatment for NSCLC helped accelerate Opdivo sales, which have been the primary source of growth for Bristol-Myers since then.
Data source: Bristol-Myers Squibb. Chart by author.
A blown trial
The optimism around Opdivo took a sudden turn in August 2016 when the drug failed a trial for first-line treatment of lung cancer, causing the stock to crash 16% in a single day. The trial showed that previously untreated NSCLC patients responded no better to Opdivo than to conventional chemotherapy. This was a devastating result, especially considering that four months earlier, Merckhad released trial results showing that its similar checkpoint inhibitor, Keytruda, was markedly superior to chemotherapy in previously untreated patients who had been screened for tumors that express high levels of the PD-L1 protein. When the FDA approved Keytruda as a first-line treatment for NSCLC in October, Bristol-Myers lost its leadership position in a matter of weeks.
Compounding investor disappointment with the situation was the fact that the failure was at least partly self-inflicted due to the strategy that Bristol-Myers took with the trial. Overestimating the drug's efficacy, the company swung for the fences by testing Opdivo against a broad population of patients, whereas Merck increased its chance for success by screening for patients that would theoretically have a greater sensitivity to Keytruda's action.
Had the Opdivo trial yielded positive results, Bristol-Myers would have gained a tremendous advantage over Merck, given the foothold its drug already had in the market. But instead, the company whiffed, and Merck won the valuable position as the only provider of a first-line PD-1 drug for NSCLC.Losing the race to first-line treatment of lung cancer would be bad enough, but the growing perception -- perhaps accurate -- is that Keytruda is the superior molecule for this disease, and Bristol-Myers may find that its sales for second-line treatment is at risk as well.
More bad signs this year
As if the failed trial weren't enough, Bristol-Myers added to concerns about Opdivo in January by abruptly announcing that it had decided not to pursue accelerated approval of its combination therapy of Opdivo and monoclonal antibody Yervoy for first-line treatment of lung cancer "after review of data available at this time." FDA accelerated approval allows a company to win early approval of a drug for a serious disease based on reaching a "surrogate endpoint" in a registrational trial. The surrogate can be a laboratory measurement that is believed to predict a clinical benefit.
The only logical conclusion that observers could draw from the change in strategy is that early data on any potential surrogate endpoints in the Opdivo/Yervoy trial are not meeting expectations, and that raises flags not only for the trial, but adds to concerns about Opdivo for lung cancer. The stock dropped 11% on that news, and company officials added to worries by refusing to comment on the move in the quarterly conference call six days later, saying only that they are "committed" to the drug combo but not saying anything else that would clarify the outlook. The market hates uncertainty, and now there is a big cloud of that around Opdivo and Bristol's near-term growth prospects.
In early March, the company announced the replacement of its chief scientific officer, the executive who would have had responsibility for setting clinical trial strategy, with board member Dr. Thomas J. Lynch, an oncologist with years of experience in leading research in lung cancer. This indicates that the company felt a change was necessary after two major missteps, and that the market for lung cancer treatments is still a critical priority.
Opportunity remains, but the concerns are legit
Bristol-Myers is not out of the running for first-line treatments for lung cancer, by any means. Besides the Opdivo/Yervoy combination, there are studies of other combinations in the works, most notably including chemotherapy as part of the regimen. The company is seeing good growth in European sales of Opdivo for its existing indications, and the company is focusing on late-stage trials for new indications, such as first-line treatments for renal cell cancer and liver cancer. And the company has a rich pipeline of other biologics that attack other inhibitory signals given out by cancer cells, potentially opening the door for multiple combination therapies that could produce breakthroughs.
But cancer treatments are a very competitive space, and for the near term, Bristol-Myers' main growth engine faces challenges. Merck is expected to receive FDA approval soon for a Keytruda/chemotherapy combination for first-line treatment of NSCLC in a very broad population of patients. Bristol-Myers also lost 10 points of market share in second-line lung cancer to Roche'sTecentriq.
The issue in the long term is far from settled, Opdivo concerns are already built into the stock price at this point, and Bristol-Myers has plenty in its pipeline to fuel future growth. But investors have good reason to be concerned about the potential for more bad news in the next few quarters as the battle for lung cancer treatments continues to play out.
10 stocks we like better than Bristol-Myers SquibbWhen investing geniuses David and Tom Gardner have a stock tip, it can pay to listen. After all, the newsletter they have run for over a decade, Motley Fool Stock Advisor, has tripled the market.*
David and Tom just revealed what they believe are the 10 best stocks for investors to buy right now... and Bristol-Myers Squibb wasn't one of them! That's right -- they think these 10 stocks are even better buys.
Click here to learn about these picks!
*Stock Advisor returns as of February 6, 2017
Jim Crumly has no position in any stocks mentioned. The Motley Fool has no position in any of the stocks mentioned. The Motley Fool has a disclosure policy.