Should Investors Bet on a Nintendo Turnaround?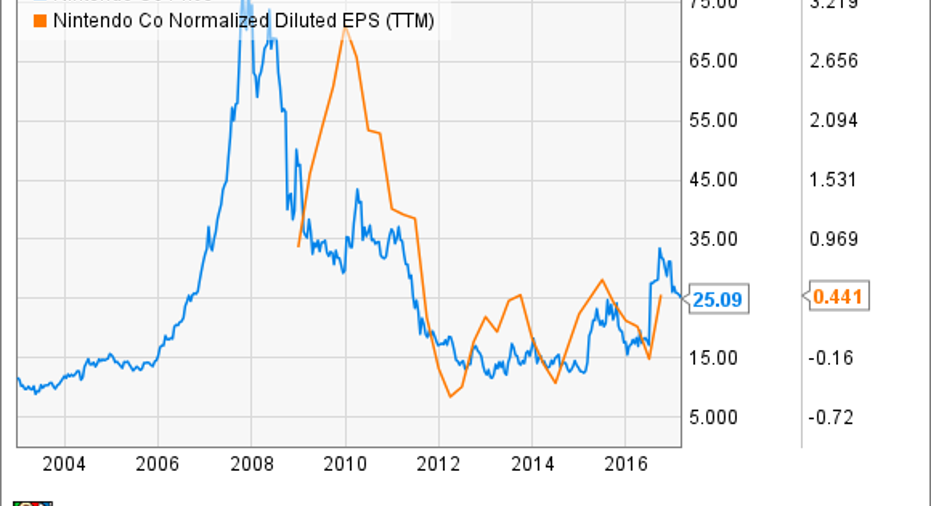 Nintendo's turnaround effort hinges on sales of the Switch console. Image source: NVIDIA Inc.
Nintendo's (NASDAQOTH: NTDOY) stock is up 50% over the last year following launches of mobile games Pokemon Go and Super Mario Run, as well as the potential of the new Switch gaming console to return Nintendo to growth mode.
The recent efforts of Nintendo in mobile gaming demonstrate that the company has large untapped potential on mobile platforms. If management can find the right mobile strategy, it could unlock value in its deep library of intellectual property.
Nintendo's untapped potential in mobile gaming
Pokemon Go has been downloaded 650 million times since its launch last summer, and is one of the top-grossing games in Apple's app store.
But Pokemon Go is developed by Niantic, not Nintendo. Through its fiscal second quarter ending in September 2016, Nintendo earned a small licensing fee of $115 million for the Pokemon name to be used by Niantic. This is a drop in the bucket compared to Nintendo's market value of $24 billion.
Still, the successful launch of the game led to growth in Nintendo software sales of past titles in thePokemon series and also drove a 10% increase in Nintendo 3DS family hardware sales in the second half of 2016. These crossover sales show how a successful mobile-gaming strategy could supplement Nintendo's hardware business long term.
Super Mario Run has been downloaded 78 million times since its December 2016 launch. It's free to download with limited accessibility, and if players wish, they can pay $10 to unlock the full game. Out of the 78 million who downloaded the game, more than 5% chose to pay $10, generating $53 million in revenue for Nintendo.
While this conversion rate is better than that of a lot of games that charge less than $5, it was below management's expectations of achieving an ambitious double-digit conversion rate.
Mario Bros. is one of Nintendo's most popular franchises, and management wants the game to be enjoyed by everyone, from children to adults. To achieve this, management added an Easy Mode and is currently working on a tutorial, as well as how-to-play videos, to make the game easier to understand for those who have never played a Mario game before.
It's unclear if these initiatives will serve as obstacles hindering potential players from buying the game. After all, many mobile games are played for the ease and accessibility of doing something fun to kill time.
A different pay model
The problem is that Super Mario Run is not among the top 100 highest-grossing games in Apple's app store.Nintendo has released four mobile games so far. Super Mario Run is the best-selling out of the first four, but to really move the needle, Nintendo needs several games to be toward the top of the charts.
Management may also need to think about changing its pay model to a traditional free-to-play one. This model has proven very profitable for top game developers. Instead of charging Mario players $10 to unlock the full game, Nintendo could charge micro-transactions for a series of content over time.
The potential financial impact for Nintendo could be significant if it can develop the right mobile strategy and sustain a steady cadence of mobile releases through the year. For example, in 2016, Activision Blizzard'sKing Digital Entertainment generated $537 million in operating income based on a handful of hit mobile games, including Candy Crush and Bubble Witch.
However, it's not clear whether Nintendo will ever be as successful as other mobile developers. Mobile is a very crowded field, is completely new for Nintendo, and, more important, may not be in the company's DNA.
Nintendo switches it up
For now, the company's success completely hinges on its new Switch console, which launched March 3.
Management hopes to sell 2 million units in March, and analysts expect up to 11 million units sold within the first year. This would put Switch on pace to sell probably between 30 million to 50 million units in the next three to five years, or less than half of Wii's 101.63 million units sold since its launch just over 10 years ago.
The Wii was Nintendo's most successful console in company history, helping Nintendo reach a peak of $18.7 billion in net sales and $5.6 billion in operating income for fiscal year 2009. These results fueled a rocket ride in the stock up to a peak of about $75 per share in early 2008.
Is the stock a good bet?
For the current fiscal year ending in March 2017, management is forecasting 20 billion Japanese yen in operating income. There is plenty of upside potential for Nintendo's stock if Switch is a runaway success like the Wii.
With Nintendo's family friendly approach to gaming, deep franchise library, and healthy balance sheet, I would never want to bet against the company. I have shares in Nintendo tucked away just in case.
However, Nintendo has a shaky history with hardware sales. If a company hasn't demonstrated consistent growth in its track record, investors shouldn't expect the future to look any different.
10 stocks we like better than NintendoWhen investing geniuses David and Tom Gardner have a stock tip, it can pay to listen. After all, the newsletter they have run for over a decade, Motley Fool Stock Advisor, has tripled the market.*
David and Tom just revealed what they believe are the 10 best stocks for investors to buy right now... and Nintendo wasn't one of them! That's right -- they think these 10 stocks are even better buys.
Click here to learn about these picks!
*Stock Advisor returns as of February 6, 2017
John Ballard owns shares of Activision Blizzard and Nintendo. The Motley Fool owns shares of and recommends Activision Blizzard and Apple. The Motley Fool has the following options: long January 2018 $90 calls on Apple and short January 2018 $95 calls on Apple. The Motley Fool has a disclosure policy.