Should Budweiser Buy Samuel Adams?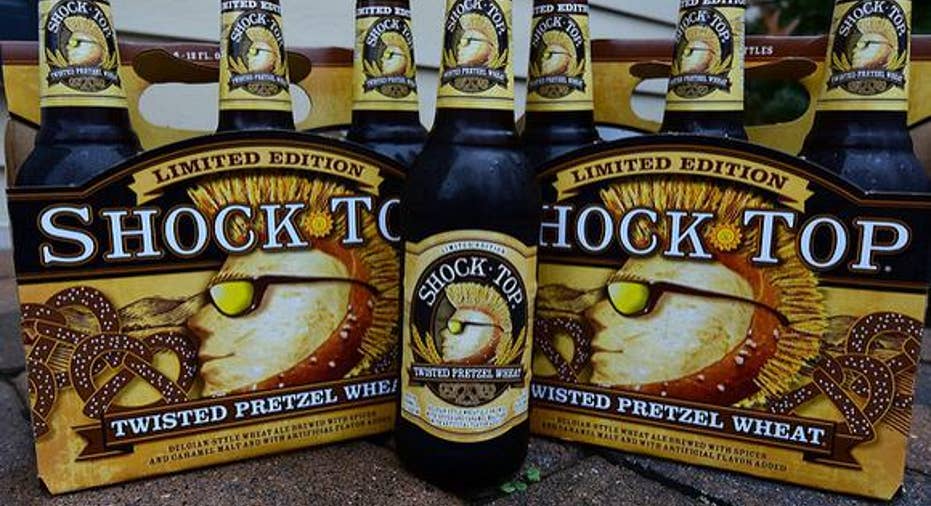 Boston Beer's sales of its flagship brand Samuel Adams have gone as flat as day-old beer, which may make it an attractive buyout candidate for someone with deep pockets. Image source: Flickr userSotaro OMURA.
Craft beer sales may still be frothy. But that hasn't translated into higher revenues for the face of the industry, Boston Beer Co. , which recently reported a 5% decline in quarterly sales as core shipments fell 6%, leading to a near-50% drop in net profits. With an equally ugly outlook for the rest of the year, the leading craft brewer may just end up attracting unwanted attention.
Anheuser-Busch InBev has been on a shopping spree, amassing a portfolio of craft beers and microbreweries both to tap into the growing consumer preference for such brews and to help offset the decline it's experiencing in its own mass-brewed suds.
But the megabrewer seems to understand where future growth will come from, and following the success of its craft-like beer Shock Top, which Anheuser-Busch launched in 2006 in response to the success MillerCoors enjoyed with Blue Moon, A-Bbegan buying up true craft beers in earnest.
Since 2011, the Budweiser maker has bought the following craft brewers:
There's good reason Anheuser-Busch wants to tap craft beer's keg: it's the only segment really growing and it's doing so at a torrid pace.
Although Anheuser-Busch InBev's Shock Top brand is considered more "crafty" by beer aficionados than craft, it's still a popular choice among beer drinkers. Image source: Flickr userslgckgc.
Crafting a growth spurtAccording to the Brewers Association, which represents the industry, craft beer now accounts for 12.2% of all beer produced in the U.S., asproduction rose 13% in 2015 to 24 million barrels.
But A-B isn't alone in its thirst for snapping up small brewers. SABMiller bought Meantime, a U.K.-based brew (which Anheuser-Busch agreed to sell as part of its merger with its rival); Heinekenbought a 50% stake in Lagunitas; and Constellation Brands spent $1 billion buying Ballast Point Brewing & Spirits for $1 billion.
It's clear the big brewers want to bite off some of the success their smaller brethren are enjoying, and as one of the biggest craft brewers in the country, Boston Beer would be an attractive addition to the portfolios of any of its competitors. And although analysts say it will be a long time before founder and CEO Jim Koch would consider selling his brewery, they've begun speculating that in its weakened state it might make an attractive target for someone.
While that's led them to suggest Constellation Brands as a logical choice, due to its willingness to drop big bucks in the space and a tradition of allowing managers to continue running their businesses (something that might be attractive to Boston Beer's Koch), there's an argument to be made for Anheuser-Busch making the purchase too.
Sure, it's in the midst of a huge $103 billion buyout of SABMiller that will tie up its funds and attention for some time -- an integration that large requires management to stay focused -- but here are a couple of reasons why Budweiser could buy Samuel Adams.
Clearing shelf spaceIn addition to hoovering up craft beers, A-B has also been scooping up distributors, and allegedly using its clout (and pocketbook) to crowd out competing craft beers. It has apparently offered lucrative concessions to distributors that agree to carry only A-B brands, a practice that has now comeunder scrutiny.
Because of its own positioning, Boston Beer's flagship brand commands a lot of shelf space that A-B would want, and it has used its preeminent place as the leading craft brewer to get its seasonal beers carried as well, not to mention its hard teas and cider. Although it hasn't yet been able to replicate that success with the hard soda it recently introduced, it's still early days in a niche that could have big potential. By buying the maker of Samuel Adams, Anheuser-Busch would immediately gain significant shelf space without the legal risk associated with its current strategy.
A backdoor approach to globalizationA-B's global reach would also help Boston Beer increase its international ambitions. Samuel Adams has been exported to Germany since 1985, when it became the first U.S. beer to pass Germany's beer-purity law, the Reinheitsgebot, and Jim Koch was the first non-German to receive the Bayerischer Bierorden (Bavarian Order of Beer) in its 35-year history.But while Boston Beer already exports to over 30 countries, with Anheuser-Busch distributing it could increase its reach significantly.
Moreover, in its attempt to acquire SABMiller, A-B is giving up the rights to a number of popular beers to appease regulators. It's selling Miller'sstake in China's popular CR Snow; it's selling Italy's Peroni and The Netherlands' Grolsch; and just the other day it said it would sell Miller's breweries in Hungary, Poland, the Czech Republic, Slovakia, and Romania.
U.S. craft beer exports may still be small -- just over 446,000 barrels, according to the Brewers Association -- but that's up 16% from the year-ago period, which itself was 36% higher than in 2013.
A rich pot to stirThere are almost 4,300 craft brewers operating in the U.S., and Boston Beer -- even having been dethroned as the largest by Yuengling, following a change in the definition of what constitutes a craft brewer -- is still arguably the best-known craft beer around. That makes it a valuable prize for anyone. And Anheuser-Busch just might find it has too great a thirst to expand in the craft beer market to pass up a chance to guzzle this brewer down.
The article Should Budweiser Buy Samuel Adams? originally appeared on Fool.com.
Rich Duprey has no position in any stocks mentioned. The Motley Fool owns shares of and recommends Boston Beer. The Motley Fool recommends Anheuser-Busch InBev NV. Try any of our Foolish newsletter services free for 30 days. We Fools may not all hold the same opinions, but we all believe that considering a diverse range of insights makes us better investors. The Motley Fool has a disclosure policy.
Copyright 1995 - 2016 The Motley Fool, LLC. All rights reserved. The Motley Fool has a disclosure policy.