Should Big Pharma Be Worried About a Trump Trade War?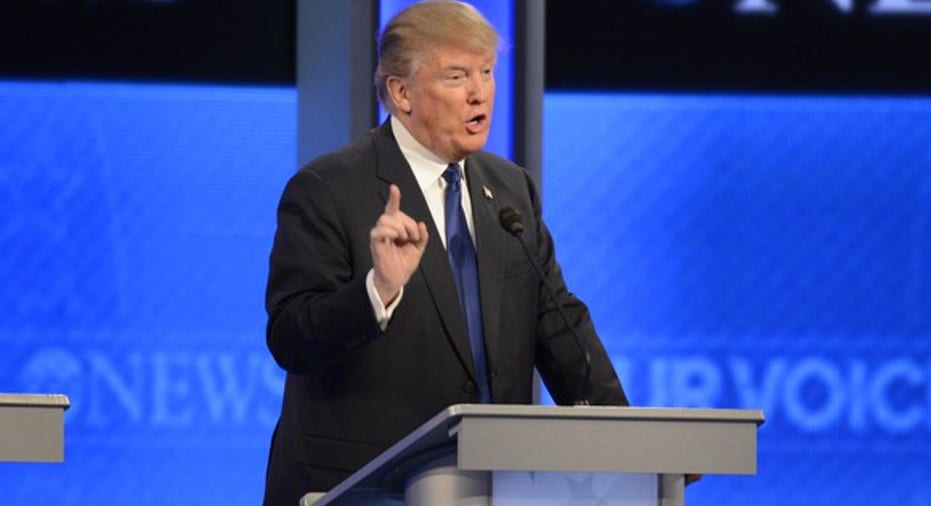 With one phone call with the leader of Taiwan and several tweets, President-elect Donald Trump has stirred concerns about a potential trade war between the U.S. and China. It's not just industrial and consumer products companies that could be impacted if the two countries fight economically. Should Big Pharma be worried as well?
Image source: Disney/ABC Television Group, viaFlickr.
Bulls in the China shop
Several major pharmaceutical companies have significant operations in China. The push to make inroads in the country has intensified in recent years.
Pfizer (NYSE: PFE) touts itself as the No. 1 foreign biopharmaceutical company in China. The company employs over 10,000 workers in the country across 300 cities. Pfizer has four manufacturing facilities in China, plus two research and development centers.
While the company markets 40 products in China,exact sales figures for the Chinese market are not available. Pfizer reported 2015 sales of $11.1 billion from emerging markets, reflecting nearly 23% of total revenue. However, that's a big territory that includes Asia (except Japan and South Korea), Latin America, Africa, Eastern Europe, Central Europe, the Middle East, and Turkey.
Merck (NYSE: MRK) built its first Chinese manufacturing facility in1994 in Hangzhou. The company now has multiple manufacturing facilties in the country, along with a research and development center in Beijing, plus a sales and marketing headquarters in Shanghai.
Although Merck doesn't break out its sales figures for China specifically, the drugmaker reported sales of $3.82 billion in the Asia Pacific region last year. That represented almost 10% of Merck's total revenue. The company's Asia Pacific region includes China, India, Indonesia, Malaysia, Philippines, Singapore, Thailand, South Korea, Taiwan, and Vietnam. China has the largest market among the countries in the region.
Johnson & Johnson (NYSE: JNJ) beat both Pfizer and Merck in opening up shop in China. J&J started operations in the country in 1979 with a technology-transfer agreement to build a chemical factory. The company followed up in 1985 with its first joint venture in China. Through the years, Johnson & Johnson has continued to expand its presence in the country.
Like Pfizer and Merck, Johnson & Johnson doesn't provide details on sales generated in China. The company reported $12.3 billion in sales last year from its Asia Pacific and Africa regions, reflecting nearly 18% of total revenue.
Potential impact
It's hard to know for sure what impact a trade war between the U.S. and China would have on Big Pharma. China represents a significant amount of sales for many drugmakers.
A more important question is how many of Big Pharma's drugs are manufactured in China versus exported to the country. The most likely scenario for a trade war would involve both the U.S. and China slapping tariffs on products imported from the other nation. Products (including prescription drugs) manufactured in China probably wouldn't be affected.Because Pfizer, Merck, Johnson & Johnson, and other Big Pharma companies make some of their products in China, the negative impact of a potential trade war would likely be less than it would otherwise be.
However, there are other possible issues that could arise. China already is a challenging market in which to operate for multinational companies. The government doesn't make things easy for companies based in other countries now. It would likely get worse if economic tensions increase between the U.S. and China.
Also, even though Big Pharma companies still make most of their money outside of China, the country represents a major growth opportunity. China is currently the second-largest pharmaceutical market in the world. Total pharmaceutical sales in the country could reach $167 billion by 2020. Trade barriers could hurt Big Pharma companies trying to get their share of that potential market.
Sound and fury
At this point, the only war being waged is one of words. China lodged a complaint about Trump's phone call with Taiwan presidentTsai Ing-wen but hasn't taken further actions. And for his part, President-elect Trump hasn't gone beyond responding with a few tweets.Both Taiwan's president and Vice President-elect Mike Pence have downplayed the significance of the phone call.
It could also be that Donald Trump is simply using one of the negotiating tactics mentioned in his book,The Art of the Deal: Use your leverage.China probably already thinks that Trump is unpredictable. By reinforcing that view, he could potentially make Chinese leaders more agreeable to negotiations on trade policies. If this is the case, the sound and fury of recent days could signify something positive for Big Pharma.
A secret billion-dollar stock opportunity The world's biggest tech company forgot to show you something, but a few Wall Street analysts and the Fool didn't miss a beat: There's a small company that's powering their brand-new gadgets and the coming revolution in technology. And we think its stock price has nearly unlimited room to run for early in-the-know investors! To be one of them, just click here.
Keith Speights has no position in any stocks mentioned. The Motley Fool recommends Johnson and Johnson. Try any of our Foolish newsletter services free for 30 days. We Fools may not all hold the same opinions, but we all believe that considering a diverse range of insights makes us better investors. The Motley Fool has a disclosure policy.