Shopify Inc Shows What It Truly Means to Be Mission-Driven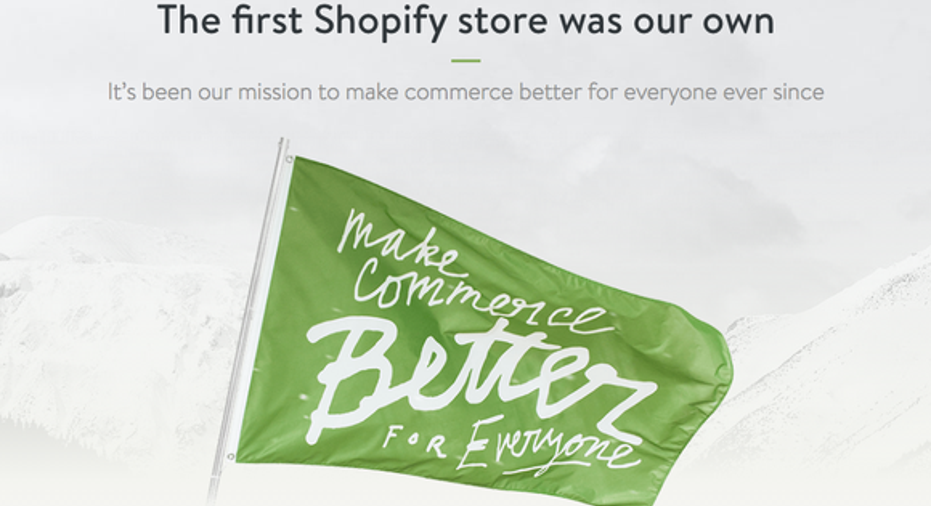 Mission statements matter. When taken seriously by management, they can be the compass that helps you see to the core of an organization.
Back in 1994, a tiny website started selling books online. But the plan was much grander than that. If anyone cared to peer at that company's mission/vision statement, it was bold:"Our vision is to be earth's most customer-centric company; to build a place where people can come to find and discover anything they might want to buy online."
Image source: Getty Images
That company was Amazon.com. Its entire trajectory as a publicly traded company -- from book store, to e-commerce giant, to logistics operator, to content producer -- can be understood though the lens of the mission statement.
When you find a company that 1. has a simple and powerful mission statement, and 2. uses that mission statement as the compass to make tough decisions, you have likely found a company worth putting your own money into.
Shopify and its mission
Shopify (NYSE: SHOP) has burst onto the scene as one of the top growth stocks among recent IPOs. The company went public in 2015, saw its stock hit a bottom in February 2016, and has since advanced 250%.
Its business and story are pretty easy to understand. Back in 2004, founder/CEO Tobias Lutke started a snowboarding company. He wanted to sell his boards online. The e-commerce platform solutions available were horrifying. So he designed his own. It worked so well that Lutke switched from focusing on snowboards, to focusing on his e-commerce solution.
Today, if you are a small or medium-sized business and need an easy way to gain a presence on the internet, Shopify is where you go. Popular companieslike Budweiser, Tesla, and Red Bull all count on Shopify to provide a one-stop shop for e-commerce solutions.
The company's mission statement is simple, powerful, and -- as we're seeing today -- taken very seriously. It reads:
Image source: Shopify.com
It seems pretty innocuous, but recently, the mission has come under fire.
Enter Breitbart and SumofUs
Following the election of Donald Trump, the nation focused intently on one of his top advisors, Steve Bannon. Bannon -- who has worked in Hollywood, been an officer in the Navy, and worked at Goldman Sachs-- was executive chairman of the far-right news site, Breitbart News, until leaving to serve in the Trump administration. Breitbart's e-commerce presence is provided via a Shopify platform solution.
There are a number of Americans who take exception to Breitbart, calling it a mouthpiece for racism, sexism, and xenophobia. A group called SumofUs.org -- which describes its mission as "stopping big corporations from behaving badly" -- started a petition calling for Shopify to drop Brietbart as a client. It's worth stating at this point that I've never visited Brietbart, and won't be spending any time on what's printed or for sale there, other than to say that it isn't breaking any laws.
SumofUs claims that nearly 1,300 companies have decided to stop advertising on Brietbart's website, and, "If [SumofUs] can force Shopify to ditch Breitbart, we'll be dealing a massive blow to Breitbart's ability to expand globally."
Skin in the game and virtue signaling
It's worth mentioning at this point that there's an enormous difference betweenT-Mobile, Visa,and 1,298 other businesses from refusing to advertise on Breitbart, and choosing to deny services to an organization. In the former, the result is money not being paid to Breitbart. The readership is so small that these 1,300 organizations don't have that much skin in the game -- eyeballs of potential customers seeing their ads.
This is one form of "virtue signaling." Best-selling author Nassim Taleb defines this as, "virtue without skin in the game." In other words, "real" virtue only exists if you stand to be exposed to some downside as a result of your views.
If SumofUs truly wanted to send a message devoid of virtue signaling, it would: 1. be asking these companies to actually deny service to Breitbart or any of its employees, or 2. protest for other Shopify customers to leave the platform.
Obviously, the former treads on dangerously thin ice. How comfortable would we be supporting a movement to deny basic goods to those we disagree with? The latter -- while it has happened in isolated cases with very small businesses-- is not really gaining any traction.
That's for a simple reason: Shopify has the best e-commerce platform available. Vendors aren't really willing to put their skin in the game to deny service to a legal news site that anyone can freely choose not to visit.
Shopify sticks to its core mission
Lutke hasn't hid his disdain for Breitbart. As he says: "I'm a liberally minded immigrant, leading a predominantly liberal workforce, hailing from predominantly liberal cities...We don't like Breitbart."
But, and this is the key, he realizes that his values -- and his company's mission -- need to act as the compass in such a charged environment. He continues by saying (emphasis added):
And that's the key. During a time when Lutke says he's received tens of thousands of emails calling on him to cut ties with Breitbart, he's able to differentiate between the signal (his company's mission) and the noise (protests). When a company can do that, it is a powerful sign. It's also what real virtue looks like.
While I have a feeling that I'd find some of Breitbart's messages as appalling, that's not the point. I can ignore the site. We all can if we're so inclined. What's important is that Shopify and Lutke clearly have virtue -- they're willing to endure intense heat for their beliefs. And that's where I want my money invested.
10 stocks we like better than ShopifyWhen investing geniuses David and Tom Gardner have a stock tip, it can pay to listen. After all, the newsletter they have run for over a decade, Motley Fool Stock Advisor, has tripled the market.*
David and Tom just revealed what they believe are the 10 best stocks for investors to buy right now... and Shopify wasn't one of them! That's right -- they think these 10 stocks are even better buys.
Click here to learn about these picks!
*Stock Advisor returns as of February 6, 2017
Brian Stoffel owns shares of AMZN, Shopify, and TSLA. The Motley Fool owns shares of and recommends AMZN, Anheuser-Busch InBev NV, Shopify, TSLA, and Visa. The Motley Fool recommends T-Mobile US. The Motley Fool has a disclosure policy.