Shopify Inc. Boosts Full-Year Revenue Outlook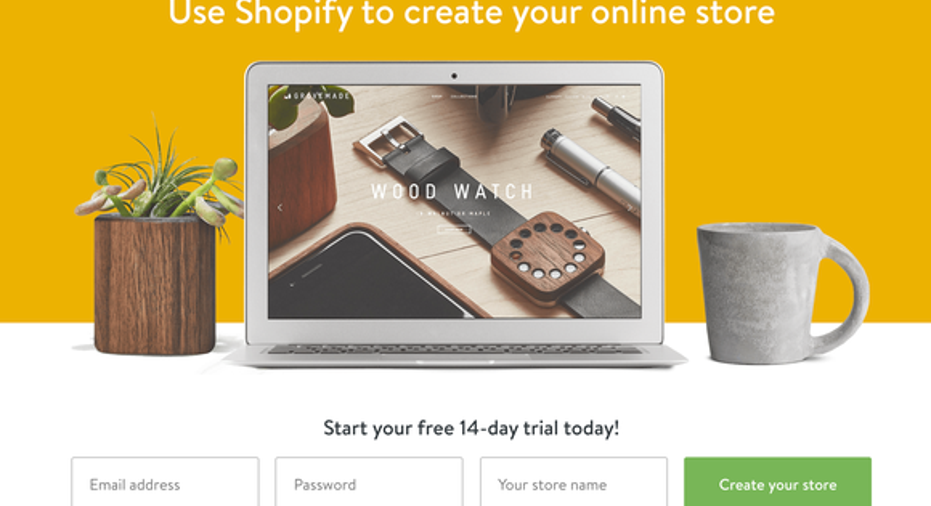 Image source: Shopify.com.
Shopify reported first-quarter results on May 4. The provider of commerce solutions for small and medium-sized businesses is enjoying rapid adoption of its cloud-based platform among e-entrepreneurs.
Shopify results: The raw numbers
| | Q1 2016 | Q1 2015 | Growth (YOY) |
| --- | --- | --- | --- |
| Revenue | $72.722 million | $37.348 million | 95% |
| Net Loss | ($8.929 million) | ($4.530 million) | N/A |
| Net Loss Per Share | ($0.11) | ($0.12) | N/A |
Source: Shopify Q1 2016 earnings press release.
What happened with Shopify this quarter?Subscription revenue surged 73% year-over-year to$38.7 million, with the number of merchants using Shopify's platform rising to more than 275,000, up from 243,000 in Q4 and 200,000 in the third quarter.
Sales for Shopify's merchant solutions segment -- which includes the company's payments and shipping services -- grew even more rapidly, increasing 127% to$34 million driven primarily by the growth of Shopify Payments.
Together, that helped total revenue soar 95% year-over-year to $72.7 million, which exceeded Shopify's guidance for first-quarter revenue of between $65 million and $67 million.
Monthly recurring revenue (the number of merchants with a subscription times the average subscription fee) as ofMarch 31, 2015, was$12.8 million, an increase of 73% from the prior year. And gross merchandise volume-- which represents the total dollar value of orders processed on Shopify'splatform -- jumped 102% to$2.7 billion in the first quarter.
Importantly, Shopify continues to excel in the mobile commerce arena. In fact, the company's mobile orders surpassed those on desktop for the first time ever, with 51% of orders and 62% of traffic coming from mobile devices by the end of the first quarter.
"The era of mobile commerce has officially arrived: mobile orders from Shopify merchants surpassed those of desktops in February, and have continued to climb since," said founder and CEO Tobi Ltke in a press release.
Still, Shopify remains unprofitable, with net losses expanding to $8.9 million from $4.5 million in the prior-year period.
Looking forwardFor the second quarter, management expects Shopify to generate revenue in the range of $79 million to $81 million, along with a GAAP operating loss of $12 million to $13 million. In addition, Shopify boosted its full-year 2016 revenue forecast to $337 million to $347 million, up from its previous outlook of $320 million to $330 million. However, the company also now expects a larger operating loss of $41 million to $47 million, versus prior estimates of between$36 million and $42 million. "Our first quarter delivered a great start to the year," said CFO Russ Jones. "The strong merchant adds in the quarter, together with GMV once again doubling year on year, highlight the value we bring to merchants of all sizes. Our unique combination of strengths is clearly meeting a pressing need in commerce right now."
The article Shopify Inc. Boosts Full-Year Revenue Outlook originally appeared on Fool.com.
Joe Tenebruso has no position in any stocks mentioned. The Motley Fool recommends Shopify. Try any of our Foolish newsletter services free for 30 days. We Fools may not all hold the same opinions, but we all believe that considering a diverse range of insights makes us better investors. The Motley Fool has a disclosure policy.
Copyright 1995 - 2016 The Motley Fool, LLC. All rights reserved. The Motley Fool has a disclosure policy.