Shopify Earnings: What Investors Should Expect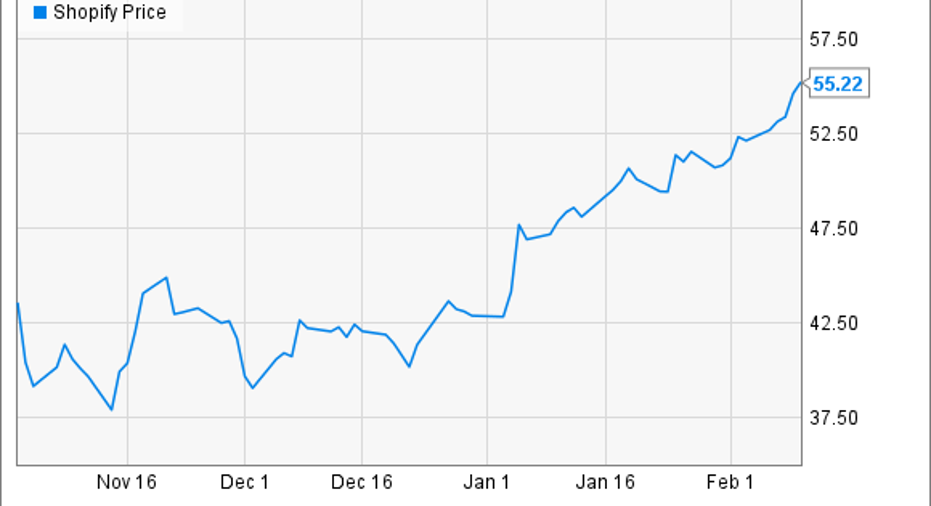 Shopify (NYSE: SHOP) will look to extend its flawless record of earnings beats on Wednesday morning before the market opens.
Shopify provides the backbone for some 325,000 online stores, offering an easy way to set up an online store. It charges a monthly fee for its core service. On top of that, it offers additional services such as payment processing and shipping, for which it takes a cut of each sale.
Shares of Shopify are up about 27% since the company reported its third-quarter earnings results. The share price is now trading around its all-time high. Investors are expecting strong results from the company, whose revenue growth has been huge, but which has yet to turn a profit. Here's what investors should expect from Shopify's fourth-quarter earnings.
Data source: YCharts.
Analysts expectations and Shopify's outlook
The consensus on the Street is that Shopify brought in around $121.69 million in revenue for the fourth quarter. That's on the high end of management's range of $120 million to $122 million.
Analysts expect that revenue to translate into a $0.02 loss per share. That's also in line with management's outlook for an adjusted operating loss of $1 million to $3 million. Shopify also provided a GAAP outlook of $10 million to $12 million in operating losses for the quarter.
But Shopify has consistently outperformed its revenue outlook over the past year.
Data source: Shopify quarterly reports
Given Shopify's history of conservative outlooks, the Street may be underestimating the company's fourth-quarter results. It wouldn't be a huge surprise if Shopify once again beats analysts' expectations.
Image source: Shopify
Key metrics to watch
There are several important operating metrics for investors to pay attention to. First and foremost is the company's total merchants. The number passed 325,000 in the third quarter, up from 200,000 the year before.
In the fourth quarter last year, Shopify added around 43,000 new merchants, an extremely strong quarter. Management said this year's fourth quarter will be strong once again, but it tempered expectations, noting that it reports milestones throughout the year (e.g., 325,000) instead of exact numbers. Depending on when it passes those milestones within the quarter, it could make fourth-quarter additions look smaller.
Another factor to pay attention to is the split between subscription solutions revenue and merchant solutions revenue. Subscription revenue is driven by the growing number of merchants on the platform, and it's growing more slowly than merchant solutions revenue. Merchant solutions (payment processing, shipping, and the like) should surpass subscription revenue in the fourth quarter, especially considering retail sales tend to increase during the holidays.
It's worth noting that merchant solutions revenue carries a lower margin than subscription revenue, so Shopify may experience some margin pressure. Ultimately, however, wide adoption of merchant solutions from its merchants should support subscription solutions as it makes the product stickier for Shopify's customers.
One last metric to consider is gross merchandise volume and what percentage of that volume is processed through Shopify Payments. During the third quarter, GMV reached $3.8 billion and Shopify Payments processed $1.5 billion, or 39%. Before that, Shopify didn't provide exact details but noted on its second-quarter report that "the percentage of GMV processed through Shopify Payments continues to grow,"
Qualitative updates from management
In addition to those key metrics, investors should watch for management's commentary on its recent deal to integrate with Amazon.com's (NASDAQ: AMZN) marketplace, further strengthening Shopify's partnership with the retail giant. The new deal makes it easier for Shopify merchants to list their products on Amazon. Amazon previously shut down its Amazon Webstore service and sent its users to Shopify.
Image source: Shopify
Investors should also look for comments on the continued growth of Shopify Plus, its enterprise-level e-commerce solution. Any updates on the progress of Shopify Shipping and Shopify Capital -- two high-margin products -- could be valuable as well.
Overall, Shopify looks set to produce yet another earnings beat, but the stock is priced as though the market expects as much. Anything short could hurt the stock price, but depending on what caused the shortfall, some pullback in the stock could present a long-term buying opportunity.
10 stocks we like better than ShopifyWhen investing geniuses David and Tom Gardner have a stock tip, it can pay to listen. After all, the newsletter they have run for over a decade, Motley Fool Stock Advisor, has tripled the market.*
David and Tom just revealed what they believe are the 10 best stocks for investors to buy right now... and Shopify wasn't one of them! That's right -- they think these 10 stocks are even better buys.
Click here to learn about these picks!
*Stock Advisor returns as of February 6, 2017
Adam Levy owns shares of Amazon. The Motley Fool owns shares of and recommends Amazon and Shopify. The Motley Fool has a disclosure policy.