Shares of W&T Offshore Gain 10% Today -- Here's Why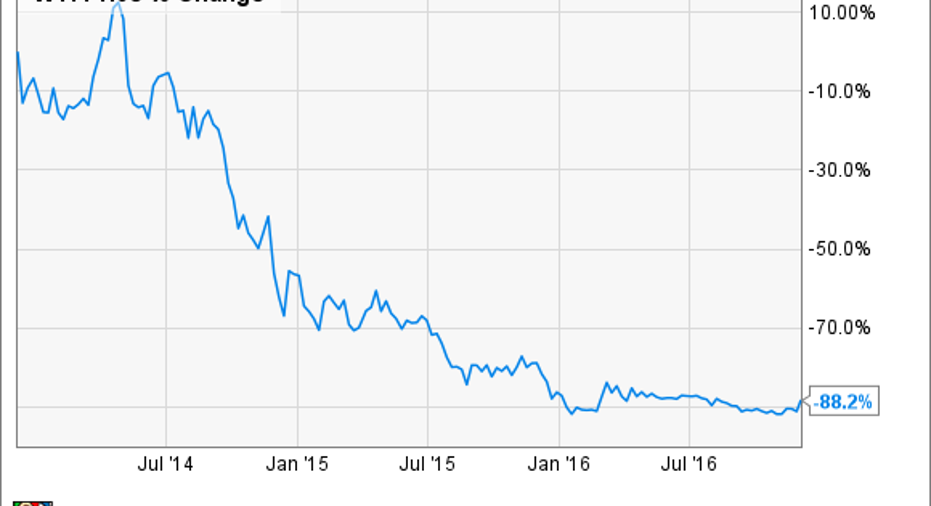 Image source: Getty Images.
What happened
It's been a white-knuckle ride lately for shares of W&T Offshore (NYSE: WTI). As of 10:15 a.m. EST Monday, shares of the company are up 10% as oil prices continue to make gains following last week's news of an OPEC production cut deal.
So what
Consider this for a second. Since the announcement that OPEC was going to cut production to help support oil prices, shares of W&T Offshore have gained more than 25%. The reason that this stock has reacted with so much volatility is because, frankly, the company needed higher oil prices to survive. According to the company's most recent earnings report, W&T's operations have been burning through cash and generating heavy losses while realizing oil prices around $35 per barrel and taking on a mountainous debt load in the process.
With benchmark prices now above $50 a barrel -- W&T's price realization is typically lower because of pipeline costs from its offshore production platforms -- the thinking is that the company will start to generate operational cash, hopefully start paying down that debt, and start to generate profits for investors.
Now what
As much as higher prices will help W&T, prices would have to be high for a long time before any kind of balance sheet integrity is restored. The fall has been long and hard for this company, and even these double-digit gains are small blips in the slide this stock has suffered over the past few years.
For investors who are indeed interested in netting long-term gains from the oil industry's recovery, there are much-better ways to do it with better-financed companies that are likely to generate returns over the long haul. There are just too many questions around W&T to make it a sound long-term investment.
10 stocks we like better than W and T Offshore When investing geniuses David and Tom Gardner have a stock tip, it can pay to listen. After all, the newsletter they have run for over a decade, Motley Fool Stock Advisor, has tripled the market.*
David and Tom just revealed what they believe are the 10 best stocks for investors to buy right now... and W and T Offshore wasn't one of them! That's right -- they think these 10 stocks are even better buys.
Click here to learn about these picks!
*Stock Advisor returns as of Nov. 7, 2016
Tyler Crowe has no position in any stocks mentioned.You can follow himat Fool.comor on Twitter@TylerCroweFool.
The Motley Fool has no position in any of the stocks mentioned. Try any of our Foolish newsletter services free for 30 days. We Fools may not all hold the same opinions, but we all believe that considering a diverse range of insights makes us better investors. The Motley Fool has a disclosure policy.