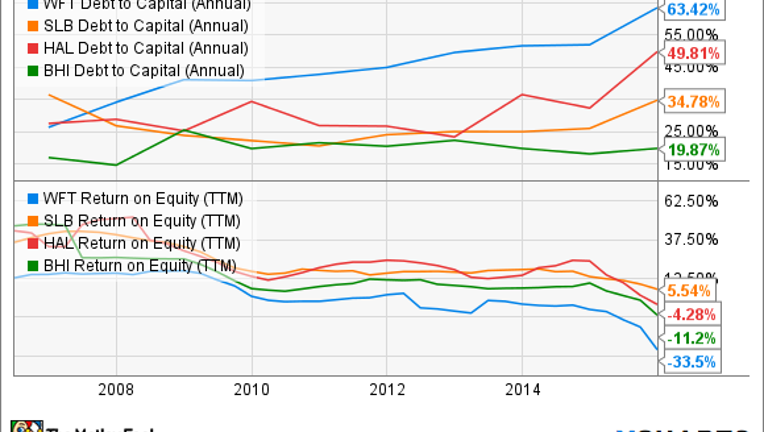 Image Source: Weatherford International investor presentation
What: After starting the month off on the wrong foot with a secondary share issuance, shares of Weatherford International ended up 21.5% in March after favorable remarks from several analysts including Goldman Sachs.
So what: One of the largest concerns investors have had with Weatherford is that it's overburdened with debt and hasn't been able to generate adequate cash flows for years now. The company has continually tried restructuring effort after restructuring effort to get things right, but the company consistently found itself with a debt load much higher than its peers and lower returns on equity. That isn't exactly a recipe for greatness in investors' eyes.
WFT Debt to Capital (Annual) data by YCharts
This most recent decline in oil prices has forced the company's hand to make some drastic cuts to its cost basis and focus on cash generation. And its those efforts, combined with the recent share issuance that raised about $630 million, that should help put it on more solid footing. That cost cutting is the reason that analysts at both Goldman Sachs andhave said this past month that they view Weatherford's stock more favorably.
Now what: Certainly the amount of cost cutting that has happened at Weatherford is showing up in the company's earnings. Last year, the company was able to generate free cash flow for the first time since 2010, and its debt situation has started to improve as its total debt outstanding has declined by $2.3 billion since the beginning of 2014. Weatherford still has a long, long way to go before it can be considered an investment on par with its larger peers in the oil service industry, but at least the company is on the right track and investors are starting to take notice.
More from The Motley Fool
The article Shares of Weatherford International Climbed 21% in March After Getting Goldman Sachs' Blessing originally appeared on Fool.com.
Tyler Crowe has no position in any stocks mentioned.You can follow him at Fool.comor on Twitter@TylerCroweFool. The Motley Fool owns shares of and recommends Halliburton. Try any of our Foolish newsletter services free for 30 days. We Fools may not all hold the same opinions, but we all believe that considering a diverse range of insights makes us better investors. The Motley Fool has a disclosure policy.
Copyright 1995 - 2016 The Motley Fool, LLC. All rights reserved. The Motley Fool has a disclosure policy.