Shares of Targa Resources Shares Slid More Than One-Third in December. Here's Why.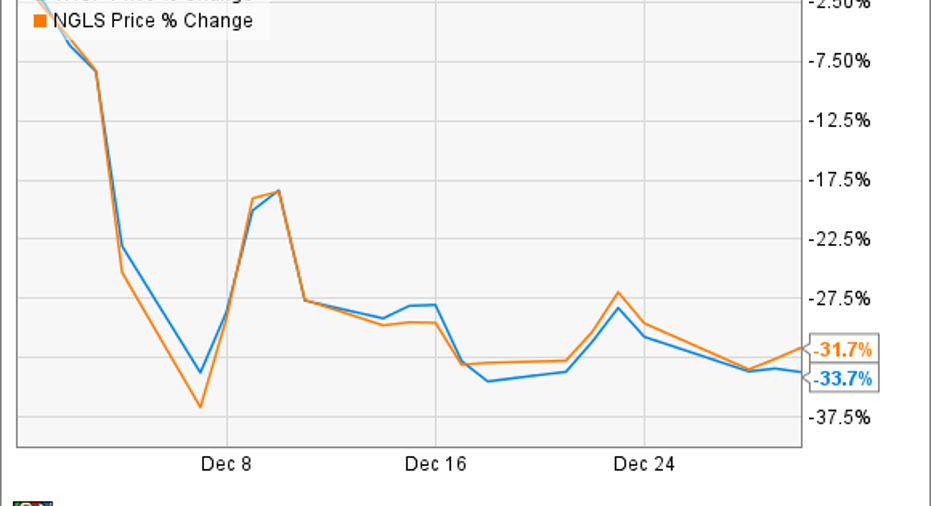 What: Shares of Targa Resources Corp and its subsidiary MLP, Targa Resources Partners , declined 33.7% and 31.7%, respectively, in December. The largest decline in both entities' shares came following OPECs decision to keep oil production steady, but there are some deeper reasons investors were so quick to shed shares.
So what: Shares of both Targa Resources and Targa Resource Partners saw some massive decline in 2015, losing more than two-thirds of their value. An oversupply of natural gas liquids really put a damper on the company's finances, as a decent amount of its NGL transportation network prices on a percentage-of-profit model rather than a fixed-fee rate. Also, the general partner was starting to push the levels of its debt covenants. If there is something the market was not a fan of this year, it was master limited partnerships without strong contract pricing power and a loaded balance sheet.
To make things even more challenging for investors, management announced that Targa Resouces would be acquiring all outstanding units of Targa Resources Partners to consolidate the company under one entity. It's not the first company to make such a move, but the terms of the deal probably left investors with a sour taste in their mouth.
In reality, the announcement that OPEC was planning to basically go without production quotas doesn't really affect Targa a whole lot. Most of the company's assets are related to natural gas and natural gas liquids anyway. Instead, that announcement was more like the straw that broke the camel's back. The weight of all the other issues surrounding Targa had investors all heading to the exits at once.
Now what: Ultimately, the move to bring Targa Resources under one roof will help the company in the long term. It will get a lower cost of capital, and the larger-sized single entity will probably have greater access to the financial markets. However, what the company really needs to do is change its contract structure such that it has a higher percentage of its gross profits coming from fixed fees rather than a percentage of proceeds. In 2015, it has boosted that fixed-fee coverage to 70%, which is a drastic improvement over previous years, but more conservative MLPs in the space usually run with more than 80% of their gross profit margins coming from fixed fees.
Until the company shows that it can deliver on its promise to improve its performance through the consolidation and can move toward even greater levels of fixed-fee profits, it may be best to sit and wait until things shake out at Targa Resources.
The article Shares of Targa Resources Shares Slid More Than One-Third in December. Here's Why. originally appeared on Fool.com.
Tyler Crowe has no position in any stocks mentioned.You can follow him at Fool.comor on Twitter@TylerCroweFool. The Motley Fool has no position in any of the stocks mentioned. Try any of our Foolish newsletter services free for 30 days. We Fools may not all hold the same opinions, but we all believe that considering a diverse range of insights makes us better investors. The Motley Fool has a disclosure policy.
Copyright 1995 - 2016 The Motley Fool, LLC. All rights reserved. The Motley Fool has a disclosure policy.