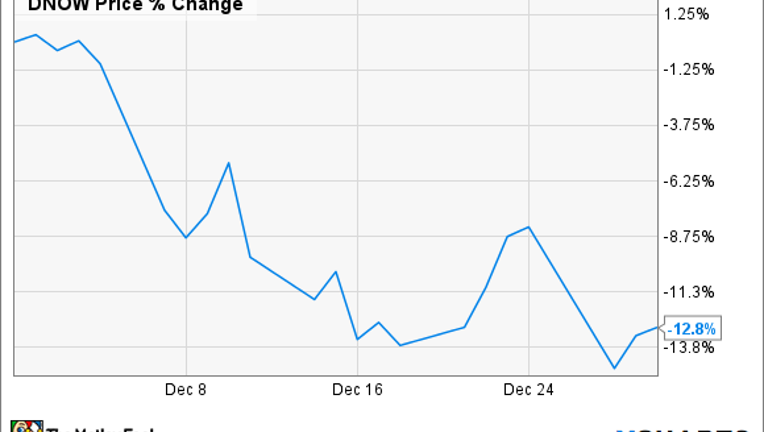 What: Shares of NOW -- also referred to as DistributionNOW -- declined more than 12% in December. While shares slowly slid throughout the month, the big decline came when it announced that it had to revise the covenants on one of its credit facilities.
So what: It hasn't been that uncommon to see energy companies make agreements with banks and other lenders as earnings have dried up, so it shouldn't be that surprising to see DistributionNOW need to make a similar move. What probably got under investors' skin about the move was that the announcement was made on Dec. 24 just after the market close. There is no scientific evidence to prove this, but financial disclosures posted after trading on a holiday weekend is rarely good news.
As part of the announcement, the company has come to an agreement with its creditors to waive its current interest coverage ratio covenant after saying that it may not be able to meet that obligation in the future. As part of the waiver, DistributionNOW's management is working to amend its credit agreements to tie its creditworthiness to its assets.
Now what: The threat of this debt situation may be a little overblown. DistrbutionNOW has a debt to capital ratio of only 6% and still has more cash on the balance sheet than total debt outstanding. So the company is a long ways off from any sort of real debt worries for investors. DistributionNOW still finds itself in a very unique position as an oil and gas equipment distributor. This is a highly fragmented market ripe for consolidation, and as one of the better-financed companies in the industry, it would not be surprising to see the company gobble up a few smaller competitors to increase its market share. Buying anything in the oil and gas space may not be sexy right now, but DistributionNOW may be worth taking a look at while the market is down.
The article Shares of NOW Inc. Dropped 12% in December, and Here's Why originally appeared on Fool.com.
Tyler Crowe owns shares of NOW.You can follow him at Fool.comor on Twitter@TylerCroweFool. The Motley Fool owns shares of and recommends NOW. Try any of our Foolish newsletter services free for 30 days. We Fools may not all hold the same opinions, but we all believe that considering a diverse range of insights makes us better investors. The Motley Fool has a disclosure policy.
Copyright 1995 - 2016 The Motley Fool, LLC. All rights reserved. The Motley Fool has a disclosure policy.