Shares of Marathon Petroleum Jumped 11% in November -- Here's Why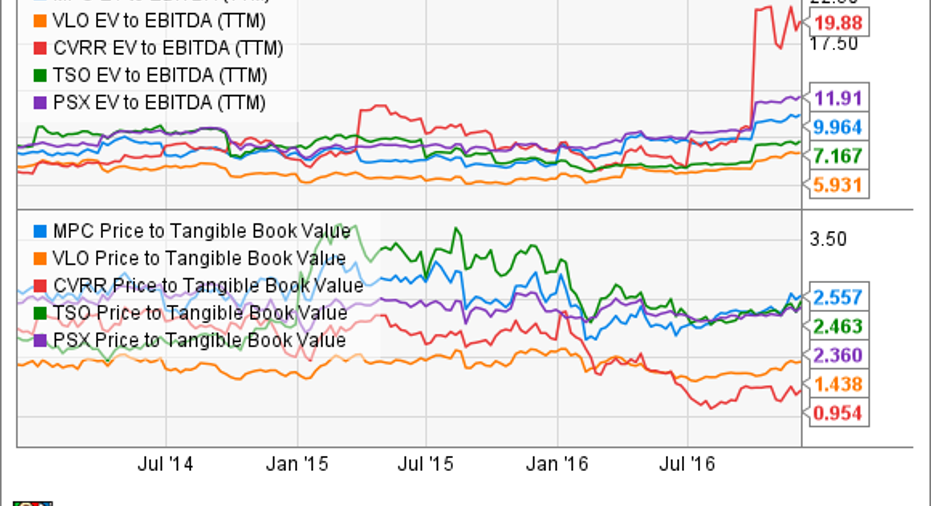 Image source: Getty Images.
What happened?
Shares of Marathon Petroleum (NYSE: MPC) jumped 11% in November. While most of the refining industry gained double digits following the election of Donald Trump, Marathon's price spike came thanks to news that activist investing group Elliott Management had taken a stake in the company and was looking to shake the company up.
So what?
As the modus operandi of activist hedge funds, Elliott Management took a stake in the company, told it that its shares were undervalued, and that it had all the answers to its woes.
Two big ideas that Elliott is proposing is that Marathon immediately drop down all qualifying midstream assets to is midstream master limited partnership MPLX (NYSE: MPLX) and then do a spinoff where all three of its business units -- Refining, the general partner interest in Midstream, and its Speedway retail business -- become separately traded entities.
The drop down and the restructuring of its ownership structure would lower MPLX's cost of capital -- a very important thing for a midstream company that relies heavily on outside capital to grow, and in doing so allow MPLX to grow faster and get a valuation that Elliott believes it deserves
Apparently the market was keen to the idea, and as a result shares responded. In response, Marathon issued a statement where it said it agreed that Marathon's stock is significantly undervalued and that the market was not pricing in the stable cash flows that come from its retail and midstream assets. It also noted that some of the things that Elliott is proposing such as the MPLX drop down would incur some big tax costs, and that it plans to drop down those assets in stages to not incur higher than needed tax costs. It is looking into ways to lower MPLX's cost of capital, as it mentioned during its earnings presentation back in October.
Now what?
Sure, you could argue that Marathon Petroleum's share price is not considering the value of its non-refining assets properly, but looking at the valuation of Marathon compared to its peers over the past few years, it does seem that the company's stock has traded well within the range of other independent refiners both big and small.
MPC EV to EBITDA (TTM) data by YCharts.
If the company could find a way to lower the cost of capital, then there is certainly an immense opportunity for MPLX to grow. From an investor standpoint, there is certainly a case to be made that shares are undervalued, and maybe Wall Street is starting to wake up to that idea with this recent stock price rise.
10 stocks we like better than Marathon Petroleum When investing geniuses David and Tom Gardner have a stock tip, it can pay to listen. After all, the newsletter they have run for over a decade, Motley Fool Stock Advisor, has tripled the market.*
David and Tom just revealed what they believe are the 10 best stocks for investors to buy right now and Marathon Petroleum wasn't one of them! That's right -- they think these 10 stocks are even better buys.
Click here to learn about these picks!
*Stock Advisor returns as of Nov. 7, 2016
Tyler Crowe has no position in any stocks mentioned.You can follow himat Fool.comor on Twitter@TylerCroweFool.
The Motley Fool has no position in any of the stocks mentioned. Try any of our Foolish newsletter services free for 30 days. We Fools may not all hold the same opinions, but we all believe that considering a diverse range of insights makes us better investors. The Motley Fool has a disclosure policy.