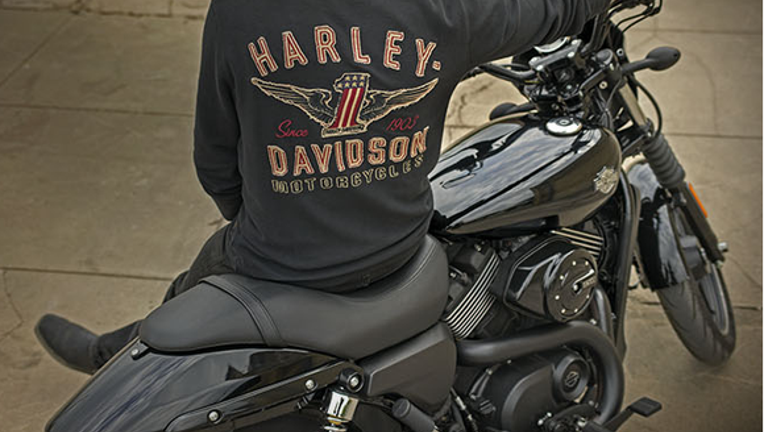 Image source: Harley-Davidson.
What: Shares of Harley-Davidson, Inc. , famous for manufacturing its namesake motorcycles, are soaring more than 13% on this week's final day of trading. Harley-Davidson's average volume during the past three months was about 2.8 million shares, and private-equity rumors have pushed traders into the stock, with more than 16 million shares trading hands today.
So what: The story moving Harley-Davidson shares higher today is pure speculation that KKR & Co. might be interested in buying the motorcycle manufacturer. Sadly, investors hoping for additional details are going to be disappointed; a spokeswoman for KKR said the company wouldn't be commenting on rumors or speculation. Harley-Davidson said much of the same.
"Harley-Davidson has periodically been the subject of marketplace speculation of various sorts," spokeswoman Maripat Blankenheim told theMilwaukee Business Journal. "It's our long-standing practice not to comment on market rumors and speculation."
Now what: While it's only a rumor, it's one that could make sense. Few companies own a brand as powerful as Harley-Davidson, which has been around for more than 100 years, and resonates globally, despite the company's slowing top-line growth. Also, the company has historically generated strong free cash flow, which would be enticing for a private equity company willing to try and reposition the company's products to lure in a new, and younger, demographic that is currently being reached by competitors such as Polaris Industries. If no more information is released, or it appears no deal will be completed, investors can likely expect the shares to give up today's gains. Stay tuned.
The article Shares of Harley-Davidson Pop 13% on Private Equity Rumors originally appeared on Fool.com.
Daniel Miller has no position in any stocks mentioned. The Motley Fool has no position in any of the stocks mentioned. Try any of our Foolish newsletter services free for 30 days. We Fools may not all hold the same opinions, but we all believe that considering a diverse range of insights makes us better investors. The Motley Fool has a disclosure policy.
Copyright 1995 - 2016 The Motley Fool, LLC. All rights reserved. The Motley Fool has a disclosure policy.