Shares of FerrellGas Partners Soared in December Thanks to Earnings, Analyst Upgrades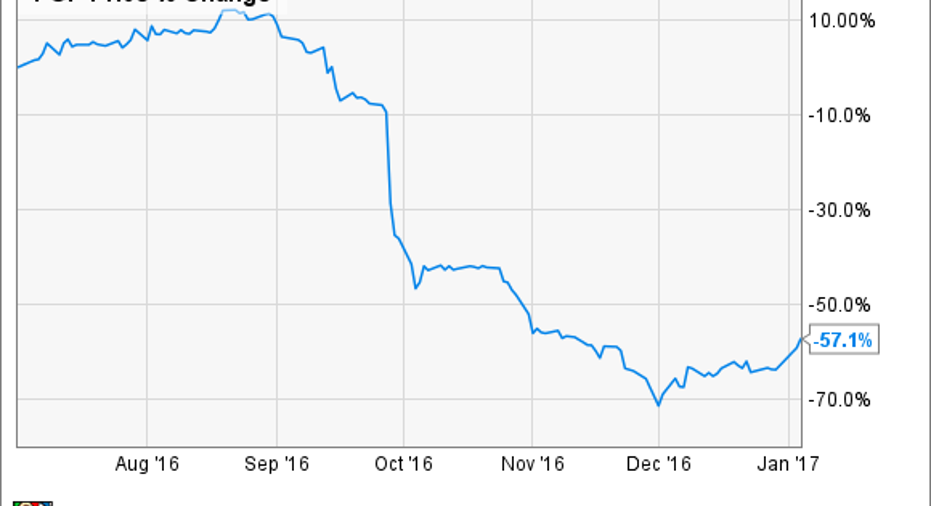 Image source: Getty Images.
What happened?
After several months of continued bad news, shares of FerrellGas Partners (NYSE: FGP) saw an impressive gain of 29.9% in December. Much of the gains in the stock were a result of several analyst upgrades that happened at the beginning of the month prior to its earnings release on Dec. 9th.
So what?
FerrellGas Partners' stock has fallen hard and fast since it reported earnings in September. The combination of a major asset writedown, a distribution cut, a CEO that abruptly resigned, and an onerous debt load all weighed heavily on investors' minds. After such a hard fall, though, analysts started to become a little more intrigued. Between Dec. 5th-8th, analysts from Citigroup, Piper Jaffray, and RBC Capital markets all upgraded their ratings. The idea behind these upgrades was that the sell-off was a little overdone and all the bad news was now more than priced into the stock.
Then, on Dec. 9th, FerrellGas Partners issued earnings results that were neither encouraging or discouraging. Revenue continued to decline on warmer than expected weather and continued weakness from its midstream business that has been the cause of so many problems as of late. At the same time, though, management was able to cut costs enough to keep EBITDA levels in check and was able to keep its debt levels below its revised covenant levels.
While these results aren't really enough to say that FerrellGas is back to being a stable cash generator that will produce a high yield distribution for its investors, it did give some confidence that it is getting back on the right track. That may just be enough for a company that was looking shaky at best just a couple months ago.
Now what?
You could argue that the ill effects of FerrellGas' major asset writedowns and distribution cut have been priced into the stock. After all, shares are still down 57% over the past 6 months. That being said, an awful lot is riding on this winter being a cold one that leads to higher propane sales. If we have another tepid winter like the last one, it's very possible the company will continue to limp along with its bloated balance sheet. So until the weather gives us some clues, it may be best to hold off on any investment decisions on this stock.
10 stocks we like better than Ferrellgas Partners When investing geniuses David and Tom Gardner have a stock tip, it can pay to listen. After all, the newsletter they have run for over a decade, Motley Fool Stock Advisor, has tripled the market.*
David and Tom just revealed what they believe are the 10 best stocks for investors to buy right now... and Ferrellgas Partners wasn't one of them! That's right -- they think these 10 stocks are even better buys.
Click here to learn about these picks!
*Stock Advisor returns as of January 4, 2017
Tyler Crowe has no position in any stocks mentioned.You can follow himat Fool.comor on Twitter@TylerCroweFool.
The Motley Fool has no position in any of the stocks mentioned. The Motley Fool has a disclosure policy.