Shares of Energy Transfer Equity Gained 13% in June Thanks to the Williams Split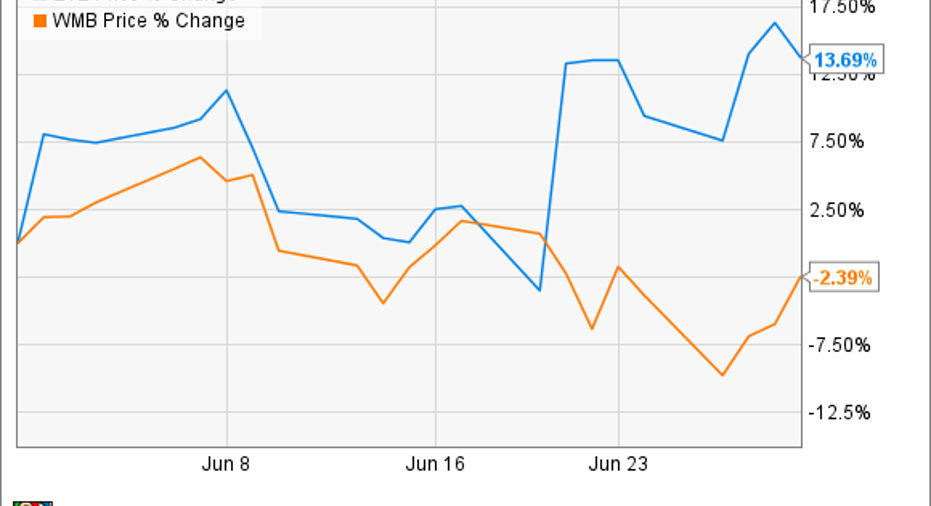 Image source: Getty Images
What: Shares of Energy Transfer Equity jumped 13.7% in June after the company won a court decision that it could terminate its proposed merger with Williams Companies , and then swiftly moved to pull out of the deal. At the same time, shares of Williams lost close to 3% over the same time frame.
So what: Investors shouldn't have been completely shocked by the news that Energy Transfer had decided to get out of this deal. The company had more or less tried every move under the sun to stall or find some reason to nix the deal. When a judge decided that Energy Transfer could walk away from the deal if it couldn't get the required information as to whether or not this deal would cause a taxable event for its shareholders. With that judgement in hand, the company quickly headed for the exits.
Ultimately, this is probably helpful for Energy Transfer. The price tag for Williams was pretty steep, and raising the cash portion of the deal would have really pushed Energy Transfer's debt load even more than it already is. By getting out of the deal, it can focus more on its multiple subsidiary partnerships that have more than enough places to invest in growth without having to take on Williams and its grand plans for growth.
Now what: Without the Williams deal in place, Energy Transfer has some options it can explore for either further growth or cleaning up the balance sheet. After all, some of its subsidiary partnerships are coming under strain from credit ratings agencies or having bloated balance sheets. Once we get an idea of where Energy Transfer plans to go from here, then we can evaluate whether it's a good idea or not. While that path forward is still up in the air, maybe it's best to sit on the sidelines for a bit.
The article Shares of Energy Transfer Equity Gained 13% in June Thanks to the Williams Split originally appeared on Fool.com.
Tyler Crowe has no position in any stocks mentioned.You can follow him at Fool.comor on Twitter@TylerCroweFool.The Motley Fool has no position in any of the stocks mentioned. Try any of our Foolish newsletter services free for 30 days. We Fools may not all hold the same opinions, but we all believe that considering a diverse range of insights makes us better investors. The Motley Fool has a disclosure policy.
Copyright 1995 - 2016 The Motley Fool, LLC. All rights reserved. The Motley Fool has a disclosure policy.