Shares of CVR Energy Got a Unique Post-Election Bump in November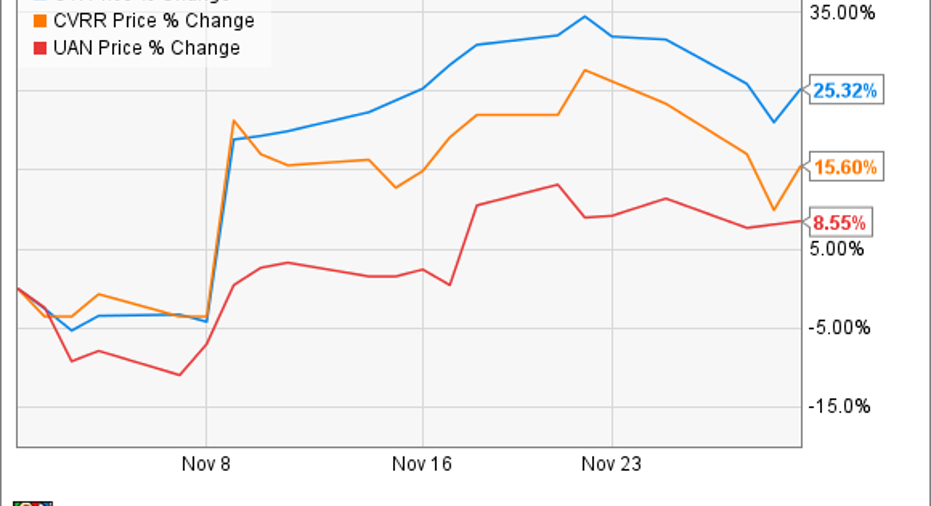 Image source: Getty Images.
What happened?
Shares of CVR Energy (NYSE: CVI) jumped 25% in November. Like many other companies in the oil and gas industry, much of that jump came from the election of Donald Trump. Unlike others, though, it has a unique angle when it comes to Trump.
So what?
The most important thing to remember about CVR Energy is that its only revenue generating assets are its ownership stakes in two master limited partnerships: refining company CVR Refining (NYSE: CVRR), and nitrogen fertilizer manufacturer CVR Partners (NYSE: UAN). CVR Energy's dividend is paid from the cash proceeds that it receives from its ownership stake in these two subsidiaries.
Much of the gain was related to the election of Donald Trump and what it could potentially mean for refining companies. One of Trump's big campaign pledges was to either loosen restrictions on the oil and gas industry or in some cases repeal some rules outright. One that many in the refining business hope to see be radically changed are the rules related to complying to the U.S. EPA's renewable fuels standards. CVR Energy and CVR Refining CEO Jack Lipinski has been one of the most vocal opponents of these laws, and has used earnings conference calls on multiple occasions to voice his distaste for the way these laws are set up.
If these regulations were lifted or altered, then it would likely lead to higher margins for CVR Refining and, in turn, better results for CVR Energy.
There is another little component that may be related to this, and it has to do with one of CVR Energy's largest shareholders: Carl Icahn.
Icahn was not only a supporter of Trump during the campaign, but there are also numerous reports that Icahn has had a rather influential voice in shaping Trump's policies, especially the EPA. There are also rumors that Icahn may take a role as an economic advisor. Whether Icahn having Trump's ear will mean anything for CVR Energy is yet to be seen, but it is a possibility.
Now what?
Anyone looking to make an investment in CVR Energy needs to keep in mind that any presidency lasts only 4-8 years, so as tempting as it may be to invest in this company based on some of this speculation, it's probably best to avoid having that be the seminal piece of your investing thesis.
To invest in CVR Energy long term, you need to go back and look at the structure of this business and ask whether you see a long term future for both refining and nitrogen based fertilizer manufacturing in the U.S. The two entities do have their advantages as they are relatively low cost producers, but both are struggling with low margin environments today and that could continue for some time regardless of what happens with Trump.
10 stocks we like better than CVR Energy When investing geniuses David and Tom Gardner have a stock tip, it can pay to listen. After all, the newsletter they have run for over a decade, Motley Fool Stock Advisor, has tripled the market.*
David and Tom just revealed what they believe are the 10 best stocks for investors to buy right now... and CVR Energy wasn't one of them! That's right -- they think these 10 stocks are even better buys.
Click here to learn about these picks!
*Stock Advisor returns as of Nov. 7, 2016
Tyler Crowe has no position in any stocks mentioned.You can follow himat Fool.comor on Twitter@TylerCroweFool.
The Motley Fool has no position in any of the stocks mentioned. Try any of our Foolish newsletter services free for 30 days. We Fools may not all hold the same opinions, but we all believe that considering a diverse range of insights makes us better investors. The Motley Fool has a disclosure policy.