Shares of CSI Compressco Plunge After Distribution Cut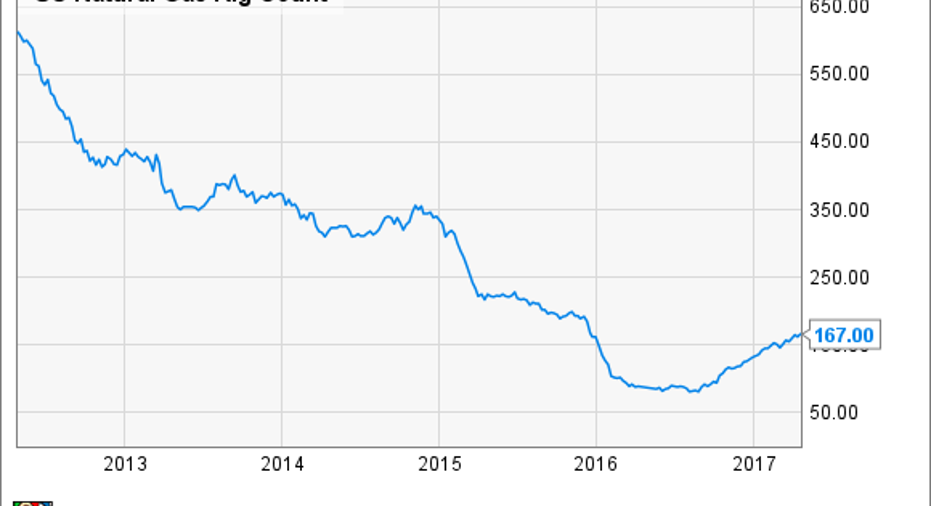 What happened
Shares of oil and gas compression services specialist CSI Compressco LP (NASDAQ: CCLP)were down 13% as of 3:00 p.m. EDT today. The culprit for the move was the company's announcement that it cut its distribution to common unitholders.
So what
Image source: Getty Images
Gas compression is an asset-heavy business, and as a result, it's a capital-intensive one with high fixed costs. To be profitable, a company like CSI Compressco needs to have autilization rate for its fleet of compression horsepower. However, that isn't the case right now. While we've seen a sharp uptick in drilling activity for oil, the same can't be said for natural gas. According to the Baker Hughes natural gas rig count, producers have contracted only 80 additional rigs for natural gas drilling over the past year, versus more than 350 for oil.
As a result, CSI Compressco's fleet utilization has been low, and its cash flow has suffered as a result. At the end of the fiscal year 2016, only 76% of CSI's fleet was active. That translated to a distribution coverage ratio of only 0.68, which means way more cash was going out the door for its payout than what was available to distribute.
US Natural Gas Rig Count data by YCharts
According to the press release today, CSI Compressco President Timothy Knox stated that the oil and gas recovery -- more particularly, its part of the oil and gas value chain -- is taking longer to recover than expected. So to be prudent, management is cutting its distribution by 50%.
Now what
Even though CSI's stock tumbled around 13%, the market was already pricing in a distribution cut. Before the announcement, CSI's stock carried a 16% distribution yield. That high of a yield is pretty much an admission that a cut was imminent, and its most recent earnings result was confirmation that the current payout wasn't sustainable.
A 50% cut should be able to put the company back on the right foot, but that action is predicated on an uptick in demand for compression horsepower in the oil and gas value chain. If that happens, then this should set CSI up to recover some lost ground. If utilization and cash flow continue to fall, though, then the company could be headed for another cut soon.
10 stocks we like better than Compressco PartnersWhen investing geniuses David and Tom Gardner have a stock tip, it can pay to listen. After all, the newsletter they have run for over a decade, Motley Fool Stock Advisor, has tripled the market.*
David and Tom just revealed what they believe are the 10 best stocks for investors to buy right now... and Compressco Partners wasn't one of them! That's right -- they think these 10 stocks are even better buys.
Click here to learn about these picks!
*Stock Advisor returns as of April 3, 2017
Tyler Crowe has no position in any stocks mentioned. The Motley Fool has no position in any of the stocks mentioned. The Motley Fool has a disclosure policy.