Shares of Baozun Inc. Slide 12% Despite First-Quarter Results Showing Solid Growth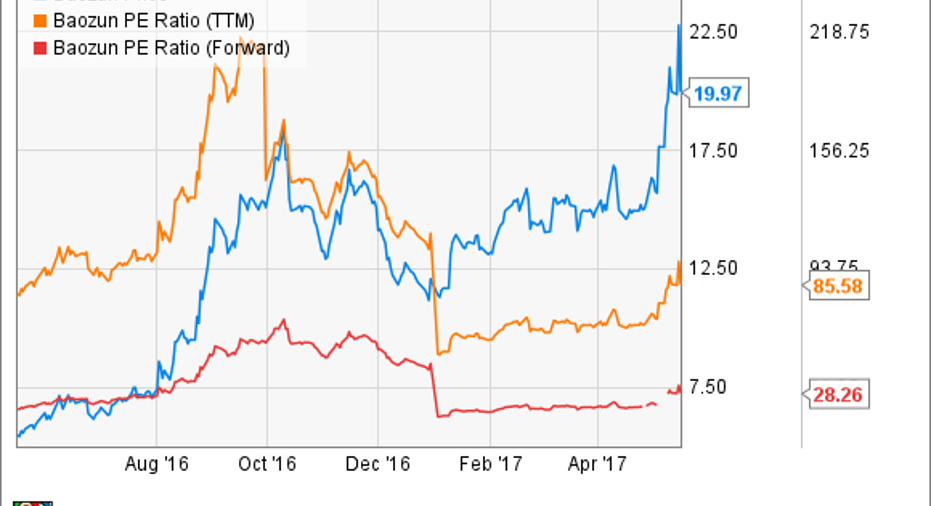 What happened
Shares of Baozun Inc. (NASDAQ: BZUN), a leading-brand e-commerce service partner in China, released its financial results for the first quarter, prompting a questionable 12% slide in share price.
So what
Starting from the company's top line: Total net revenues checked in at RMB 804.9 million, or $116.9 million, which was a solid 20.5% increase compared to the prior year's result. That was just better than analysts' estimates calling for RMB 802.9 million. The company met estimates on the bottom line too, with non-GAAP (generally accepted accounting principles) net income per share checking in at RMB 0.50, or $0.07. There were some other highlights as well, including total gross merchandise volume (GMV) rising 60.5% compared to the prior year, to RMB 2,974.4 million.
Image source: Getty Images.
Said Vincent Qiu, chairman and CEO of Baozun, in a press release (italics are in original):
Now what
It's possible that despite the solid quarter, the market simply wasn't willing to sustain the company's lofty valuations after anything less than a blockbuster result. One slight knock against the results was rising costs -- including sales and marketing expenses, technology and content expenses, and fulfillment expenses -- but that's not unexpected from a young company growing quickly.
Looking ahead, the company will focus on its core vertical channels, offering more value to its brand partners through global expansion.
10 stocks we like better than BaozunWhen investing geniuses David and Tom Gardner have a stock tip, it can pay to listen. After all, the newsletter they have run for over a decade, Motley Fool Stock Advisor, has tripled the market.*
David and Tom just revealed what they believe are the 10 best stocks for investors to buy right now... and Baozun wasn't one of them! That's right -- they think these 10 stocks are even better buys.
Click here to learn about these picks!
*Stock Advisor returns as of May 1, 2017
Daniel Miller has no position in any stocks mentioned. The Motley Fool has no position in any of the stocks mentioned. The Motley Fool has a disclosure policy.