Share Gains Boost MarketAxess Holdings Inc. Earnings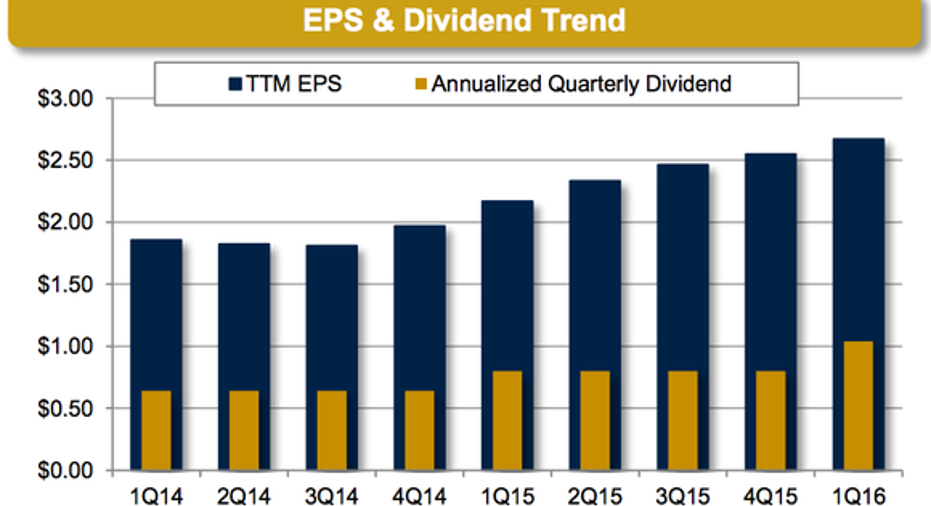 MarketAxessHoldings reported first-quarter results on April 27. Revenue leapt 15.4% year over year to $88.6 million, as the electronic bond-trading network enjoyed record trading across all of its core product lines.
MarketAxess' share of the U.S. high-grade credit market rose to 14.9% from 13.7% in Q1 2015, bolstered by a 22% increase in trading volume. Yet volume growth was even more significant in MarketAxess' other segments, with emerging markets, U.S. high-yield, and Eurobond volumes soaring 36%, 45%, and 54%, respectively.
Image source: MarketAxess Q1 2016 earnings presentation.
In all, total trading volume surged 27.2% to $310 billion, helping to drive an 18% increase in commission revenue to $79.1 million, including a 22.9% jump in variable transaction fees to $63.1 million.
All other revenue -- consisting of information and post-trade services, as well as investment income -- fell 2.8% to $9.5 million, primarily because of lower consulting fees and unfavorable foreign exchange movements.
Higher employee compensation costs, marketing expenses, and clearing costs led to a 15% increase in total expenses to $44.2 million. With expenses outpacing revenue growth during the quarter, pre-tax margin declined slightly to 50.1%, down from 50.2% in the first quarter of 2015.
All told, net income, which benefited from a lower effective tax rate compared with the prior year period, leapt 17.8% to $29 million. And earnings per share, boosted by stock buybacks, jumped 18.5% to $0.77.
"Our results this quarter show a strong start to 2016," said Chairman and CEO Richard McVey in a press release."The combination of strong market share growth across each of our core products and healthier U.S. market volumes resulted in record trading volumes, revenues, pre-tax income, and EPS."
Capital returnsWith its strong free cash flow generation and fortress-like balance sheet -- including more than $285 million in cash and investments and no long-term debt as of the end of the first quarter -- MarketAxess is able to reward its investors with stock buybacks and rising dividend payments.
Image source: MarketAxess Q1 2016 earnings presentation.
In this regard, the company repurchased 9,852 shares during the first quarter at a cost of $1.2 million. An additional $23.8 million was still available for future stock buybacks at the end of the first quarter under MarketAxess' current share repurchase program.
Looking aheadManagement reiterated its 2016 full-year guidance, including total expenses in the range of $168 million to $176 million and capital spending in the range of $18 million to $22 million.
"We continue to invest in new Open Trading protocols, expanding our capabilities outside of the United States, and extending our trading platform to new product areas," added McVey."We are excited about our recent municipal bond trading launch and the opportunity to deliver broader access to liquidity, better price discovery, and greater efficiency to this highly fragmented and manually reliant market."
The article Share Gains Boost MarketAxess Holdings Inc. Earnings originally appeared on Fool.com.
Joe Tenebruso has no position in any stocks mentioned. The Motley Fool owns shares of and recommends MarketAxess Holdings. Try any of our Foolish newsletter services free for 30 days. We Fools may not all hold the same opinions, but we all believe that considering a diverse range of insights makes us better investors. The Motley Fool has a disclosure policy.
Copyright 1995 - 2016 The Motley Fool, LLC. All rights reserved. The Motley Fool has a disclosure policy.