Shanghai meet shows China's expansive goals in Central Asia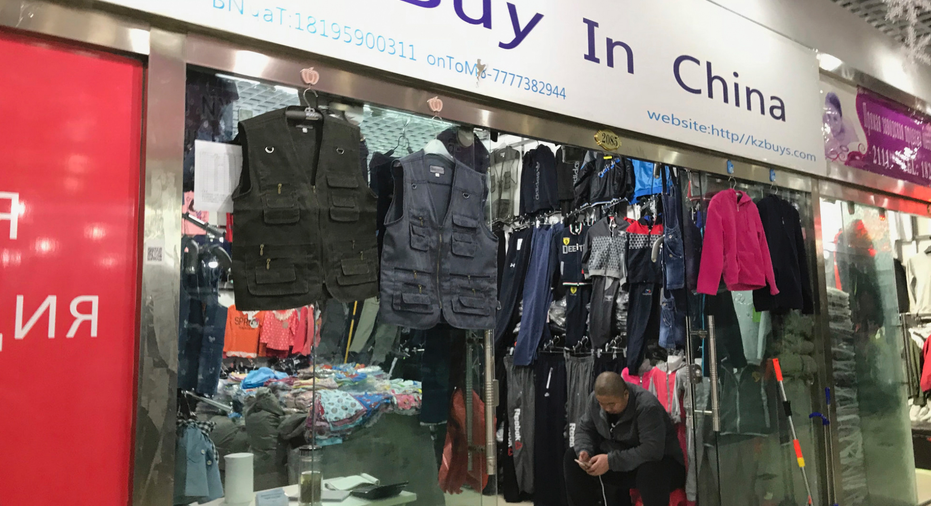 At this remote crossing point along China's border with Kazakhstan, mountains rise behind cranes shifting cargo containers from Chinese trains to cars on narrower track used in the states of the former Soviet Union.
It's all part of a day's work at the bustling Khorgos Gateway, one that CEO Zhaslan Khamzin attributes to fortunate geography, divine intervention and Chinese President Xi Jinping's desire to spread China's economic influence westward.
"It's God's will that we were located here, and that's why Kazakhstan is trying to develop its potential, using this opportune location to develop," Khamzin told The Associated Press in the landlocked Central Asian state.
China will seek to further promote such links during this weekend's summit of the Shanghai Cooperation Organization in the northern Chinese port of Qingdao. The eight-member grouping dominated by China and Russia also includes Kazakhstan, Uzbekistan, Kyrgyzstan, Tajikistan and, since last year, Pakistan and India.
Founded in 2001, the Beijing-based SCO was originally conceived as a vehicle for resolving border issues, fighting terrorism, and — more implicitly — to counter American influence in Central Asia following its invasion of Afghanistan.
In recent years, its economic component has grown more prominent, embodied in Xi's signature, trillion-dollar foreign policy and infrastructure drive known as the Belt and Road Initiative, in which transit hubs such as Khorgos play a key role.
At a briefing last week, Chinese Foreign Minister Wang Yi made the connection even more explicit, saying the summit would promote the "construction of the Belt and Road to lift regional economic cooperation."
That could create some "awkward silences and omissions," particularly with India, a top Chinese competitor for influence in Asia, which alone among SCO members has refused to endorse the program, said Jonathan Hillman, an expert on Asia.
As host, China is eager for outcomes that refer to Xi's infrastructure initiative, said Hillman, director of the Reconnecting Asia Project at the Washington-based Center for Strategic and International Studies. But India's skepticism means such a resolution would not be unanimously supported, he said. The SCO operates on the basis on consensus, making it difficult to adopt new initiatives.
India's attitude is rooted partly in long-standing distrust of China. The two fought a war along their disputed Himalayan border in 1962 and their troops engaged in a 10-week standoff just last year.
Though it has somewhat reluctantly embraced the Belt and Road, Russia is also seeking to expand its own economic and political leverage in the region through a customs union it dominates known as the Eurasian Economic Union. Analysts also see weak Central Asian states cozying up to Moscow to avoid falling entirely under China's sway.
"There is an effort to maintain Russian influence during a period when it's waning, arguably, and to bind those states closer to Russia," said Michael Kovrig, the International Crisis Group's senior adviser for Northeast Asia.
In the security field, New Delhi would embrace renewed calls for its neighbor and close Chinese ally Pakistan to crack down on Islamic militant groups targeting India and Afghanistan, one of the SCO's observer states.
Beijing also sees the SCO as a force for stability in a poor, unstable neighborhood bordering on its vast resource-rich but often volatile region of Xinjiang, where attacks in recent years by radicals among its native Muslim population killed hundreds and prompted a massive security crackdown.
Recognizing those concerns, the grouping has sponsored intermittent anti-terrorism exercises and operates the Regional Anti-Terrorist Structure from a permanent headquarters in Uzbekistan.
Diverging views on the SCO's economic and security roles are the source of the important hidden tensions with the grouping, said Alexander Cooley, director of Columbia University's Harriman Institute for Eurasian studies.
And while both Russia and China have found common cause in demanding a more multipolar world, they have different visions about what that entails, Cooley said.
"Moscow seeks to publicly challenge the economic, security and normative rules that it perceives the West as hypocritically imposing and benefiting from," he said. "China is more reluctant to champion such overt revisionism as it has benefited greatly from the world economic system and liberal trading regime."
The presence of President Hassan Rouhani of Iran, whose country is an SCO observer, will also be closely watched in the wake of President Donald Trump's decision to pull out of the Iranian nuclear deal, creating a crisis in Tehran's relations with the European Union, China and other countries.
Rouhani will be looking for meetings with other leaders to discuss potential solutions, encourage investment and to "keep things on track despite the surprise pullout of the U.S. from the nuclear agreement," Kovrig said.
Discussions are to be led by Xi, who tends to favor an abundance of pomp and carefully arranged set pieces. Discussions take place in advance or behind closed doors, and excitement is at a premium despite a major push by state media to generate interest.
Summing up the essence of the gathering, Hillman said: "Expect more show than substance."
___
Associated Press writer Vladimir Isachenkov in Moscow contributed to this report.