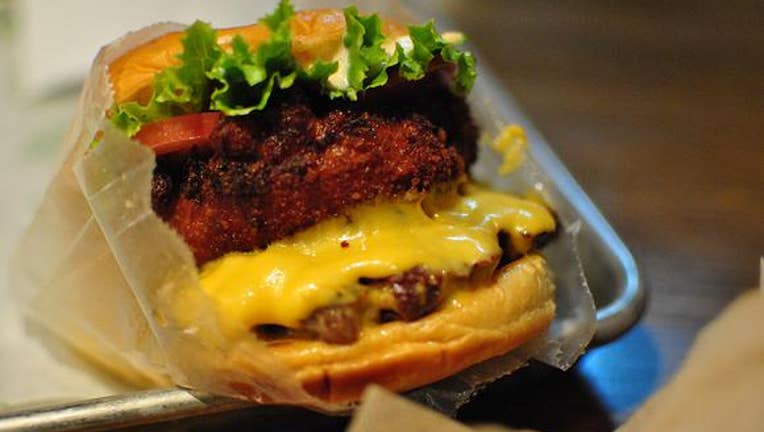 Shake Shack served up some meaty sales and profits in 2015, but the coming year is looking to be a little less beefy. Image source: angela n.
In a case of "What have you done for me lately?", the market sent Shake Shack's stock careening lower after it posted sales and profits that beat analyst expectations because its outlook for the coming year showed dramatically slowing growth.
CEO Randy Garutti maintained the company was simply being conservative with its guidance as it always has been,but after 2015's successful IPO and measured expansion both here at home and internationally, the better-burger shop wanted to dampen expectations that such growth could be sustained.
The coming era of slowing growthIn its fourth-quarter earnings release, Shake Shack said total revenues rose 47% as it opened 13 company-operated restaurants in 2015. Same-Shack sales, which are revenues generated from restaurants open a minimum of two years, jumped 11% from the year-ago period.
But it was the outlook that 2016 would slow that caused investors to panic. It's forecasting full-year revenues to grow 27% to as much as $242 million as it opens 13 more restaurants here in the U.S., plus seven more internationally. But that's a considerable deceleration from the 60% revenue growth it saw last year, and with comparable sales only growing 2.5% to 3%, it's a dramatic shift lower.
Yet Shake Shack investors shouldn't have been caught unaware. Management has said all along it couldn't keep up the pace of growth it was experiencing. It admitted it had gained sales as a result of an IPO that piqued consumer interest in its burgers, but not all of them would stay.
Not much sizzleThat was one reason I had warned last November that, even though Shake Shack's stock had lost about half its value at the time, I still wouldn't buy its stock. Sales growth was slowing considerably and comps that had once been about 7% a year was actually trending much lower. The 13% growth it achieved in 2015 (ahead of expectations of 11% growth) was simply an anomaly of its going public, and once the buzz faded, they would continue on their trajectory lower.
Comps rose 7.1% in 2012, slowed to 5.9% in 2013, and then to 4.1% in 2014. With 2016's comps expected to be even lower, it's easy to see that last year was a blip tied to the IPO.
Moreover, it was more than just customers coming into its restaurants that was boosting same-Shack sales; rather, it was also price increases it implemented even as its own commodity costs began to fall that helped boost results. In the fourth quarter, increased traffic accounted for only 6.2% of the rise in comps with the remaining 4.8% of the increase coming from pricing mix.
Instead of Shake Shack being some special growth story, it is simply meeting industry norms. The Habit , for example, also achieved better than 6% growth in comps last year, and it's also forecasting 3% growth this year.
That's nothing to sneeze at, but in the third quarter when pricing accounted for a greater percentage of the increase, traffic represented 8% of Shake Shack's growth. So even though pricing is playing less of a role, so is repeat business.
When customers can get better burgers on just about every street corner these days, will a Shake Shack burger stand out from any other like this Triple Triple from Wayback Burger? Image source: Jerry Huddleston.
Better-burger bubbleAnd that could be because we're in the middle of a great better burger glut. Consumers have never had more opportunity to pay a premium price for a hamburger than today. From Five Guys and The Habitto Burger Fi and Wayback Burgers there's booming burger businesess wherever you turn.
And they're opening restaurants at a rapid pace. The Habit is planning on opening almost 40 restaurants this year, adding to the near-140 restaurants already open, at 27% increase, and it sees room for 2,000 restaurants altogether. Five Guys has over 1,100 restaurants operating now and has over 1,000 more in developmentwhile BurgerFuel is looking to fuel its expansion with 1,000 more stores.
Shake Shack's own expansion plans are much more conservative, with around 450 restaurants in domestic markets. That's not an unreasonable goal, but it also means it's possible it will get lost in the flood of rival burger joints that are growing around it. It may be a more sustainable goal, but not necessarily one that will help its bottom line.
Although Shake Shack still sits 66% above its $21 IPO price, it's a likewise percentage below its $52-week high. With slowing sales, lower restaurant traffic, industry-average comps growth, and a niche inundated with rival chains, investors may yet see The Shack's stock fall a lot further still.
The article Shake Shack Inc. Plunges, But It Still Might Be Overvalued originally appeared on Fool.com.
Rich Duprey has no position in any stocks mentioned. The Motley Fool has no position in any of the stocks mentioned. Try any of our Foolish newsletter services free for 30 days. We Fools may not all hold the same opinions, but we all believe that considering a diverse range of insights makes us better investors. The Motley Fool has a disclosure policy.
Copyright 1995 - 2016 The Motley Fool, LLC. All rights reserved. The Motley Fool has a disclosure policy.