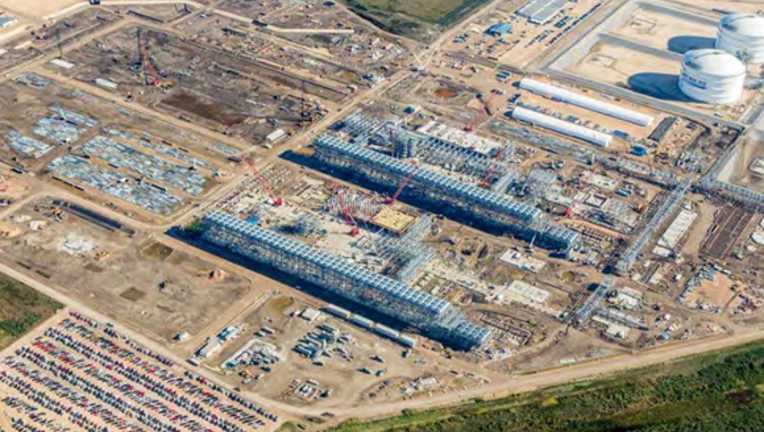 Image Source: Cheniere Energy investor presentation
A good indication that people think highly of your ability in a profession is when they're willing to pay $1,600 on Amazonfor a book you wrote on that profession. That's the case for hedge fund manager and value investor Seth Klarman, who wrote a limited-edition value-investing book called Margin of Safety.In 2015, Klarman's hedge fund, the Baupost Group had just its third down year in its three decade-plus history.
Given Klarman's long-term track record, it seems that now is a good time to be looking into his portfolio for undervalued securities.
He redoubled his analysis and then bought more Cheniere EnergyWhen a stock moves against you, there are three things you can do: Sell the stock, buy more of it, or do nothing.
With some of his stocks moving against him, Klarman and his team went back to the drawing board and carefully reassessed the intrinsic value of each position. Here's what he said in his Q4 2015 letter to investors:
In the case of Cheniere Energy (NYSEMKT: LNG), a critical reevaluation led Klarman to buy a lot more of the company. In January he filed with the SEC, revealing that he had increased Baupost's stake in the company by 50% and now owned 15% of Cheniere.
His doubling down on Cheniere is even more interesting, considering the SEC filings reveal that Baupost was happy to hold Cheniere at over $80 and was buying shares early in 2015. His Q4 letter provides some color on why Klarman still likes Cheniere: "Even Cheniere Energy, with limited exposure to oil and gas prices, was significantly penalized by this unforgiving market."
What is Klarman talking about? How does Cheniere have limited commodity price exposure?
Cheniere is a liquefied natural gas (LNG) exporter, and global LNG prices have worsened significantly. Cheniere, however, is relatively unaffected by this drop because of pricing contracts it's locked into. Cheniere has signed contracts both to sell all of its production and the price that it will be sold for. Here's a list of 20-year contracts Cheniere agreed to on its Sabine Pass facility:
Source: Cheniere January 2016 presentation.
Cheniere purchases its natural gas based on the Henry Hub spot price. That Henry Hub price will fluctuate, but Cheniere's contracts to sell LNG are locked in at Henry Hub plus 15%. That means it doesn't matter if natural gas prices rise or fall. Cheniere will make the same amount either way.
On top of the 15% markup is a fixed fee of roughly $3 per MMBtu. At today's prices, that would mean Cheniere is buying natural gas for $1.91 and selling it for $5.19.
While he was buying Cheniere, he was dumping Pioneer Natural Resources At the end of March 2015, shale oil producer Pioneer Natural Resources (NYSE: PXD) wasn't in the Baupost portfolio. By the end of June the Baupost portfolio had over 4 million Pioneer shares worth more than $560 million. That position was unchanged as of last September.
By the end of December, the Baupost portfolio held no Pioneer shares.
Why might that be?
While we can't know for certain, since he didn't refer to the sale publicly, it seems quite possible that Klarman became less bullish on the price of oil. Given that few people could have imagined that we'd be looking at $30 WTI in February 2016, the length and depth of this collapse may have caught Klarman by surprise.
Perhaps with Saudi Arabia, Iraq and now Iran (with sanctions removed) willing to continue to increase production into an oversupplied market Klarman believes his assumptions on where oil might go have changed. There were more than a few of us who believed that OPEC at the very least would not intentionally increase production to keep oil down for longer.
It would make sense that Klarman would sell if he now believes that OPEC could keep oil prices much lower for much longer than expected.
Alternatively Klarman may have changed is mind on Pioneer specifically. Pioneer has been one of the most aggressive drillers of wells into these low oil prices. While companies like EOG Resources (NYSE: EOG) have adopted the policy of not growing production into low oil prices Pioneer has been quite vocal (until very recently) about continuing to grow.
While Pioneer is very well hedged against low prices, it isn't fully hedged so these incremental growth barrels would be sold at very low prices. It is quite possible that Klarman does not approve of this strategy which could be viewed as drilling marginally economic (at best) or money losing wells.
Either way, Klarman is out of Pioneer.
Implications for investorsIf you believe that Klarman's 30-year track record of significant investing outperformance is due to something other than luck, then you might want to take a hard look at Cheniere Energy. Following a great investor into one stock doesn't guarantee success, but taking a hard look at what a great investor is buying makes a lot of sense.
The article Seth Klarman Doubled Down On This Energy Stock While He Dumped Another originally appeared on Fool.com.
TMFWolfpack has no position in any stocks mentioned. The Motley Fool owns shares of and recommends Amazon.com. Try any of our Foolish newsletter services free for 30 days. We Fools may not all hold the same opinions, but we all believe that considering a diverse range of insights makes us better investors. The Motley Fool has a disclosure policy.
Copyright 1995 - 2016 The Motley Fool, LLC. All rights reserved. The Motley Fool has a disclosure policy.