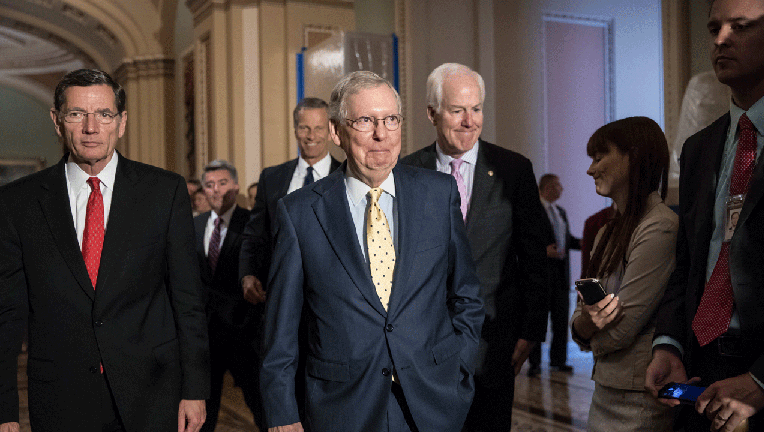 Senate Republican leaders scrambled Wednesday to rework by week's end their plan to dismantle the Affordable Care Act, but GOP senators remained mired in disputes over key policy planks of the bill.
A day after Senate Majority Leader Mitch McConnell (R., Ky.) abruptly postponed a vote on the bill until after next week's July 4 recess, GOP senators sought agreement on a series of thorny issues, with little evidence of quick progress. Lawmakers said they hoped to hammer out a new version of the bill before leaving Washington on Friday, but some doubted they could overcome the intraparty rifts by then.
"It's going to be very difficult," said Sen. Susan Collins (R., Maine), one of nine Senate Republicans who publicly oppose the bill.
Senators with concerns about the legislation traipsed in and out of Mr. McConnell's office, and GOP leaders worked to figure out whose concerns could be soothed by extra funds and whose would require more radical alterations to the bill.
GOP Sen. Dean Heller of Nevada, currently opposed to the bill, and the two Republican senators from Alaska, Lisa Murkowski and Dan Sullivan, were among those meeting with Mr. McConnell, but no deals to win them over emerged publicly.
In a long and contentious closed-door luncheon Wednesday, roughly 15 to 20 GOP senators aired competing ideas over how to improve the bill, Sen. Rand Paul (R., Ky.) said after the session. "We've got a long ways to go, " added Mr. Paul, another opponent of the bill.
Lawmakers said much of the discussion centered on how to shore up the faltering individual market, where people buy insurance if they don't get it through work or safety-net programs. Conservatives have been pushing an idea backed by Sen. Ted Cruz (R., Texas) that would allow insurers who offer at least one plan that meets ACA requirements to also offer a cheaper plan covering fewer benefits.
"That would have the effect of significantly reducing premiums and enabling people to purchase health insurance they can afford," Mr. Cruz said.
Supporters of Mr. Cruz's plan say people who don't need a specific benefit shouldn't have to buy it -- for example, men should not be required to buy policies that include maternity services.
Others dismissed such arguments, saying men are involved in pregnancy also. "Women don't get pregnant without sperm," Sen. Bill Cassidy (R., La.) said drily.
The Cruz plan, critics added, would encourage healthier, younger people to buy the skinnier plans, driving up premiums for sicker and older consumers.
Conservatives are also pressing to allow higher contributions to health savings accounts, and possibly remove the requirement that HSAs can only be used by employees with high-deductible plans, people familiar with the talks said.
Centrist Republicans, meanwhile, want changes in the bill's phase-out of higher federal support for the ACA's expansion of Medicaid, which the current bill would start reducing in 2021 and fully eliminate by 2024. Centrists also want to change a provision that lowers the growth rate for Medicaid spending in 2025. Such a shift could ease concerns about passing those costs to states.
But in a sign of the challenges facing Mr. McConnell, such a change would also create new problems among conservatives. "It's very, very important that we keep the growth-rate provisions that we have, because it's the only way to make this program sustainable," Sen. Pat Toomey (R., Pa.) said this week.
Some lawmakers also are pushing for higher per-capita limits on Medicaid payments for beneficiaries who are elderly or disabled, according to people familiar with the talks.
Republicans hope to resolve these policy disputes by Friday, giving the nonpartisan Congressional Budget Office time to evaluate a new version's cost and coverage by the time lawmakers return the week of July 10.
Because no Democrats are expected to support the GOP health-care bill, Mr. McConnell can lose no more than two GOP votes, even with Vice President Mike Pence as a potential tiebreaker. Mr. McConnell has told Republicans that if they can't pass the bill, they will have to work with Democrats to take steps to stabilize the individual market.
Democrats said the delay shows that Republicans should work with them to fix the ACA, rather than dismantling it. Senate Minority Leader Chuck Schumer (D., N.Y.) suggested that GOP President Donald Trump invite all 100 senators to discuss health care at Blair House, a government residence where former President Barack Obama hosted a health-care summit in 2010.
Mr. Schumer said: "Let's abandon more tax breaks for the rich, let's abandon cuts to Medicaid, and discuss what the American people are really concerned about -- premiums, deductibles, the costs and quality of health care."
As the congressional recess approaches, health industry organizations, patient advocacy groups and political groups on both sides are gearing up to intensify pressure on lawmakers.
The American Hospital Association, American Medical Association, AARP and other organizations plan to pressure centrist Republicans, especially those who represent states where rolling back the Medicaid expansion could endanger coverage. Their goal is to persuade more centrists to oppose the bill, and to ensure that those already opposed don't change their minds.
"If it's possible, we are going to ramp up even more over the next week, " said Mike Munger, president-elect of the American Academy of Family Physicians.
FreedomWorks, a conservative group, is pushing for changes like more deregulation of insurance companies. "We want to get this bill to a place where we can say it's an improvement over Obamacare,and we're slowly getting there," said Jason Pye, FreedomWorks' director of public policy. "That means incorporating amendments that would give Americans more choice and bring costs down."
--Stephanie Armour contributed to this article.
Write to Kristina Peterson at kristina.peterson@wsj.com, Siobhan Hughes at siobhan.hughes@wsj.com and Michelle Hackman at Michelle.Hackman@wsj.com