Senate Democrats demand that Sessions testify again on Russia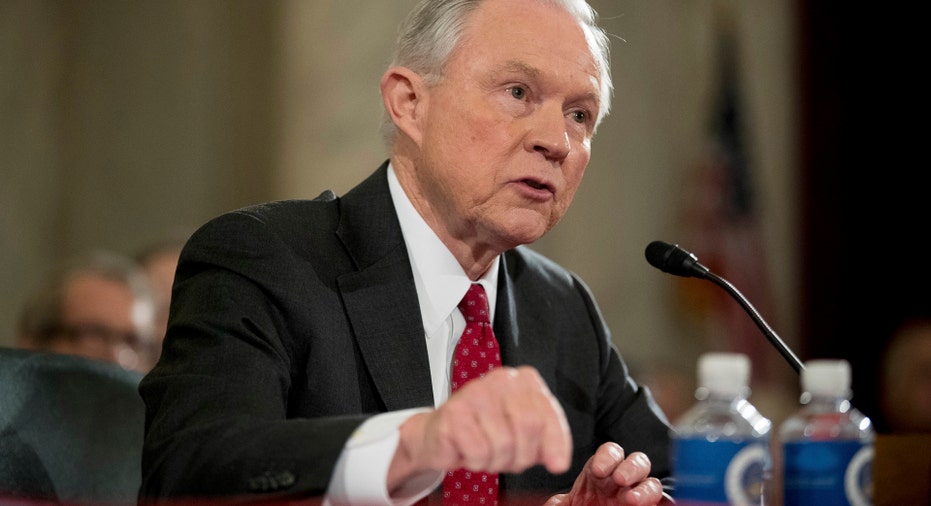 Senate Democrats on Thursday demanded that Attorney General Jeff Sessions be recalled to testify on the Trump campaign's Russia contacts after the disclosure of an effort to set up a meeting between then-Republican candidate Donald Trump and Russian President Vladimir Putin.
Judiciary Committee Democrats want to question Sessions, who was the Trump campaign's chief foreign policy adviser, about his denials that he knew anything about contacts between the campaign and Russians or Russian government intermediaries.
Sessions "needs to come back before the committee, in person, under oath, to explain why he cannot seem to provide truthful, complete answers," Senator Patrick Leahy, the panel's senior Democrat, said in a statement.
Two other Democrats supported Leahy's call
"Attorney General Sessions should come back before Congress and answer questions in light of recent revelations," said Senator Ron Wyden.
In an eight-page letter to Sessions on Thursday, Senator Al Franken recalled that the attorney general said at an Oct. 18 Judiciary Committee hearing that a continuing exchange between the Trump campaign and Russian government intermediaries "did not happen, at least not to my knowledge and not with me."
Sessions, Franken wrote, "apparently failed to tell the truth under oath."
According to court documents filed by Special Counsel Robert Mueller that were unsealed on Monday, George Papadopoulos, a minor Trump campaign adviser, said at a March 31, 2016, meeting of Trump foreign policy advisers "that he had connections that could help arrange a meeting between then-candidate Trump and President Putin."
A photograph posted on Trump's Instagram account shows Papadopoulos sitting two seats from Sessions at the meeting, which Trump also attended.
A New York Times report on Tuesday quoted a participant as saying that Sessions "shut George down," ruled there should be no meeting with Putin and ordered those present "not to speak about this again."
However, CNN reported on Thursday that John Cornyn, the second-ranking Senate Republican, who serves on the intelligence and judiciary committees, said that he had been unaware that Sessions was at the meeting.
"I certainly think it's a legitimate area of inquiry" for congressional investigators to pursue, Cornyn told CNN.
CNN also reported that Carter Page, another former Trump campaign adviser, told the House Intelligence Committee on Thursday that he had informed Sessions of an upcoming July 2016 trip to Russia. Page said the trip was unrelated to his work for the Trump campaign, CNN said.
Democratic sources who requested anonymity said Republican Chuck Grassley, the committee chairman, is resisting the Democrats' demands to recall Sessions. Instead, he is suggesting that the attorney general be allowed to submit updated written testimony, they said.
A spokesman for Grassley did not immediately respond to a request for comment.
The Justice Department declined to comment, and Trump denies any collusion. Russia has denied three U.S. intelligence agencies' conclusion in January that Moscow tried to help Trump defeat Democrat Hillary Clinton.
(Reporting by Jonathan Landay and Mark Hosenball; Editing by John Walcott and Cynthia Osterman)