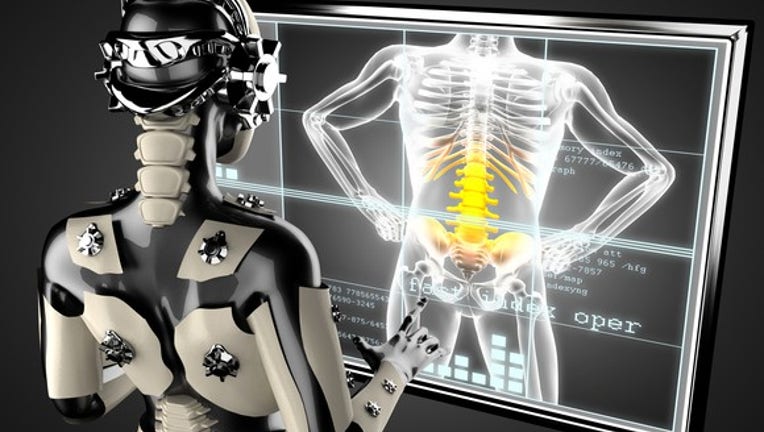 Up more than $100 from its February lows, Intuitive Surgical stock is on a tear -- but one banker says, "Beware!"
This morning, analysts at Goldman Sachs announced they are downgrading shares of robotic surgery specialist Intuitive Surgical, warning that although the business seems to be improving, "consensus sales estimates now appropriately capture the forward growth outlook." In essence, then, Goldman is saying that Intuitive Surgical stock looks close to fairly priced.
So far, that assessment is only enough to convince Goldman to ratchet down its rating one notch, from buy to neutral. At the same time, Goldman's revised price target of $674, while lower than previously forecast, still sits higher than the $633 that Intuitive Surgical stock costs today. But should investors sell the stock anyway?
Here are three things you need to know to decide.
Your next doctor just might be a robot -- if Intuitive Surgical has anything to say about it.
Thing No. 1: All's well at Intuitive Surgical
"Over the past seven quarters, revenue growth has accelerated from 7% in 3Q14 to 12% in 1Q16," says Goldman Sachs in a write-up covered on StreetInsider.com this morning. Procedure volumes are "improving" and sales of the company's Da Vinci Xi surgical system are undergoing a "turnaround."
Thing No. 2: But that's already old news
All of this is positive for Intuitive Surgical, and a big reason Intuitive Surgical stock has enjoyed a turnaround of its own of late -- but all of this is also as Goldman Sachs predicted. Now that the good news has happened, and been baked into the rising stock price, Goldman Sachs is less optimistic that new gains lie in store.
Now, Goldman Sachs sees the risk/reward trade-off as more balanced, and deserving of only a neutral rating.
Thing No. 3: Two out of two analysts surveyed agree...and also disagree
Curiously, at the same time as Goldman Sachs was pricing Intuitive Surgical stock at $674, and saying that deserved a neutral rating, rival analyst JPMorgan Chase announced this morning that it also thinks the stock is worth the almost identical price of $675...but that this deserves a rank of outperform (i.e., buy).
As reported on TheFly.com this morning, JPMorgan is reiterating its recommendation to buy Intuitive Surgical, based primarily on a survey JP conducted among 25 "U.S.-based general surgeons" who largely agreed that they expect "continued growth" in da Vinci systems in their hospitals, and are looking forward to Intuitive's upcoming "Sp system."
The most important thing: Who's right?
Priced at $636 today, and expected to hit $675 (or $674) within a year, is Intuitive Surgical stock a buy? I guess the answer depends on whether you think the hope of earning a 6% profit on the stock is worth taking on the risk of paying 38.5 times earnings to own the stock.
Personally, I think that's too high a price, and too much of a gamble, especially given the growing competition Intuitive Surgical is facing from gigantic companies like Medtronic , Alphabet , and Johnson & Johnson . As recently reported, Medtronic is partnering with Israel's Mazor Robotics to dig into the spinal surgery industry. Meanwhile, Alphabet and Johnson & Johnson have teamed up with Verb Surgical with the aim of merging "machine learning, robotic surgery, instrumentation, advanced visualization, and data analytics" to "create the future of surgery."
For the time being, Alphabet and Johnson & Johnson's partnership looks like little more than a mission statement and a website, with no products to sell. (S&P Global Market Intelligence, for example, has no data at all on the company's existence.) Medtronic partner Mazor, on the other hand, already has a small revenue stream flowing, and has reached small-cap stock status with a market cap of better than $350 million.
Neither one seems big enough to give Intuitive Surgical a run for its money at this point, but both will be gunning for its market, and potentially slowing down its growth rate -- which, at 11% projected over the next five years, is none too spry to begin with.
Long story short: JPMorgan says Intuitive Surgical is a buy, and Goldman thinks it's a hold.I think they're both wrong, but Goldman's guess is closer to the truth.
The article Sell Intuitive Surgical After a $100 Price Surge? 3 Things You Need to Know originally appeared on Fool.com.
Fool contributorRich Smithdoes not own shares of, nor is he short, any company named above. You can find him onMotley Fool CAPS, publicly pontificating under the handleTMFDitty, where he's currently ranked No. 310 out of more than 75,000 rated members.Suzanne Frey, an executive at Alphabet, is a member of The Motley Fool's board of directors. The Motley Fool owns shares of and recommends Alphabet (A shares), Alphabet (C shares), Intuitive Surgical, and Johnson & Johnson. The Motley Fool owns shares of Medtronic. Try any of our Foolish newsletter services free for 30 days. We Fools may not all hold the same opinions, but we all believe that considering a diverse range of insights makes us better investors. The Motley Fool has a disclosure policy.
Copyright 1995 - 2016 The Motley Fool, LLC. All rights reserved. The Motley Fool has a disclosure policy.