SEC Nominee: Previous Legal Work No Barrier to Job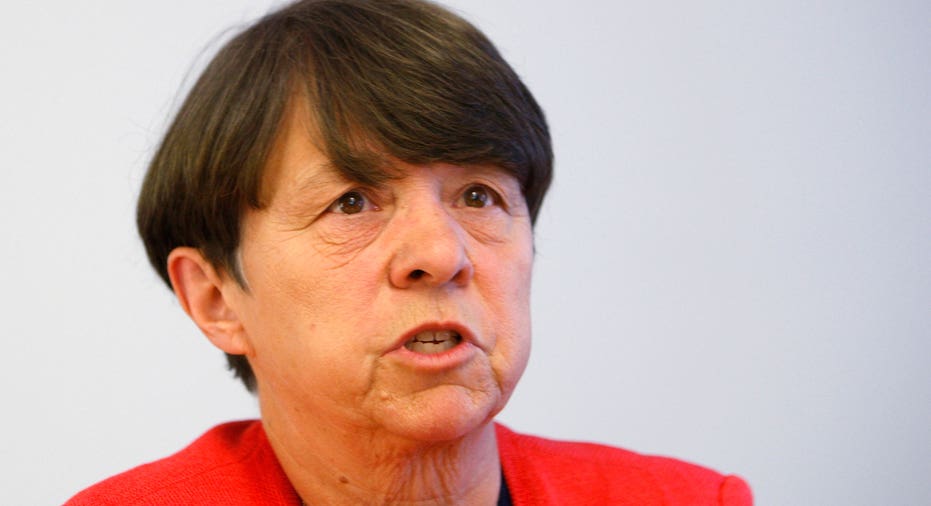 Mary Jo White, President Barack Obama's choice to lead the U.S. Securities and Exchange Commission, told lawmakers considering her candidacy that her past legal work for big Wall Street clients would not impede her job at the agency.
White, a former U.S. Attorney for the Southern District of New York, has said she would step aside from work related to clients in her most recent job representing big financial firms as an attorney at Debevoise & Plimpton.
She told the Senate Banking Committee she would not need to recuse herself in many situations and could participate fully in writing rules to implement the Dodd-Frank financial reform law and other regulations.
"The scope of recusals is quite narrow,'' White said on Tuesday during a hearing focused on her nomination. White appeared alongside Richard Cordray, President Barack Obama's choice to lead the Consumer Financial Protection Bureau. Though Cordray has been the more controversial figure thus far as Republican senators criticize the structure of the consumer bureau, the hearing was White's first public opportunity to discuss her background and views on financial regulation.
White is expected to be easily confirmed by the U.S. Senate, a move that would allow her to take on the top job at the SEC. Some critics, however, have raised concerns about her ability to effectively lead the agency given her legal ties to Wall Street banks.
She has done legal defense work for clients ranging from JPMorgan and former Bank of America CEO Ken Lewis to UBS to accounting giant Deloitte & Touche LLP.
While she worked for some clients such as JPMorgan more recently, others such as Deloitte were retained roughly two calendar years ago and will not fall into the recusal period, according to one person familiar with White's work at Deloitte.
White told lawmakers the recusals she will face ``are not out of the ordinary'' in scope compared with prior SEC chairmen.
White is joining the agency at a time when a deeply divided SEC is working through dozens of rules called for by the Dodd-Frank law and the Jumpstart Our Businesses (JOBS) Act, as well as a proposal to reform the $2.6 trillion money market fund industry, and rules to potentially revamp U.S. equities market structure.
Without a fifth crucial swing vote, relatively little rulemaking has taken place since SEC Commissioner Elisse Walter took over as chairman in December. Cordray's confirmation could be much more difficult to secure, as Republicans have refused to confirm a director of the CFPB until the White House agrees to make changes to the bureau's structure.
Cordray has led the CFPB in an interim position since January 2012. Obama used a procedural maneuver known as a "recess appointment'' to install him temporarily and re-nominated Cordray in January.
Under his tenure, the CFPB has worked on an overhaul of mortgage regulations. It has also taken on debt collectors and brought several enforcement actions related to credit-card add-on products.
Business leaders have been largely satisfied with Cordray's leadership, and Republicans generally do not have problems with him personally. But they have vowed to block any director until Democrats agree to convert the bureau into a bipartisan commission and change how it is funded.
Adding to the controversy, a U.S. appeals court ruled earlier this year that recess appointments to the National Labor Relations Board made at the same time Cordray was installed were unconstitutional because lawmakers were not technically in recess.
That ruling has raised questions about Cordray's appointment as well.
"We want people to know they now have a new agency standing on their side, looking out for their interests, to help restore their confidence in the consumer financial marketplace. So far, even though our work is still in its early stages, we have been busy addressing some of the most critical problems,'' said Cordray in prepared testimony.