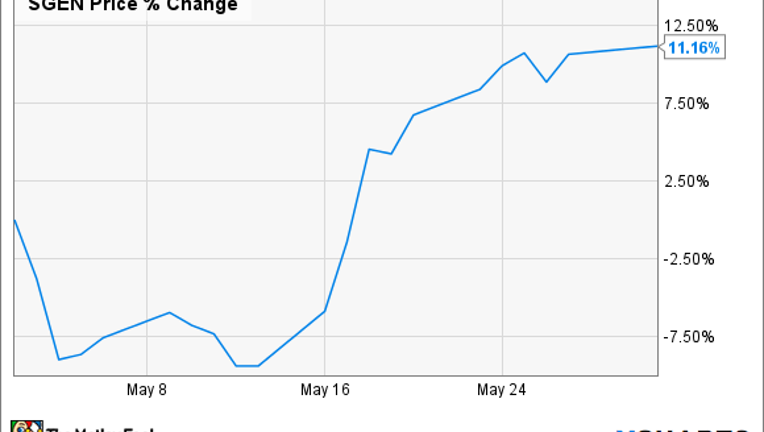 Image Source: Getty Images.
What:Seattle Genetics'stock rose by more than 11% last month, according to data fromS&P Global Market Intelligence. Seattle's stock forged higher despite a lack of major catalysts -- except, perhaps, for the start of the company's pivotal trial for SGN-CD33A in older patients with newly diagnosed acute myeloid leukemia.However, given that this news broke late in the month, and the initiation of a clinical trial isn't that big of a deal, it probably didn't play much of a role in Seattle's double-digit rise in May.
So what: Seattle's stock has been getting hammered this year due, in part, to the wider pullback in the biotech and biopharma industries. The iShares Nasdaq Biotechnology ETF has dropped by more than 17% this year, primarily due to political rhetoric surrounding drug pricing schemes:
As both Seattle's shares and the closely watched IBB ETF rallied in May, though, we may be seeing the beginning of a fundamental change in market sentiment toward the biotech industry.
Now what: Of course, the underlying reason why Seattle's stock took such a beating during the recent biotech downturn is that the company remains cash-flow negative despite growing sales of its antibody-drug conjugate (ADC), Adcetris, as a later-line treatment for classical Hodgkin's lymphoma and systemic anaplastic large cell lymphoma.
The bottom line is that Adcetris' sales haven't lived up to expectations since the drug was approved back in 2011. To remedy this situation, the company is hoping to expand the drug's label to includecutaneous T-cell lymphoma in the near-term.
The good news is thatAdcetris' ongoing pivotal trial for cutaneous T-cell lymphoma, known asALCANZA, should produce top-line data by the third quarter of this year, according to the company's latest update. Beyond that, Seattle has two additional ongoing pivotal-stage trials for Adcetris in bothfront-line classical Hodgkin lymphoma andfront-line mature T-cell lymphoma that are expected to read out over the course of 2017 to 2018.
All told, Seattle does have several clinical catalysts on the horizon for its flagship product Adcetris, along with its other experimental ADCs, implying that its stock could recapture some of its former glory moving forward. Having said that, I'd rather stick to broader biotech plays like the IBB that don't depend so heavily on risky clinical trial readouts.
The article Seattle Genetics Has Been Heating Up: Time to Buy? originally appeared on Fool.com.
George Budwell owns shares of iShares NASDAQ Biotechnology Index (ETF). The Motley Fool recommends Seattle Genetics. Try any of our Foolish newsletter services free for 30 days. We Fools may not all hold the same opinions, but we all believe that considering a diverse range of insights makes us better investors. The Motley Fool has a disclosure policy.
Copyright 1995 - 2016 The Motley Fool, LLC. All rights reserved. The Motley Fool has a disclosure policy.