Search for Fed Chief begins, led by Goldman veteran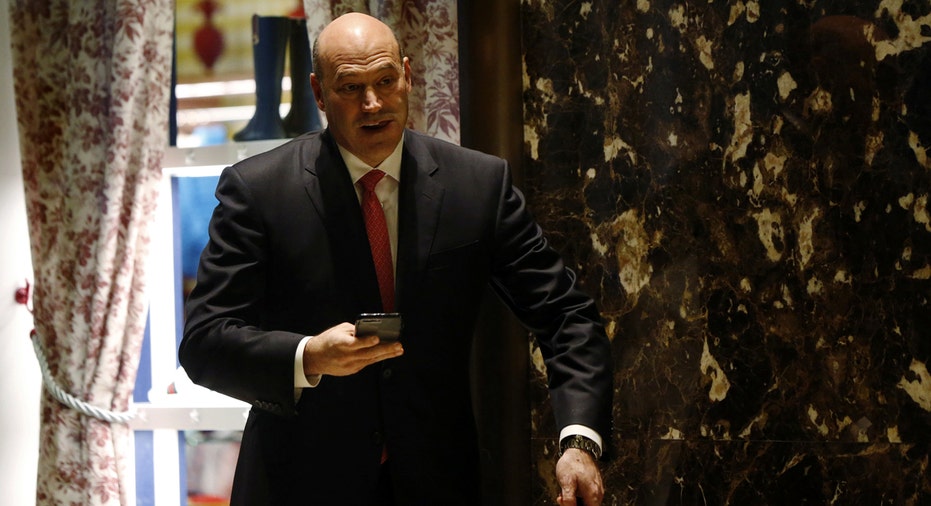 The White House is set to launch its search for the next Federal Reserve chief, according to a senior official, and it will be managed by Gary Cohn, the former Wall Street executive who some market strategists believe could be a candidate for the post himself.
Officials won't publicly outline any timetable for their decision or shortlist of candidates. Fed Chairwoman Janet Yellen's term runs through January, and President Donald Trump didn't rule out her reappointment in an April interview.
Ms. Yellen's reappointment isn't an outcome many observers expect because of Mr. Trump's fierce criticism of her during the final weeks of last year's presidential campaign. But his willingness to consider her speaks to the amicable relationship they have forged since Mr. Trump took office, observers say.
Since taking office, the president and his advisers haven't publicly questioned the Fed's actions -- including its decision to raise short-term interest rates in March. The Fed has also signaled it is likely to raise rates again at its two-day meeting that concludes Wednesday.
An alternative to Ms. Yellen could be Mr. Cohn, who became Mr. Trump's top economic adviser after a 26-year career at Goldman Sachs Group Inc. Mr. Cohn has emerged as a key intermediary in the administration's relationship with the central bank.
When publicly asked if he is interested in the Fed job, Mr. Cohn and other White House officials have said he is focused on his current job. But former colleagues said he has cultivated an appreciation for the power of the Fed during his long career on Wall Street and for the institution's relative freedom during his current stint in Washington.
While Mr. Trump's 2016 criticisms of Ms. Yellen suggested the central bank would face a rough time with the new administration, the president and Ms. Yellen are off to a surprisingly smooth start.
Weeks after his inauguration, Mr. Trump held court with Ms. Yellen in the Oval Office. Seated behind the office's Resolute desk, he told her she was doing a good job, according to people familiar with the exchange. Ms. Yellen sat across from Mr. Trump in a chair next to Mr. Cohn, who arranged the meeting.
The Republican president told Ms. Yellen he considered her, like himself, a "low-interest-rate" person, those familiar with the exchange said. During a conversation that lasted about 15 minutes, they discussed how economic policy might help the millions of U.S. citizens who felt left behind during the postcrisis recovery.
Mr. Trump's April comments marked a reversal from last year, when he accused Ms. Yellen of keeping rates low to help Democrats.
Mr. Trump and his administration have, so far, opted to stay neutral in public on Fed decisions, a contrast to his administration's criticisms of other nonpartisan institutions such as the Federal Bureau of Investigation, Congressional Budget Office and the courts.
"The Fed will do what they need to do, and we respect the powers of the Fed," Mr. Cohn said in a March interview on Fox News, one of his rare public comments on the central bank.
Mr. Trump wants a fast-growing economy, and that means he won't want the Fed raising interest rates so aggressively that it thwarts any boom. Ms. Yellen, for her part, wants to preserve the independence of an institution that faces more political hostility than at any time in a generation.
On paper, the White House and the Fed appear headed for a collision. The president wants to raise the economy's annual growth rate to at least 3%, but Fed officials think demographic trends and slow productivity growth mean the economy can grow sustainably at around a 2% rate.
With the unemployment rate at 4.3%, the Fed would likely accelerate interest-rate increases if Mr. Trump's administration took steps to lift growth in a way that simply boosted short-term demand. This hasn't been a problem yet because Mr. Trump's administration hasn't managed to move its agenda through Congress.
Some observers caution against reading much into Mr. Trump's silence on Fed policy because the central bank hasn't done anything to upset the administration.
Stocks have moved to record highs while federal borrowing costs have fallen. A likely Fed move Wednesday would lift its benchmark rate to a range between 1% and 1.25%, a very low level historically.
But if the Fed takes action Mr. Trump perceives to be threatening, he could become more vocal, said Peter Conti-Brown, a financial historian at the University of Pennsylvania's Wharton School.
"The minute that 'Morning Joe' has a report about a Fed action that could harm Donald Trump, set an egg timer and see how long before he tweets," Mr. Conti-Brown said.
Though Mr. Trump and Ms. Yellen were born two months apart in neighboring boroughs of New York City, they couldn't be more different.
One, from Queens, is the brash celebrity developer who relies heavily on his gut, professes little interest in academic expertise and brings a deep skepticism of established institutions to Washington.
The other, from Brooklyn, is a risk-averse economist who prepares meticulously for speeches and meetings, has vacationed with suitcases full of books and has spent her career in the halls of academia and central banking.
Their placid relationship reflects Mr. Cohn's leading role. Ms. Yellen meets regularly with Mr. Cohn and Treasury Secretary Steven Mnuchin, who also spent much of his career at Goldman Sachs.
Mr. Cohn has emphasized to colleagues the importance to markets of not publicly second-guessing monetary-policy decisions, following a rule established in the Democratic administration of former President Bill Clinton by another Goldman-executive-turned-presidential-counselor, Robert Rubin, who later became Treasury secretary.
Mr. Cohn takes pride in convincing Mr. Trump of the economic benefits of respecting the Fed's independence, including not firing off verbal or Twitter attacks on the central bank, according to people who have discussed the issue with him.
Mr. Trump can put his stamp on the institution by filling three open seats on the Fed's seven-member board of governors.
The Fed chairman and vice chairman jobs come open next year. Many Wall Street and Washington observers expect Mr. Trump to select his own candidate for the top job, possibly Mr. Cohn.
Mr. Cohn knows several central-banking officials from their time at Goldman Sachs, including New York Fed President William Dudley, the bank's former chief economist, who met with Mr. Cohn in the early weeks of the administration.
All of this comes at a time when the Fed is facing the most intense political scrutiny in decades. The financial crisis and its aftermath prompted lawmakers to debate monetary policy in a way not seen since Paul Volcker was Fed chairman in the 1980s.
The harshest criticism has come from congressional Republicans. Many resented the Fed's extraordinary measures to boost economic growth long after the 2007-09 recession, with ultralow borrowing costs making former President Barack Obama's deficits smaller than forecast.
Republican lawmakers also said the Fed worked too closely with Mr. Obama's Democratic administration and Democrats in Congress to overhaul postcrisis regulation through the 2010 Dodd-Frank Act.
Some vitriol aimed at the Fed may ease once Mr. Trump makes his appointments, senior White House officials said.
Fed officials have defended the regulations. "We've accomplished a lot. We have a much safer system," Ms. Yellen told graduate students in Ann Arbor, Mich., in April.
Some White House officials believe Dodd-Frank gave the Fed too much power. They are preparing to nominate a Fed vice chairman for bank supervision, Randal Quarles, who served in the Treasury Department of former GOP President George W. Bush, who could favor a lighter touch.
White House officials also have expressed reservations internally over the Fed's postcrisis purchases of mortgage-backed securities -- one of the extraordinary measures it took to stimulate growth. Some critics said the purchases amounted to fiscal policy by determining the allocation of credit in the economy. Mr. Trump's administration is considering nominating Marvin Goodfriend, a respected monetary economist who has articulated those reservations, to the Fed board.
These concerns haven't been aired publicly by the administration, in contrast with Mr. Trump's comments during last year's election, when he said Ms. Yellen should be "ashamed of herself" for keeping rates low.
"There was a lot of uncertainty about how this was going to play out," said Donald Kohn, a former Fed vice chairman who met with Mr. Cohn in February. "I would say, 'So far, so good.'"
Write to Nick Timiraos at nick.timiraos@wsj.com and Kate Davidson at kate.davidson@wsj.com